Do you remember the first time you visited Crochetpreneur.com? When you opened the front page, did you know, without a doubt, that I was talking to you?
I hope so! That is always my aim–to let you know that I know you. I want you to know that I know who you are, what struggles you face in your crochet business, and that I can help. I hope I've succeeded in that.
How about your customers? Do they know you're talking to them?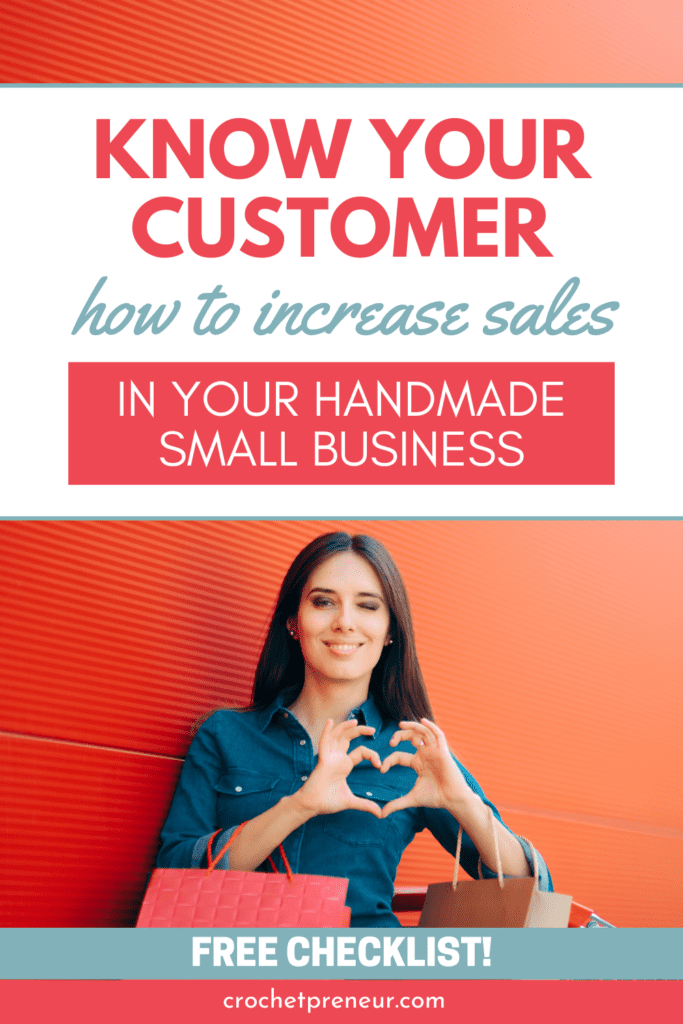 When your customer visits your Facebook page, online shop, or craft fair booth, does she know that you are speaking to her?
One of the most important things you can do, as a retailer, is to get really specific and to understand your ideal customer (inside out and backwards) and then speak to her through your branding, marketing, and product offerings.
But how?!
"My ideal customer is anyone who wants to buy something."
"My ideal customer is any woman."
"Any customer is my ideal customer."
If these comments sound like something you'd say, then keep reading because your life is about to change!
As business owners, when we know our customers–when we can really crawl inside her head and get to know all about her–we can leverage that information in a really positive way so that we can create products that will have her saying, "Take my money!"
And one of the best ways of getting to know your buyer and her needs is to create a buyer persona. Let's take a look at what that process looks like:
Start Big
Let's first start by taking a look at your buyers from a group perspective.
Identify these broad categories:
Gender
Age Range
Reason for Buying
Then, turn those categories into a sentence. "I sell to women in midlife who are looking for baby shower gifts."
Get Specific
Now that you have a general idea of who you're selling to, let's get even more specific. The more you understand your buyer, the more you can target her specific pain points and product needs.
Identify these specifics:
Location
Income
Education
Marital Status
Family Makeup
Combine these with your previous sentence and create a more detailed description.
"I sell to women in midlife who live in the Midwest. She has a college education, is married, and has two grown children who no longer live at home. Her family's yearly income is $85,000."

Hit Your Target
Okay, you're doing great! Now you've got a pretty good idea of who you're selling to.
This doesn't mean that you don't sell to anyone else. It is just a roadmap to help you find your ideal buyer so that you can better speak to her and her needs. Other buyers will come, too. But this particular buyer is going to be your bread and butter.
Everything you do will be designed to appeal to her.
Let's see if we can hone in on exactly who she is. Then, we can learn what she is wanting to spend her money on.
As we hone in on your buyer, identify these details:
Interests
Hobbies
Religion
Favorite TV shows
Favorite websites
Style of her home decor
What she wants people to think of her
These are just some examples, there are more in my free checklist. You can download by filling out the form below.
Again, take all the information you've gathered and write a paragraph about your buyer.
For Example
"I sell to women in midlife who live in the Midwest. She has a Christian college education, is married, and has two grown children (a son and a daughter) who no longer live at home. Her family's yearly income is $85,000. In her spare time, she reads, spends time in her garden, and hikes with her husband. She enjoys watching Fixer Upper and the Food Network. When she's online, she connects with friends on Facebook and visits lifestyle blogs for women in midlife.
Her home is modest, well-kept, and neat. She enjoys rearranging her furniture and keeping up with the latest styles … just like she does with her fashion. She loves being a grandma but doesn't love the idea of getting older. So, she is conscientious about her appearance and wants people to think she's hip and younger than her age. She is coming to me to purchase a baby shower gift and is looking for something special and heirloom quality. She wants the recipient to know her heart and that she purchased a high quality, artisan handmade item."
Do you see how this works? We're getting to really understand the buyer and what motivates her!
Some other questions you might ask, to really pinpoint your buyer persona, are:
What are her fears and frustrations?
What might keep her from buying?
Why might she choose not to buy from you?
Get Your Free Checklist: Know Your Customers, Increase Your Sales
What To Do Next
Okay! Now comes the good stuff.
After pinning down the details of your ideal customer, ask yourself, "How can I speak to her and meet her needs?"
By creating your branding, marketing copy, and product line to really speak to your ideal customer, you will be opening the door to skyrocketing sales. Your customer will look at your shop, no matter where that is, and know that you get her and you have the products that meet her needs.
If we follow along with the buyer persona described above, we would create our branding in such a way that appeals to her–clean, modern, professional, but still soft and pleasant. We will write a marketing copy that tells her our products are artisan-made and heirloom quality, perfect for gifting. And our products, baby accessories and gifts, will be made, photographed, and displayed in a way that will draw the customer in and know that her shower gifts will be well-received.
Go Get 'Em
An important thing to remember is that you're going to eliminate all of the products in your product line that do not speak to her. Products that don't speak to her cause confusion. Confusion causes her to leave your shop. If she leaves your shop, you lose a sale.
Eliminate confusion and increase sales!
Remember, your buyer persona is a fictional character that epitomizes your ideal customer. Smart business owners use the persona to really hone in on the buyer and speak to her heart.
When it comes to creating a thriving business, knowing your audience is crucial. Getting inside the mind of your buyer allows you to maximize your sales and marketing efforts and will give you a higher return on investment for every aspect of your business.
Get to know her and love her. Know her pain points (she can't find high quality, heirloom baby blankets) and create awesome products to meet her needs. Check out my post on creating the perfect product line for more information on how to create products she'll love!
If you're not sure you want to get specific about your customer and create a niche market for your business, check out my post Why You Need to Create a Niche Market that's Uniquely You.
And always, always remember, by focusing on her, your business will thrive!

Price Your Products Like the Pros
Includes: the exact formula I use to price my products for maximum sales and profit while attracting my ideal customer.