I know you've seen her at your local craft fair. Her lovely handmade items are arranged in no particular order atop the same tablecloth she'll undoubtedly be using on the kids' table this Christmas.
She has something for everyone–baby clothes, blankets, hats, sweaters, scarves, tissue box covers, scrubbies, coozies, mittens, booties, dream catchers, infinity scarves, cowls, NFL themed products, dog sweaters, cocoons, stuffed animals, cat beds and some ruffly thing you're not quite sure what it is–all right there, laid out on the table for you to peruse. But you don't and neither does anyone else.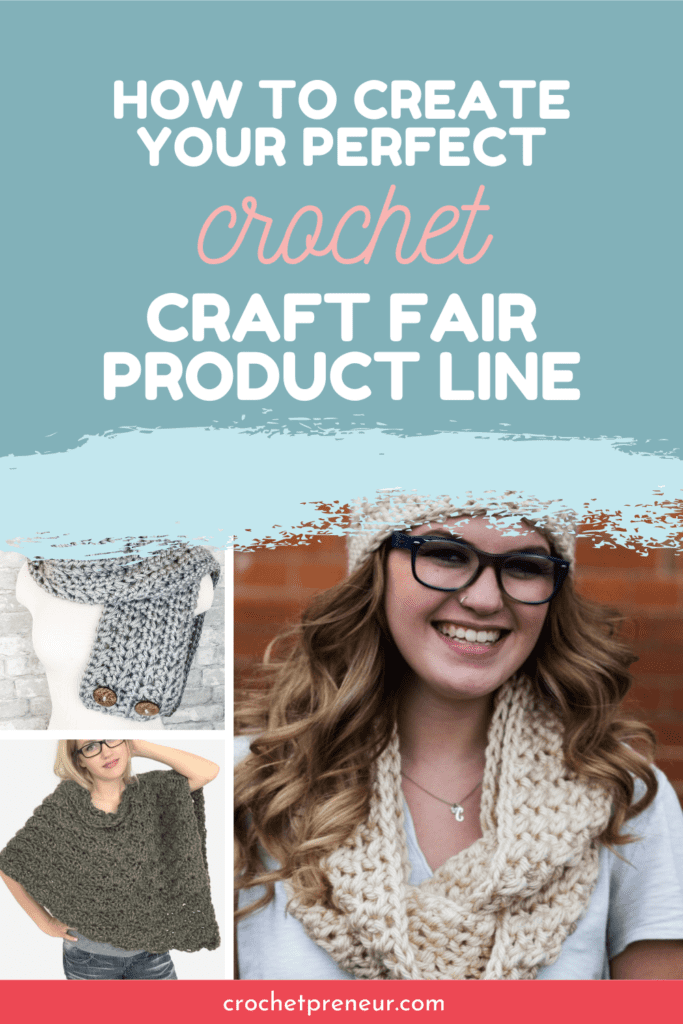 You watch as customers look her way, become overwhelmed, and walk on.
Or they stop, pick up a few items to feel their softness, and realize they're made from cheap yarns available … and move on.

Please know that I'm not making fun of her. I've been there. Remember how I got started? I'm just asking you to spare yourself the heartache of being that woman. Instead of being the flea-market crochet table, create a product line that says "You want me!" and has your customers saying, "Take my money!"
It is possible to create products that are lovely and luxurious with patterns that are optimized for profit so both you and your customers are winners in every transaction. Part of your job as a crochet business owner is to create a product line that does just that.
But how? Here we go, here are some tips!
How to Create Your Perfect Product Line
Let's define what I mean by perfect. In the context of your crochet business, the perfect product line will be one that contains products that will bring profit, that is amazing, and that makes sense to your target market. When someone walks by your booth or visits your online shop, they will know if they are where they belong within the first 10 seconds (because you know your niche and what they want). They'll be drawn in and primed to purchase.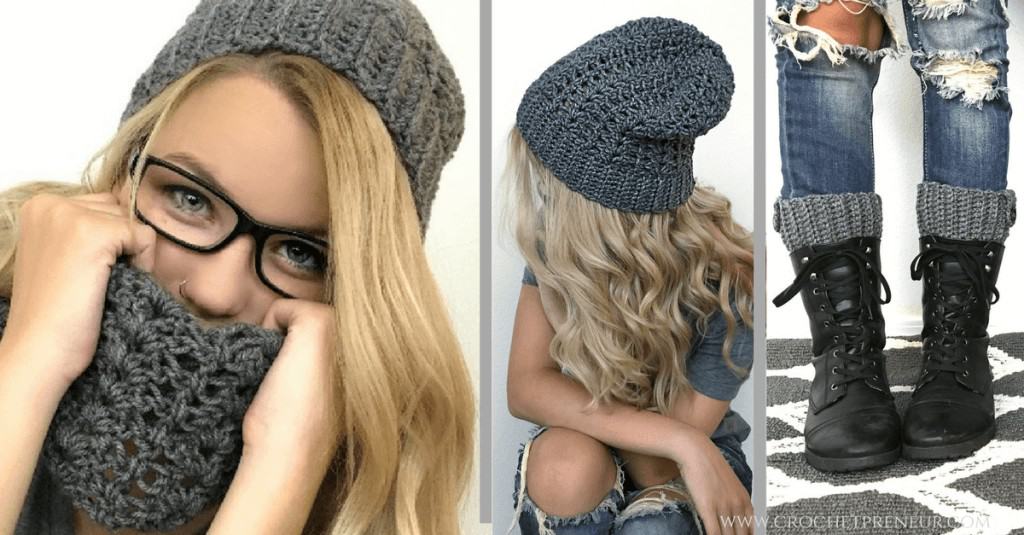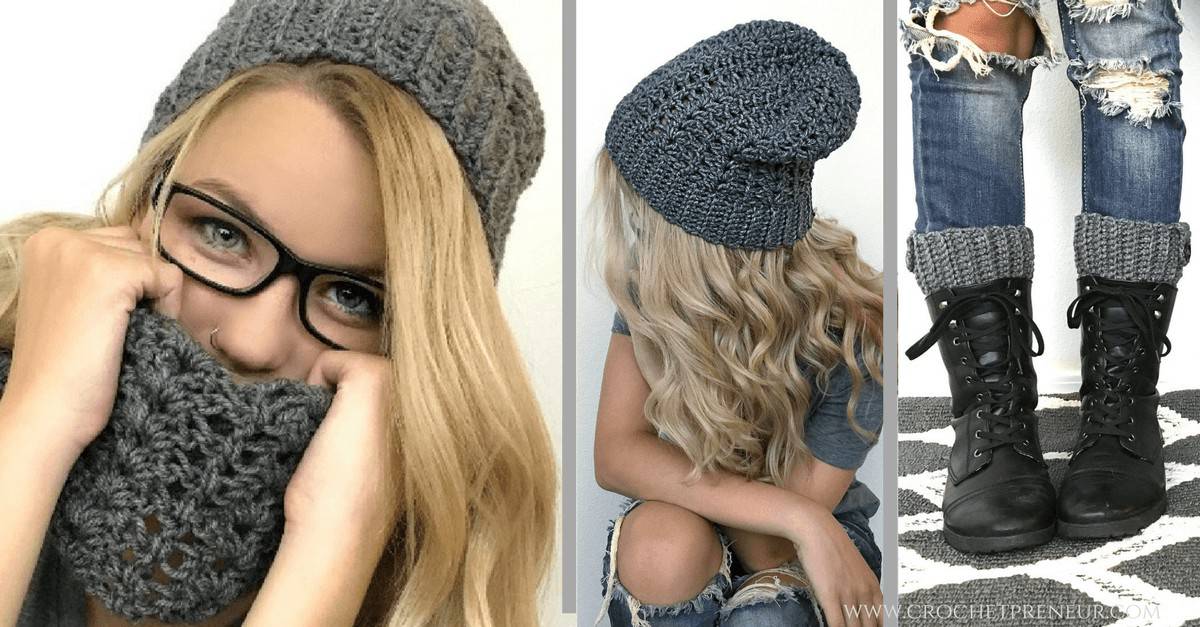 No matter your niche or target market, each crochet shop's perfect product line has these characteristics:
8 – 12 Cohesive Products
Really, there is no magic number. But too few products leave your customer wanting more and too many leave her overwhelmed. When you aim for between 8 to 12 products in your base product line, she will feel comfortable selecting the two or three items which best fit her needs. To make the products cohesive: (a) address a central need, (b) use a consistent yarn weight and/or stitch, and (c) stick with a particular color palette. You can choose one, two, or all three of these strategies to create your mix and match line.
Appeals to a Central Niche/Target Market
I know you want to make all the things and that's fine. You're just not going to be selling all the things. Make special things to give away or donate, but sell only those things that appeal to your target market. If you add a random item to the line that does not speak to your customer, she will become confused and that's not a good thing.
Consistency breeds trust and trust breeds sales.
Addresses a Pain Point
When you can address the pain points of your target market, your shop will begin to attract customers who crave your products, who need to have what you're offering, and who are loyal to your brand–and who will share your products with their friends, bringing you even more business. Your ability to identify and address her needs will create a buzz that will make you stand out in the crowded sea of crochet businesses!
Has a Median Price Range
Keep your base price range consistent. The majority of my products are priced between $25 and $35. This is the amount that I have determined is optimal for my customer. Consider your target market and adjust your base price range accordingly. Then, create products that fit within that price range while also giving you the profit you need. This is why I developed profit-optimized patterns for my own product line. Every item that I make fits within this price range while also providing me with the profit I need to create an income from my business.

Be sure to include products you can use as an upsell–fingerless gloves to go with a hat purchase, booties to go with a baby sweater, a small pouch to go with a stuffed toy, etc.
Has a High-end Add On
This is where you get to play with your creativity. By adding one or two high-end products (called stretching upward), your brand will appeal to a wider range of buyers within the same niche or target. Some examples of stretching upward would be: (a) adding a baby blanket to your infant clothing line, (b) adding apparel to your line of accessories, (c) adding one-of-a-kind items that coordinate with your base product line.
Has a Low-end Add On
Again, you are stretching your line to include other potential buyers, but this time, stretching downward. Add one or two lower-priced accessories to your line and you bring in customers who are looking for small gifts, stocking stuffers, or coordinating items for their other purchases. Some examples might be: (a) a teething toy, (b) a coozie, (c) coasters, or (d) a miniature basket.
Is Fluid
Once you curate your line, you will continue to evaluate your best sellers. Each year, purge the low-selling items from the line and replace them with new products or high-selling seasonal products that you can redesign to fit in the line long-term. I know it's sad to let go of a product you love but which isn't selling, but that's how you run a successful business. Don't waste your time making products that don't sell. Find out what your customer wants and fill in the gaps with new and exciting pieces.
Fits Your Brand
I was at the store this week and found some amazing yarn. It was a different weight than I normally use and it was in a different color tone, but it was beautiful. It also cost twice as much as my regular yarn. I was in love. I filled up my basket and my heart was pumping with excitement to play with this new yarn when I heard myself say (audibly, mind you), "Stop it! This doesn't fit your brand." I emptied my cart and walked away. Making products from this yarn would have confused my customers, cost more on my end, and would have diminished my profit margin. Bad idea.
The same philosophy goes for offering products that don't fit your brand's image. I'm not just talking cat butt coasters and wine covers that look like genitalia. Think about your branding vision, your mission, your customer's pain points, and your cohesive product line and ignore the rest. Then again, it could be that your target market wants cat butt coasters. In that case, go for it!
Is a Win-Win
I want two things for you. I want you to create amazing products that your customers feel a need to purchase and I want you to make money. It's easy to do one or the other, but it takes planning and finesse to do both. Again, I'm going to preach profit-optimized patterns to you. Buy, design, or curate product patterns that are meant to bring you an income. Use a pricing strategy worksheet to determine whether or not a product will fit into your line based on the profit margin and then use it or toss it accordingly. We want your sales to benefit both your customers and your bottom line.
Your product line is, at its very core, the face of your business. When you allow the line to tell your brand's story, you forge an alliance with your target customer by showing her that you see her, you understand her pain points and you are the one to come to when she wants to purchase a product she can be proud of.
Your product line is the foundation upon which your business rests. Make it solid and make it strong and you'll do just great!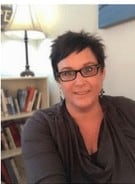 P.S. I'd love to hear your thoughts. What ideas do you have for your product line this year? Please comment below and share the excitement!
Price Your Products Like the Pros
Includes: the exact formula I use to price my products for maximum sales and profit while attracting my ideal customer.