If you've known me for any length of time, you know I have a "thing" for wood. From the earliest age, if you couldn't find Pam, just look up…she was in a tree somewhere in the vast forest that surrounded our house. The texture, the smell, the grain – wood is a wonder for the senses and working with it brings back joyful memories of childhood. So, naturally, when I first got my hands on a Laurel Hill wooden crochet hooks…I was in Heaven.
Now, traditionally, I'm an aluminum crochet hook kinda gal, but started using a wooden Tunisian hook several months ago and just loved it. So, when Laurel Hill offered to send me a traditional crochet hook to review, I jumped at the opportunity to try them…and I'm hooked. (Whoops, no pun intended!)
So, I thought now would be the perfect time to share Laurel Hill wooden crochet hooks with you. Their sustainable hooks make an amazing Mother's Day gift for a mom who loves yarn. (Doesn't everyone's mom love yarn?)
A Little Bit About Laurel Hill
From their website, "Laurel Hill is an innovative, environmentally friendly company dedicated to producing the highest quality exotic handmade knitting needles, crochet hooks, and accessories at reasonable prices."
What I really appreciate about the company is that it is family-owned. Started by Rick Brown almost 20 years ago, Laurel Hill has been sourcing and creating natural, sustainable knitting needles and crochet hooks that have a positive impact on the environment, the communities of their overseas business partners, and the artisans who use their products.
Their dedication to social responsibility is admirable and the fact that they are a small business, run by father and son team, Rick and Danny Brown, just makes me happy to support them.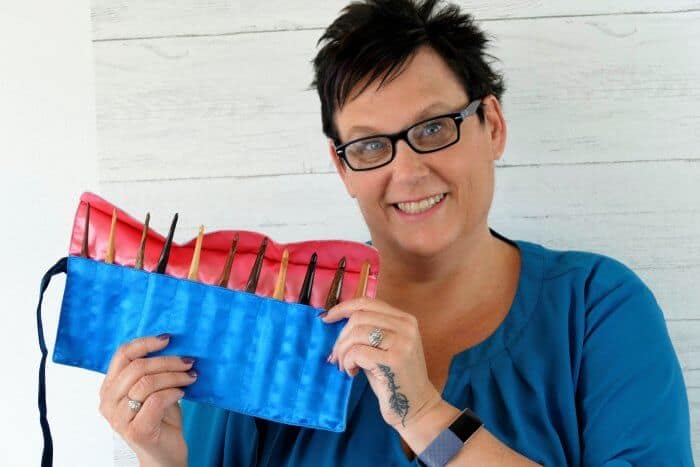 The Anatomy of a Crochet Hook: Review of Laurel Hill Hooks
OK, I get that this might be a little technical for some crochet lovers, but others are ravenously curious about these details so I thought I'd share all the ins and outs of the Laurel Hill crochet hooks before I talk about how it feels to use these hooks.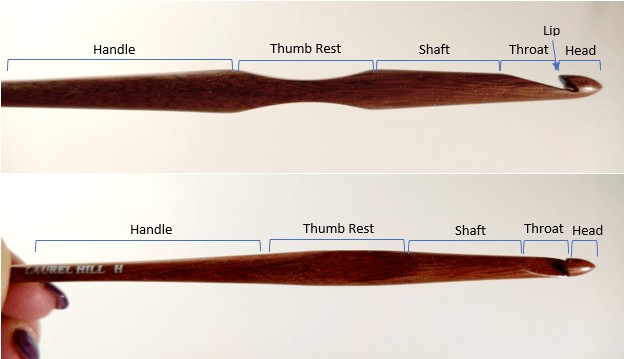 Here's the rundown:
Point: This is the part of the hook you insert into previous stitches in order to complete a new stitch. It must be sharp enough to be inserted easily, but not so sharp that it splits the yarn.

Review: The point on a Laurel Hill hook is sharper than most hooks I've used in the past, but not so sharp that I've experienced any yarn splitting or finger-poking. I actually was shocked at how easily this pointed hook slid through even the tightest of stitches. I will definitely be turning to these hooks when working on waistcoat (knit stitch) stitch and amigurumi, where tight stitches are either incidental or necessary.

Lip: is the actual 'hook' part of the tool. It is the portion of the hook that grabs the yarn and holds it on the throat. Typically, the lip is either pointed or rounded.
Review: The lip on the Laurel Hill hook is pointed. It took a little time for me to get used this sharper lip as the majority of the aluminum hooks I've used in the past have a blunt or rounded lip. However, after working up a swatch, I came to appreciate that sense of "grab" the sharper lip gives the process.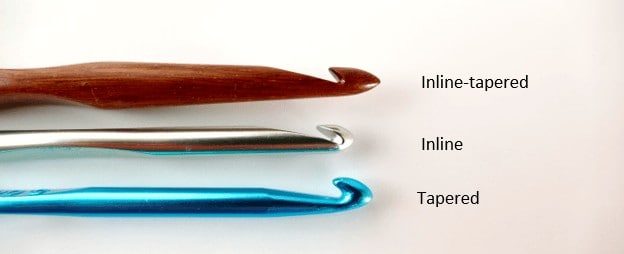 Throat: The throat carries the yarn through the stitch making process. There are two types of throats, inline and tapered.

Inline: With the inline throat, the head is the same size as the shaft (at the very top of the throat). I simply look like the maker took a slice out of a cylinder.
Tapered: The tapered throat is, well, tapered. Basically, a the end of the shaft, where the throat begins, it is tapered toward the head. Then, the head protrudes slightly higher than the shaft itself.
Review: At first glance, the throat of a Laurel Hill hook might look tapered, but, upon closer inspection, it seems to be inline. However, it's actually a little bit of both. The throat, itself, is tapered, but the lip is in line with the throat, not situated above the throat. So, it seems to be the perfect balance between the two styles.
Thumb rest: The thumb rest helps make the crocheting process more comfortable and the hook easier to control. Your preference for a thumb rest will, most likely, be determined by the way you hold your hook. Most crocheters, though, prefer a thumb rest over a simple rounded hook.

Review: Ok, the thumb rest on these hooks just might be my favorite part of the hook. Laurel Hill designed these thumb rests in conjunction with the Crochet Guild of America and I think they're just genius. The hooks are designed to be wider at the center which makes for a more substantial thumb rest. I've found that this gives me more control over the hook and creates a more comfortable experience for me.

Handle:

The handle is what balances your hook and provides leverage when creating stitches. It is the portion of the hook from the thumb rest to the end of the hook.
Review: Laurel Hill wooden hooks are all 6″ in length, which is just slightly longer than the hooks I've typically worked with. I don't find the extra length to be a factor in the comfort of crocheting, but I do find the look of the hook aesthetically pleasing. So, that's always a good thing. 😉
Laurel Hill Variety Crochet Hook Set
First, let me say, I am so grateful to the good folks at Laurel Hill for sending me this lovely set of hooks to review. I feel so blessed to get to play with these gorgeous hooks and to keep them as an heirloom for generations to come. If your mom is a crocheter, won't you consider grabbing a set of these beautiful hooks as a gift for her?
So, yes, in fact, I have made a swatch with each and every one of the hooks in this variety gift set and I just loved the experience. Like I said before, I have a deep love and appreciation for the beauty of wood but it's not just the beauty that make these hooks such a joy.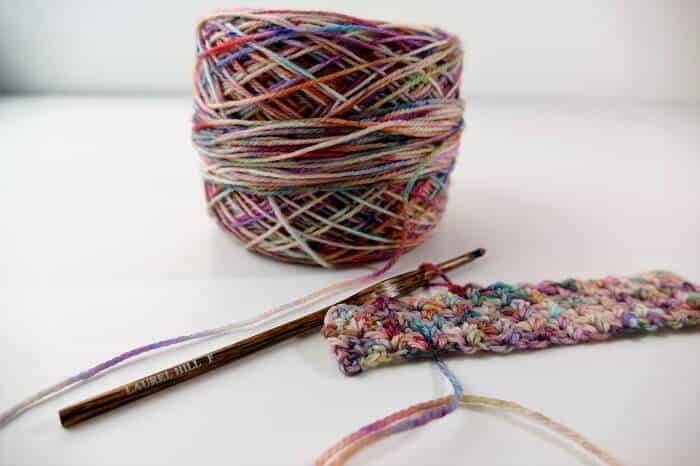 The finish on these hooks makes the yarn slide smoothly and evenly – there's nothing more frustrating than having your yarn catch on your hook! And the fact that the woods are all sensibly sourced as scraps from furniture and piano factories makes me feel connected to people from around the world…who owns a piece of furniture made from this same piece of wood? What songs are being played on a piano made from this piece? They truly speak to the artist and dreamer in me…cheesy, but true.
If you or someone in your world is as excited about Laurel Hill reclaimed wood hooks as I am they've got several options to choose from, these are just some of them:
Laurel Hill Reclaimed Wood Crochet Hooks
GIVEAWAY!

In conjunction with Made with a Twist, Laurel Hill Online, and Simply Vintage Crochet, we're having a giveaway.
TO ENTER, go to this post on Instagram and follow the rules given – giveaway ends May 10, 2019 at midnight.
One winner will be randomly selected to win:
Want to know what you can make with Marvelous Chunky Yarn? Check out this pattern from Made with a Twist.
Save your favorite image to your gift ideas board on Pinterest so you don't forget to purchase a variety set for the crochet you love!
Price Your Products Like the Pros
Includes: the exact formula I use to price my products for maximum sales and profit while attracting my ideal customer.