In today's post I'm going to be sharing my 2020 crochet business income report. Yes! It is possible to make a regular income from crochet and I can't wait to show you how I did it and how you can make money selling crochet and/or designing, too.
Hi again! It's me, Pam from Crochetpreneur and Made with a Twist – back again with a report on the money I made from my crochet business in the past year.
Wow, you guys, what a year 2020 was. It was rough for a lot of people and, as we all know, there were threats to just about everyone's income.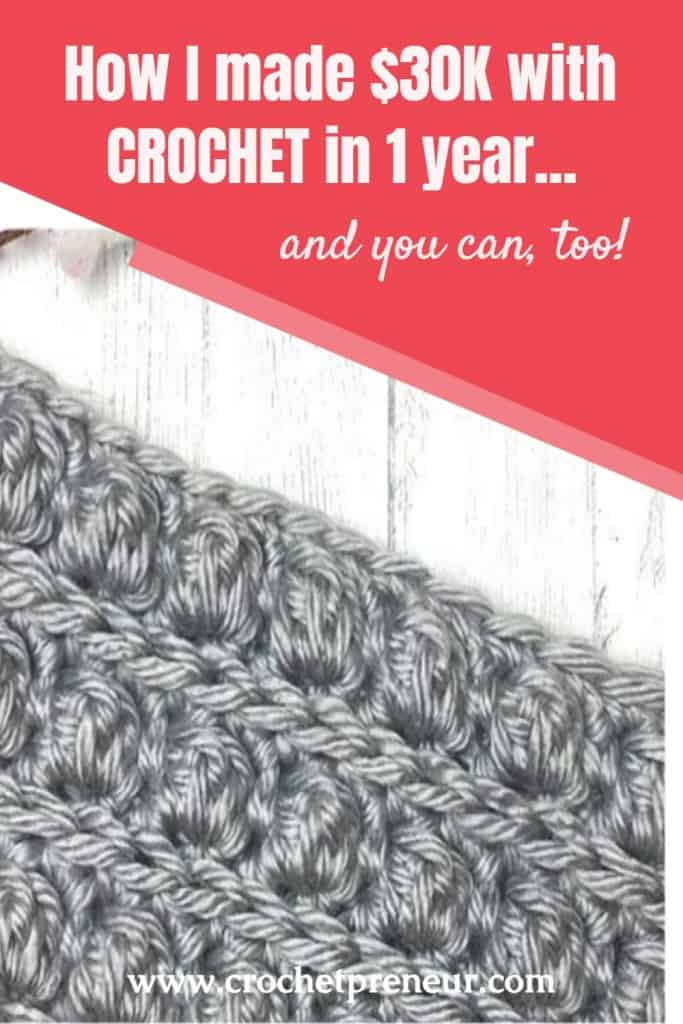 I'm so grateful to have a business that wasn't impacted by the pandemic and which, in fact, has been growing year-over-year without even really trying. OK, well, there WAS trying but there wasn't a lot of focus, time, or strategy used to grow my business in 2020.
Most of my time is devoted to…
caring for my 2-year old grandson, full-time, while his parents were working from home,
packing up and selling our home,
moving to some raw property on a gorgeous Colorado mountaintop (that is still without running water), and
coaching others to grow their own profitable crochet businesses.
So, how did I still make money when I wasn't focused on the crochet part of my business and in-person sales were virtually nill?
Well, first, I must acknowledge that I've put in about 7 years of sweat-equity so I had the luxury of allowing my crochet business , Made with a Twist, work passively as I focused on helping my clients manage their own businesses.
I was blessed to be able to take 2020 as a year of jubilee and just work on Made with a Twist when I had some extra time and inclination.
Why I'm Not Sharing Coaching Income
In previous years, every single time I posted an income report, I would get emails from disgruntled makers who are upset with me that I made money from coaching and courses about crochet and called that crochet income.
I get it. Not everyone can (or wants to) be a coach or couse-maker. And, while I, personally, see it all as crochet income, I think , at this point, it dilutes the message.
I do want to point out that I think it's only wise to pursue a wide variety of income streams within the context of your crochet business.
Focusing on one income stream will make you beholden to the status quo – but in this day and age, everything is changing. Your business will be on more solid ground if you diversify.
Why I Share my Crochet Business Income
Inspiration to Make Money Selling Crochet
I know, it seems counter-intuitive for an introvert, such as myself, to put herself SO 'out there' by posting public income reports but, from my perspective, the reason I do it is more important than any reason I wouldn't (for now).
See, when I first started blogging, I found such encouragement from reading income reports. They helped me believe that it IS possible for a regular, hard-working individual to find personal and financial freedom by creating a successful crochet business.
I share these reports because I hope to inspire you in the same way.
If you've been reading for any length of time, you'll know that I'm a passionate advocate for multiple streams of income – the cornerstone of which is starting a blog.
From that, all the rest of the income opportunities flow. I hope to help you see that play out, in real life, over the course of the year.
Business Coaches Must be Transparent
Secondly, the reason I share these details is you deserve to know.
I feel like I (and anyone giving business advice) need to be accountable to you and show you that I'm not just telling you what I think will work, but what does work for me and, also, what doesn't.
That's right when I hit the inevitable struggles, I'll share those with you, too.
I think it's important that, as someone sharing business tips with you, I'm open with the numbers.
Because, really, anyone can share their ideas on how to grow a crochet business, whether they've actually done it or not, and I want you to make wise and informed decisions about who you're following.
Am I the most successful blogger/designer/maker out there? Nope, but that's never been my goal. My goal is to grow my business in a way that fits my personality and my family's needs right alongside you.
I want to be as transparent about that process as possible.
Ultimately, on those days (weeks and months) when this crochet business thing feels HARD (and sometimes it IS hard – please don't set yourself up for disappointment by believing otherwise), I hope you can come here and find some inspiration to know that you can push through the hard days and build a business you love.
Ready to make the wisest decision you'll make this year by adding a maker blog to your crochet business income stream? Read my simple START A PROFITABLE CROCHET BLOG, to get your website up and running on the #1 rated hosting site, today!
BEWARE, The Danger of Income Reports: I can't tell you how many burgeoning crochet business owners I hear from who have seen an income report and tried to reverse engineer someone else's business…trying to do all-the-things, all-the-time, and all-at-once…to try to create an income for herself and getting herself sick, discouraged, and burned out. While I understand the temptation, this is not the way to build YOUR business with YOUR people and YOUR own passion. Take inspiration from this or any other income report, but know that growing a business into a full-time income takes time, strategy, and work…no income report can include all the nuances of how any individual made that happen. If you want help growing your business, please join us in the Crochetpreneur Business Academy.
Income and Expenses Report for My Crochet Business
2020 Crochet Business Income
Mediavine Ads: $6,798.65
Affiliate Sales

Amazon: $161.03
Siteground (/): $400.00
Ultimate Bundles: $546.36

Pattern Sales

Etsy: $12,779.56
Ravelry: $3,340.44
Love Crafts: $40.95
Made with a Twist Shop: $703.63

Tripwire Sales: $518.00
Pattern Bundle Sales:

30 Days of Cozy: $3,474.00
30 Days of Cozy Upsells: $336.00
Winter Warmers: $225.00
Handmade for the Holidays: $246.40

Yarn Support: $59.00
In-person Sales: $457.00
EARNINGS TOTAL:
$30,086.02
2020 Crochet Business Expenses
Etsy:

Listing Fees: $628.20
Transaction Fees: $543.24
CC Processing Fees: $995.22
Advertising Fees: $202.02
Shipping Fees: $16.35
Discounts/Promos: $1,913.30

Ravelry:

Transaction Fees: $118.42

Discounts/Promos: $270.90

Love Crafts:
Shopify

Website: $37.99
Transaction Fees: $24.08

Send Owl

Platform Fees: (/) $144.00
Gateway Fees: $220.62

PayPal CC Processing Fees: (/) $614.44
Payments to Affiliates: $1,195.20
Siteground (/): $210.00
Tech Support (/): $615.60
Mailerlite: $780.00
Canva: (/) $155.40
Marmalead: $228.00
Tailwind: (/) $227.39
Recurpost: $180.00
MyeCoverMaker: $19.80
Blogging/Business Coach: $1,080.00
Blog/Business Courses: (/) $597.00
Yarn: $864.54
Giveaways: $50.00
Shipping: $32.12
Virtual Assistant: (/) 365.82
Payroll Processing: (/) $135.00
Accountant: (/) $270.00
EXPENSES TOTAL:
$12,738.07
Net Profit:
$30,086.02 – $12,738.07 = $17,347.95
Charitable Donations:
Together, in, we (you and I) gave $3000.00 to charitable organizations whose goal is to rescue the hearts and lives of hurting people particularly the homeless, children in foster care, and those being exploited through human trafficking.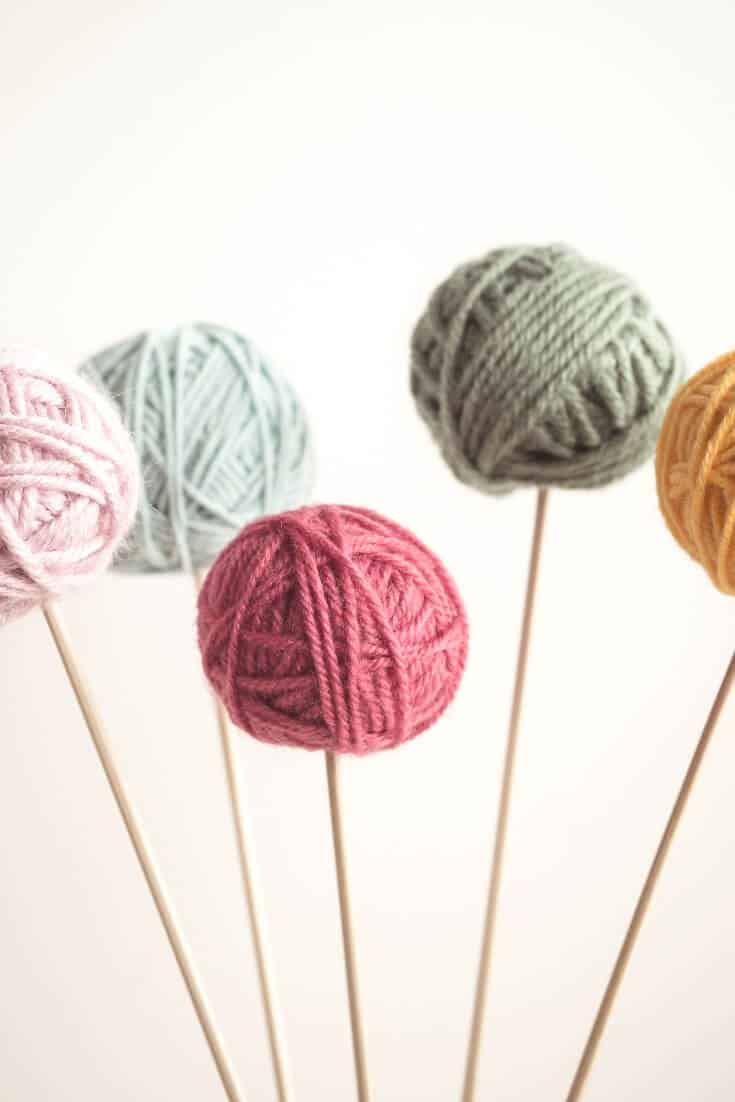 Debrief
What Happened in the Business
Well, the year feels like a blur…but here are some highlights of the business year:
30 Days of Cozy is always a blast and it ran really smoothly this past year. I made some adjustments to the format that made the event even more profitable for participants. So, I'm excited that I was able to give back to them in that way.
I designed just 7 new patterns this year and used some previously unpublished designs to fill in the gaps when I felt it was necessary.
I, pretty much, ignored my social media. I mean, when life is crazy busy, something's got to give.
My Made with a Twist email list continues to grow by approximately 1,000 new subscribers monthly and this is where I focus my marketing efforts.
The design of the Made with a Twist blog was totally redone in 2020 and I love how clean and simple it is.
All craft fairs were cancelled but I was able to set up a pop up shop inside my office space on Main Street in our new little town and ended up selling about $500 in product in November/December just from foot traffic.
Thoughts for the New Year
I expect that 2021 will be more of the same busyness and distraction as we work toward building our new home and starting our homestead.
So, I'm giving myself some grace and will focus on helping to share the work of my Crochetpreneur Business Academy members through blog bursts and bundle sales, guest posts, and other fun event.
My goal is to share one new design per month but I may or may not hold myself to that.
I'm also focusing on curating bundles as an upsell for blog hops and pattern releases.
As far as product sales go, I will continue to limit online product sales, just due to the fact that it takes a 30 minute to 1 hour trip to be able to mail anything from our new place.
I do have plans to participate in two winter craft fairs, provided those are open to the public this year. So, any inventory I create will be sold in-person.
Finally, it's obvious that I can do some work lowering expenses. So, I'm going to take a look at those expenses and determine which need to stay, which have the highest return on investment, and which can go.
What Happened in Our Lives
I mean…it was 2020, right? It was a year of chaos, unpredictability, and learning how to be flexible and to let go.
Jan: Started the year with a long list of goals and lots of vacations planned.
Feb: We did make it to Disney World for one last time in late February.
March: We decided to take care of our grandson for the week so he could finally recover from all the colds he was bringing home from daycare. Then, COVID happened and we all just felt it was better that we take him during the daytime while his folks worked from home. We cancelled our long-awaited trip to Sao Paulo, Brazil and, instead hunkered down for a "15-day lockdown".
April: Kevin ended up closing his business due to COVID with no forsseable end to lockdowns.
June: We were relieved to be able to take an RV trip to Wyoming, and North and South Dakota in June. It was a great respite and being in nature really restored our spirits.
August: We decided to seize the day and purchase some property in the country on the southern slope of Pikes Peak where we can start a more self-sustaining homestead and create memories with the grandkids.
October: We sold our home and put our belongings in storage and moved into our RV while we wait for home to be built. I rented an office "in town" to work from while we waited to get electricity and internet up to the property.
December: I was able to move my office "home".
OK, it was an unexpected year. If you had told me, in January 2020, that within 9 months I'd be living off-grid as our family's sole supporter while Kevin gets started on our homestead, I'd say you were crazy….but here we are.
Thoughts for the New Year
Everything is new and we're being stretched each day with new obstacles and new things to learn at every turn but we're looking forward to seeing where 2021 takes us.
My goal for the year is to embrace each moment, to learn from each experience, and to live with grace no matter what happens.
Beyond that, I'm in for the ride. How about you?
Want to Learn How to Start a Crochet Business?
Join the Crochetpreneur Business Academy
If you're one of those go-getter crocheters who knows that you want to be more than a hobby seller, I'd love to invite you to join us in the Crochetpreneur Business Academy. While the class isn't enrolling right now (Or is it? We're planning something special for Black Friday!), doors open toward the end of summer. You can be sure to get in on the action by signing up for the waitlist.
Are you ready to grow your income with a maker blog of your own? Check out my START A PROFITABLE BLOG guide and get yours up and running today!
Blogging Resources
Find all my favorite blogging tools on my Resources page.
If you want to learn more about why starting a blog is a great choice for makers, how they can use it to build a variety of income streams, how to start gathering emails and driving traffic to the blog, check out my introductory mini-course, Blogging for Makers 101.
Already have a blog, but looking to increase your income, check out these free resource from Elite Blog Academy,
That's OK! There are plenty of other ways to make money with your crochet skills. Here are some articles you might enjoy:
The Ultimate List of 20+ Ways to Make Money Crocheting
An Impulsive's Guide to Starting a Crochet Business Right Now!
Other ideas? Take my free ROCK YOUR CRAFT FAIR Training Series or, for aspiring designers, sign up for the GET IT DONE Concept-to-Launch Crochet Pattern Writing Email Challenge!
I can't wait to help you build and grow your business into the business of your dreams!