In this episode, I want to talk about an issue that plagues many crochet business owners – isolation. The feeling of being alone and unseen in your crochet business can have profoundly negative effects on your mental health, joy, and overall experience. But don't despair, for we have a solution.
Today, we are here to explore the antidote to isolation and provide a comprehensive prescription to help you not only survive but thrive in your crochet business. So, grab your crochet hooks, get comfortable, and let's dive into this journey of growth and community building that can change your life as a crochet business owner.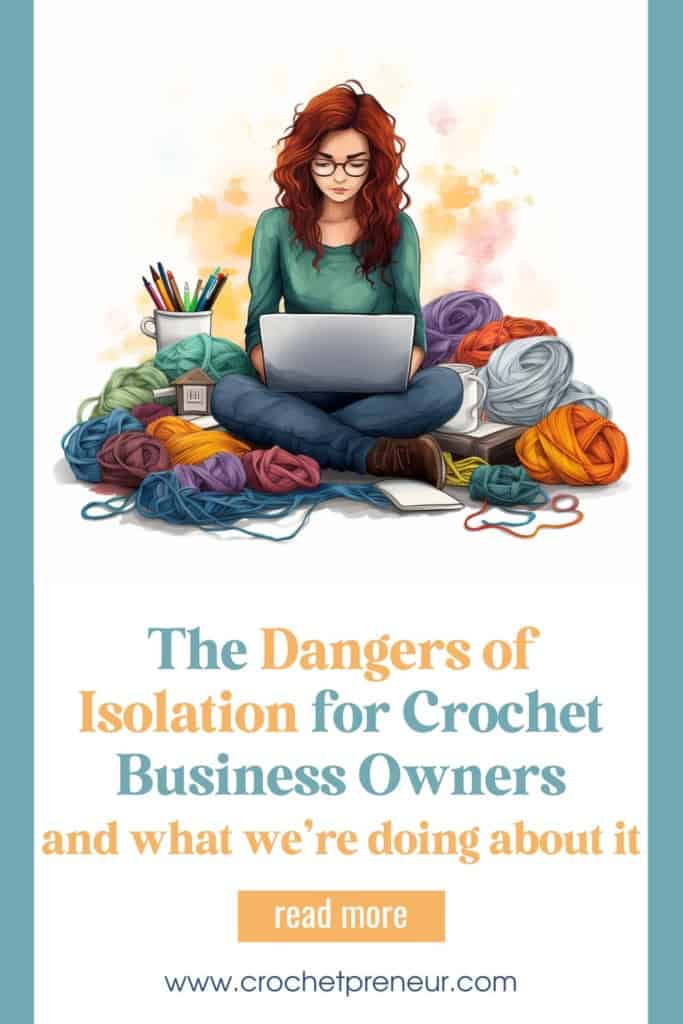 Understanding the Dangers of Isolation
Isolation in the world of crochet business can be a silent menace, creeping into the minds and hearts of entrepreneurs, wreaking havoc on their well-being. The consequences of isolation are not to be taken lightly, as they can manifest as anxiety, depression, and psychological stress.
Even if you have distractions or people around you, the lack of connection with like-minded individuals who understand your crochet business can be particularly detrimental. It's that feeling of nobody "getting it" that can be truly dangerous, gnawing away at your sense of self-worth and causing you to question your path.

This impact is even more pronounced for those with pre-existing mental health conditions, many of whom turned to crochet as a means of relief and solace. For them, isolation in their crochet business can become a double-edged sword. Additionally, the recent increase in isolation due to global events has exacerbated these effects.
Statistics show that individuals experiencing isolation report an ideation of major self-harm at a startling rate of 11%. 13% report increased substance abuse and 36% report increased symptoms of anxiety and depression. This level of distress is not just concerning; it's heartbreaking, and it is unnecessary. It's crucial to address these issues and find a solution to help crochet business owners not only survive but truly thrive.
The Importance of Building a Crochet Business Community
In today's fast-paced, digital world, many of our connections are online. And while these interactions provide a sense of connection, nothing beats face-to-face meetings and deep, meaningful connections.
Research has highlighted the significance of psychological support and social connections in maintaining mental health. For crochet business owners, having a community of like-minded individuals who understand the unique challenges they face is paramount. Social connections play a protective role.
This is just one reason why we have organized the Increase! Crochet Business Summit, a live event designed to bring crochet business owners together, bridging the gap between the virtual and real world. Our primary goal is to create an experience that fosters strong connections and provides an opportunity for growth and healing amidst the often isolating world of entrepreneurship.
Introducing the Increase! Crochet Business Summit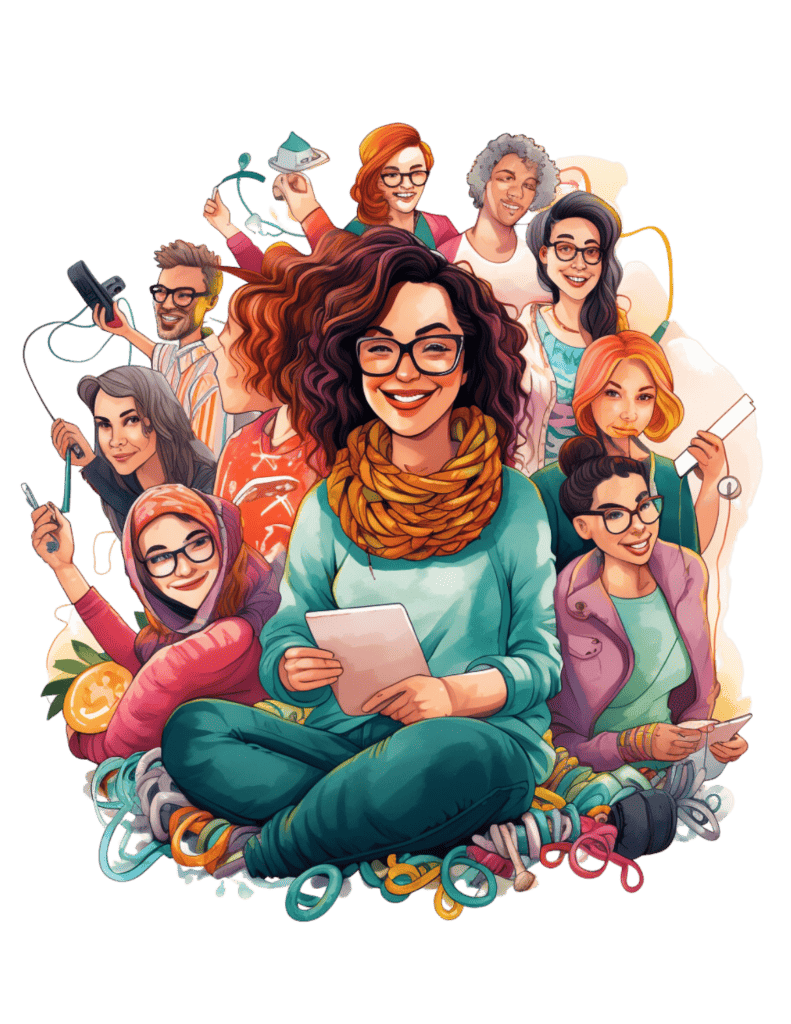 The Increase! Crochet Business Summit is not just another event. It's a two-and-a-half-day live extravaganza designed to empower and uplift crochet business owners. Our aim is to provide a safe space where you can be yourself, learn from industry experts, and find a tribe that understands the unique challenges and joys of your crochet business journey. Here's an overview of what you can expect at the summit:
Building Community Connections
At the heart of the Increase! Crochet Business Summit is the opportunity to engage in face-to-face interactions with fellow crochet business owners who understand the unique challenges you face. This is a chance to network, collaborate, and share your passion with other individuals who share your love for crochet. The joy and energy that come from being in a room full of like-minded people cannot be underestimated.
Tools and Strategies for Business Growth
To truly thrive in your crochet business, you need more than just passion; you need the right tools and strategies. The summit offers a range of breakout sessions and workshops led by industry experts. You can learn marketing techniques to increase your visibility, sales, and profits, gain insights on time management, improve your relationships, and even work towards achieving financial freedom in your crochet business.
Freedom and Purpose
Beyond just business growth, the summit delves into the concept of freedom in your crochet business. This includes time freedom, financial freedom, and the freedom to pursue your purpose. Discover how to align your business goals with your passions and purpose, creating a fulfilling and impactful crochet business that goes beyond just the bottom line.
Secure Your Spot Now with Early Bird Pricing!
To make the event accessible to as many people as possible, we're offering early bird pricing available until November 28th. The schedule is not finalized. But if you trust that we will bring you an amazing conference, click here to buy your ticket and to take advantage of this limited-time deal. Act fast because there are only 180 seats available, and we want you to be a part of this transformative experience.
Wrapping Up
Isolation can be suffocating for crochet business owners, affecting their mental health, joy, and overall experience. However, by building a strong community and connecting with like-minded individuals face-to-face, you can combat these challenges head-on. The INCREASE Crochet Business Summit offers the opportunity to forge meaningful relationships, learn valuable strategies for growth, and find the freedom and purpose you desire in your crochet business.
Your crochet business doesn't have to be a solitary journey. Together, we can increase your success, happiness, and sense of community. Join us at the INCREASE Crochet Business Summit and let's crochet our way to a brighter future. Don't let isolation hold you back; seize the opportunity to be a part of the antidote to isolation in the crochet business world. Secure your spot today and embark on a journey of growth, connection, and transformation.