Are you looking for a thoughtful gift for the crocheters in your life? Then you won't want to miss this episode of Crochet Business Chat, where I talk with my friend, Erin, the creative mind behind Juniper & Oakes. Erin is known for her captivating Instagram reels, her gorgeous mosaic crochet designs, and her engaging crochet-a-longs. Now, she has just released a brand new coloring book, designed specifically for crochet lovers. Crochet & Color is the perfect gift for crocheters, kids, and coloring enthusiasts!
Listen in as we chat about Erin's journey to creating Crochet & Color, an inspiring tale of how a simple love for coloring, a desire for relaxation, and a passion for helping people with anxiety led to this wonderful product.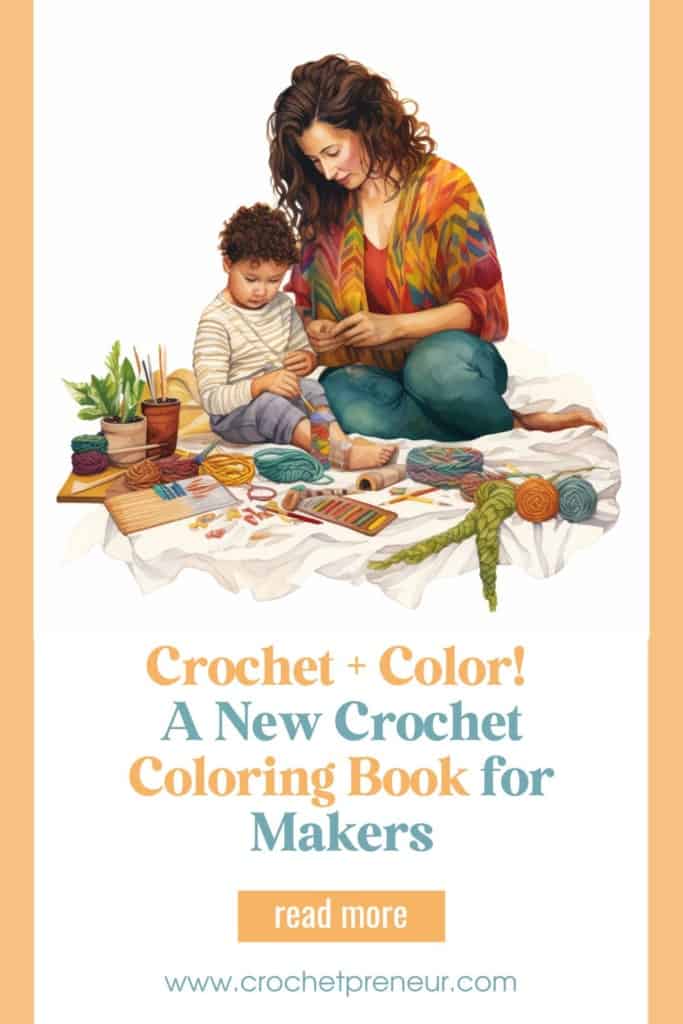 How and why was Crochet & Color created?
Crochet & Color was born out of Erin's love for coloring at home with her kids. In addition to a family activity, she also enjoys coloring for stress relief. She has found that coloring is an excellent tool for managing anxiety, aligning with her advocacy for using crochet as a stress relief mechanism. Erin's twin passions for crochet and coloring naturally blended to create the perfect product, where she could express her adoration for crochet through art.
What's included in Crochet & Color?
The coloring book comprises 40 crochet-themed pages, catering to a broad audience, from novices to experts. It starts with simple crochet illustrations and uplifting sayings, and gradually progresses to more intricate, adult coloring book-style designs.

Is Crochet & Color only a gift for crocheters?
Erin believes that Crochet & Color is an excellent fit for all kinds of people, not just crochet enthusiasts. The coloring book allows crocheters to take a break, refocus, and push away stress. It's also a fun way to share your love of crochet with your kids (or grandkids, or nieces and nephews). Even if children can't crochet, they can enjoy the craft by coloring alongside you. You could gift it as a stocking stuffer, to thank loyal customers, or even purchase it in bulk to sell at local yarn stores.
How can you use coloring for stress relief?
Erin has personally benefited from the therapeutic effects of coloring. When she was a young adult, a mentor introduced her to coloring as a means of relaxation. Since then, it's been a source of relaxation for her, and she now shares this calming experience with her children. As a busy maker, it's important to set aside some time each day to unwind and do something that brings you joy. Coloring is one excellent way to unplug and de-stress.
How can you express your creativity through coloring?
Erin talks about the joy of seeing others explore different coloring mediums, like markers, crayons, and colored pencils, each offering a unique way to personalize their experience. You can choose your own tools, colors, or techniques to give these pictures whatever look you want. You don't have to color perfectly in the lines.
In addition to creative coloring, crocheters can also use Crochet & Color to inspire their next crochet project. Erin highlights one of her favorite pages, a granny square page, where you can experiment with different colors for your next afghan.
What are people saying about Crochet & Color?
So far, Erin has received positive feedback from both crocheters and parents. Her virtual assistant's children have taken to the coloring book enthusiastically, and her super fans in the crochet community have been quick to get their hands on it as well.
How can you buy Crochet & Color?
You can get a physical copy of this beautiful coloring book from on Amazon, making it accessible to crochet lovers worldwide. Additionally, for those interested in bulk purchases, Erin has provided a solution through the Ingram Content Group. There, local yarn stores, bookstores, and various establishments can stock up on her coloring book for their clients' enjoyment.
Wrapping Up
Erin's Crochet & Color is a delightful gift for crocheters (or pretty much anyone)! The book is a beautiful amalgamation of her passions for crochet and coloring, making it the perfect stress-relief tool Whether you're an experienced crocheter, a child eager to create, or someone seeking a bit of relaxation, this coloring book offers something special for each of you.
It's not only about coloring within the lines but also reconnecting with the carefree spirit of childhood. We hope you've been inspired to bring a splash of color and creativity into your crochet journey!
Connect with Erin
Don't forget to explore Erin's crochet patterns, visit her Etsy shop, follow her on Instagram, and join her enthusiastic crochet community. Follow the links below to find Juniper & Oakes in all the places!
Meet Erin from Juniper & Oakes
Erin is the designer and crocheter behind Juniper & Oakes. She believes Your home should make you feel cozy and at ease. She designs crochet patterns & creates home decor pieces that bring comfort and invite conversations.