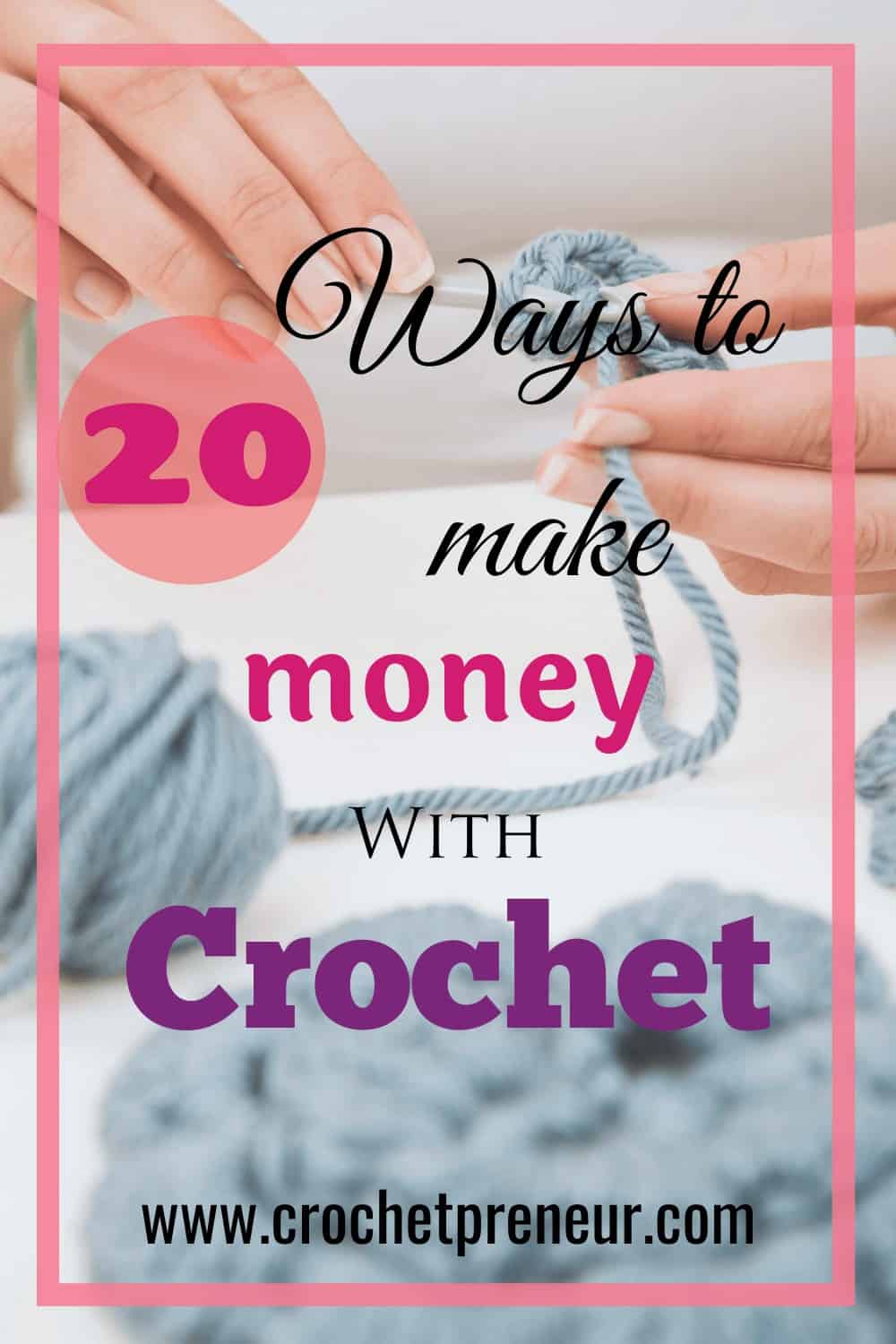 Google: "Are there really effective ways to make money with crochet?"
Sure, I searched Google when I first considered selling my handiwork too. I asked Siri:
"How to make money selling crochet"
"Do people really buy crochet"
"Popular crochet items at craft fairs"
Yes, I searched them all and I found some good information – helpful, kind of. But nothing I found online could compare to wisdom learned by spending a few years immersed in the world of crochet.
I have spent the last several years living and breathing crochet, watching some succeed and others struggle, and doing some poking around to gain insights into what goes on 'behind the scenes' and, let me tell you, there is so much more to crochet than simply selling product!
With a combination of skill, imagination, and determination, the depth of opportunities available to you as a crochet artisan are limited only by the depth of your gumption.
And you've got gumption…I know you do!
So, take a deep breath and let's talk through some of the possibilities and ways to money with crochet that you may not have considered (and some that you have considered because they're great opportunities)!
WAYS TO MAKE MONEY WITH CROCHET
Money Making Products
Finished End of Market Products
Ultimately, I think this is the first thing we think of when we consider making money with crochet – selling our finished products – getting our hats, blankets, amigurumi, whatever into the hands of end users. And that's great, but there are so many options available in this category. I'm going to list out just a few of them.
Craft Fairs – Craft fairs are a great place to meet with your customers face to face, to find out what they love and what they're willing to spend money on. Typically, you'll find that you'll sell better at Fall/Winter fairs than Spring and Summer ones, but some crocheters have built their entire business around summer crochet fashions or home decor product lines. These still sell well during warmer weather so they're worth considering. Find your local craft fairs by searching for events online, contacting local churches and schools and using websites like Festival Net.
Consignment – Selling on consignment is a convenient, cost-effective way of getting your product into the hands of buyers. When selling on consignment, remember that the store owner will take a cut of the profits (in my experience, it has been 35%), so price your items accordingly. Consider selling on consignment at local boutiques, second hand stores (this is great for children's items in particular), ski shops, hospital and other gift shops, shops known to sell handcrafted items, artisan co-ops, and anywhere your target market may be frequenting (hair stylist, shoe store, video game store, etc.).
Wholesale – There's nothing quite like the feeling you get when you receive your first wholesale order and the great big check that goes with it! Yes, in actuality, your profit per piece will be much lower, but by working in a production line fashion, you can minimize that time it takes to produce each piece and your overhead is minimized as well. We'll talk more about the logistics of selling wholesale in another post – I will link it here when it's available. Typically, wholesale prices are about 50% off retail prices so it's important to price your product accordingly.
Subscription Box/Membership – Yes, the subscription box has found its way to handmade. What a creative and exciting way to set yourself up for recurring monthly income that is (somewhat) predictable. It's a win-win when you get to delight your subscribers with a new product each month. Companies like Cratejoy and Subbly make it easy to set up and get your subscription e-commerce business started.
Online Sales – This almost goes without saying, but must be included because it is probably the largest source of handmade sales right now. There are any number of online sources for setting up shop, Etsy, being the largest, followed by Handmade on Amazon. Other smaller sites include Artfire, StoreEnvy, and Zibbet – and there are many more! Some sellers have found success selling on Facebook and local sites like Craigslist – though I'll share my own personal feelings about these at a later date. You can also start your own shop on platforms like Shopify, Weebly, and Wix or, better yet, a self-hosted WordPress site is the way to go if you're planning on a long-term online presence.
Home parties – Nothing makes a sale more quickly than hearing, "Oh, my gosh, you look so cute in that hat!" While home parties have been around for well over 50 years, they are still a viable option for extroverted sellers who love a crowd and don't mind packing their product to carry with them. Following the model of Mary Kay or Pampered Chef, the handmade seller can provide a great, hands-on experience…and there's always the benefit of wine!
Photo Props – Many photographers are looking for handcrafted items to use in photo props – baby items, novelty outfits, diaper sets, and cocoons are all popular crochet props. The great thing about this is that your products practically sell themselves. If a photographer takes a photo featuring your prop, ask them to tag you in social media postings and give your business card to their customers along with the photos.
Art Crochet – Yes, there are crochet artisans who sell their completed, one of a kind, products to galleries and have their creations displayed in museums and businesses. Are you the type of artisan that goes above and beyond with the uniqueness of your products? Consider showing at a gallery and selling to the high-end market.

Supplies
Crochet embellishments – Some of the highest ranking crochet shops on Craft Count are shops that sell embellishments to other shops – flowers, leaves, pom poms – if these are your thing, you can find a large market of crocheters ready to purchase your handiwork to add to their products.
Patterns – Again, this could be its own post because this is a big topic, but we'll just take a look at all the different ways you can sell patterns. If you're a designer, this is a great way to make a passive income!

a) Create and sell patterns on sites like Etsy, Ravelry, or your own website.

b) Create patterns and provide them for free on your monetized website and make money from the advertising space – there are many sites available for listing your patterns that will provide a link back to your monetized site. These include All Free Crochet, Crochet Pattern Central, and Crochetville.

c) Create both free and premium patterns – This is the system that I use as the free patterns help you with getting your brand into the hands of crocheters and, once they know who you are and appreciate your work, they are more likely to purchase in the future.

d) Design and provide patterns to crochet and craft magazines – each magazine has its own submissions and payment policies so this will take a bit of research, but this is a great way get your brand recognized and to make money doing what you love.

Here are links to just some magazines' designer submission pages:

* Crochet! Magazine* Pom Pom Quarterly* Crochet World * Leisure Artse) Get your patterns into the hands of catalogs like Annie's Craft Store – in this case, it works kind of like consignment and the store takes a percentage of the sales and will send you q check quarterly. This is a little tougher than submitting to a magazine as I am unable to find submission guidelines online. I had a pattern listed with Annie's for quite some time, but it was a popular pattern of mine from Etsy and their representative approached me rather than my seeking them out.


f) Self-publish – You can self-publish your patterns for both print and eReaders. While print is always the more expensive option, Kindle books have become a great source of revenue for many designers.

g) Create Sponsored Patterns – many yarn manufacturers seek out designers to sponsor. Once you have a large enough social following and brand recognition, you can apply to your favorite yarn company and have them pay you to do what you love!

Craft Kits – Recent years have seen a burst of support for handmade products and the number of people wanting to learn to be makers themselves has grown as well. In our I-want-to-do-it-the-easy-way culture, what is a better way to tap that market than to provide a craft kit? Simply gather the pattern and all of the supplies needed and package them into a lovely bundle and sell together. You could even provide a YouTube tutorial to go along with the kit for added value!
Subscription Box – Like the subscription box for finished products, this option provides you with a great source of predictable, monthly income. Like a craft kit on steroids, the subscription box is a kit that keeps on giving. Typically, the subscription box will include a pattern, supplies to complete a project, some sample products specifically selected for the crochet market and a surprise or two. The great thing about these boxes is that social media provides so much free advertising. If you're selling a box, be sure to include a unique #unboxing hashtag for your business so your customers will be sure to tag you on Instagram and Pinterest.
Money Making Services
Teaching
If you decide that you'd prefer to offer a service to make money with crochet, rather than a product, teaching may be right up your alley. Some things to consider are the ages you'd like to teach, your curriculum, your prices and where you will teach. Some of your options are to teach:
At Home – Teaching crochet from the privacy of your own home makes for an idyllic situation for stay-at-home moms or the elderly who can't travel. Some extra considerations for teaching from home include: neighborhood covenants, insurance liability, home security, parking and handicap accessibility.
At the Library – Many local libraries have free space for classes. Often, these classes must be open to the public and, on occassion, they must be free. However, the library provides a great place gaining trust in the community, building your teaching skills and becoming comfortable with your curriculum and students. The time you spend here may open doors to other opportunities so it is a path worth exploring.
At a Local Shop – Do you have a favorite yarn shop? Whether a small, local shop or a large franchise, these shops are the ideal place to teach where the action is. They will often advertise your class for you and provide a space to teach. Just know that the larger chain stores often require certification – see below.
On Your own YouTube Channel – If you are tech-savvy, YouTube might be the place for you! By creating a channel and offering consistent content, you may be able to become a YouTube partner and monetize your videos for a great passive income source.
Through a Self-published Tutorial – Just like a self-published pattern, using Kindle to publish a well-written, well-photographed tutorial can bring credibility and more passive income!
Online Classes – Several online platforms are popping up that provide a place for you to get paid to teach classes. A quick Google search brought up links to Udemy, CreativeLive, and SkillShare. Or, you can create your own online classes through CourseCraft.
When necessary, certification can be acquired through the Craft Yarn Council Certified Instructors Program
Blogging –
Do you love to write? Love sharing new and exciting things in the world of crochet? Have a great social media following? If so, blogging may be just right for you. By starting a blog you can build your brand, grow your business, and connect with your customers on a more intimate level….and create raving fans!
It takes a lot of work, but with great content and consistent writing and reader engagement, you can build a blog that provides income through product sales, course sales, advertising income, and affiliate links. If you're wondering if you have what it takes to be a maker/blogger, check out my post, How to Start a Blog for Your Etsy Shop or Handmade Business.
Pattern Testing
Every quality designer needs pattern testers and while many simply offer the pattern or pattern plus supplies as payment for testing, there is such a thing as a professional pattern tester. To get an idea of what is entailed with pattern testing, join the Ravelry group The Testing Pool. Also, try checking into the Crochet Guild of America and apply to become a contract crocheter and pattern tester. This is great for those who are detail oriented, patient and good communicators. It's an important job!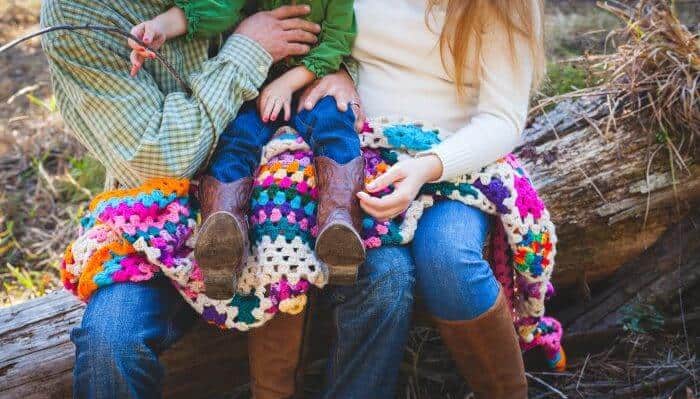 Oh my gosh, did you make it through that list?! I hope so because there is a lot of great information there.
If you've been discouraged and feeling like starting a crochet business will just leave you lost in a sea of people all doing the same thing, take heart! There are so many ways to make money with crochet that you can choose the one that is just right for you, your lifestyle and your financial goals.
Do you feel like you have a better sense of direction now? You may feel overwhelmed…
If so, read over the list a couple of time over the next few days. Talk to friends who know you well and give them permission to be brutally honest. Listen to your gut.
What do YOU want to do?
After all that, I hope you are feeling more grounded in your decision and I can't wait to hear about all the great things happening with your business.
You are a rock star!
If you've found this list helpful, please share so, together, we can help others who are in the same boat. Also, please leave a comment below so I can know how best to serve you in the weeks and months ahead.

Want to learn even more? You might, also, be interested in these articles:
Create Product Descriptions that Sell for You!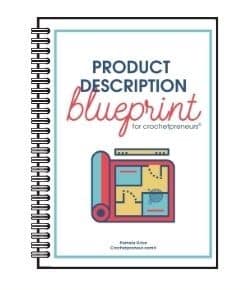 Includes: the exact formula I use to create best-selling product descriptions that help get your products found and SOLD!