(Note: While this post "How to Start a Crochet Blog" is written for crochet business owners, it applies to all maker businesses so don't let the word 'crochet' scare you away – just substitute your craft and it all still works!)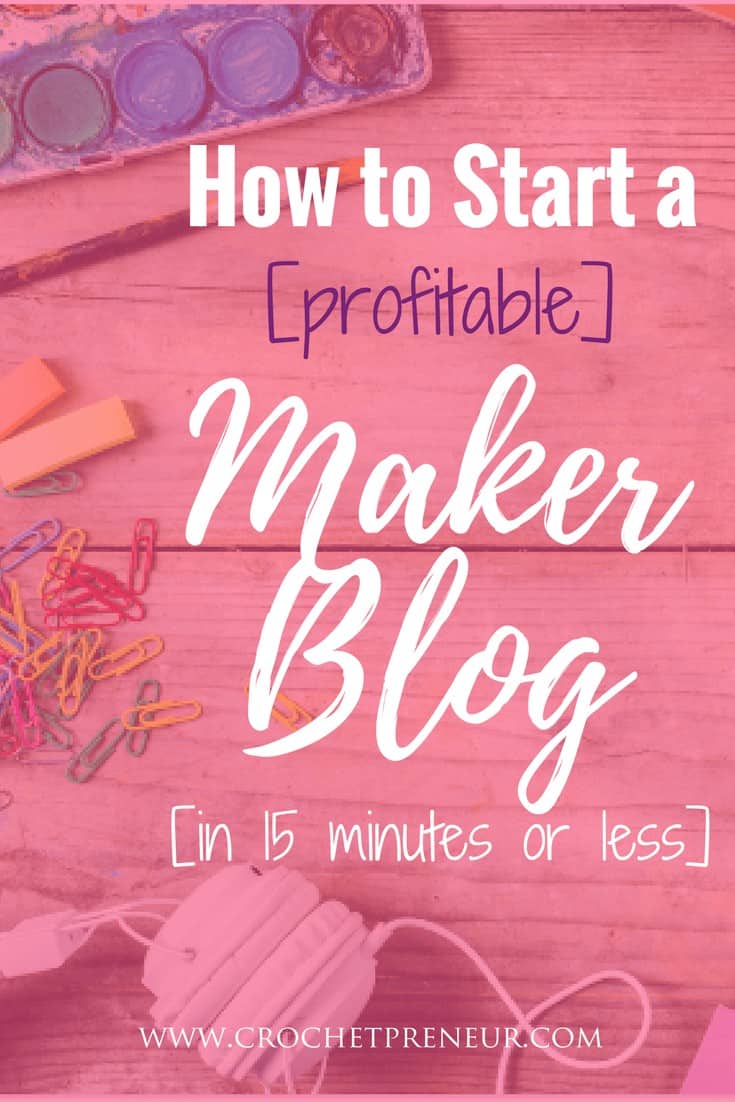 ——————————————————————————————————–
Hey, Maker Friend! I see you there….working hard on your business – creating products, watching trends, getting your name out there. You're rocking it (or maybe you're not now, but you will)!
I want you to put your hook down for a second and be honest with me. Tell me, have you ever, somewhere in your heart-of-hearts, questioned if it were truly possible to make a 'real' income with your crochet business?

I am, so often, asked by crocheters and designers alike if it is really possible to make a full-time income with crochet.
To each person, I respond, "Yes! But…but it will be hard work, but it's a long game (not a sprint), but you're going to need to diversify…
But yes! Yes, you can make a full-time income with crochet!
This post may contain affiliate links. If you click the link and make a purchase, I may receive a small commission at no additional cost to you. Please see our disclosure policy for details.
You Can Make Great Money when you Start a Crochet Blog
So, what I already know about you, is that you're not afraid of hard work, you understand that money won't fall from the sky and that it's going to take some time to build a business….but diversification? I can hear you questioning it already.
You just want to make pretty things, right?
But, just think about it, have you ever really considered diversifying your revenue streams to really explode your business?
I just don't want you to put all your eggs in that one little basket and hope for the best.
By creating a variety of income channels, you have a greater chance of success.
If you haven't already checked it out, head on over to my post 20+ Ways to Make Money with Your Awesome Crochet Skills to see all the many ways you can spread the reach of your business. In that article, I mention that one way you can make money with your crochet skills is through starting a blog for your crochet business – and that's where I want to focus today.
Why I Chose to Blog about Crochet
When I started my product-based crochet business, Made with a Twist, in late 2013, I had no intention of blogging. In fact, I was perfectly content with my little, side-hustle of an Etsy shop and I was, also, making a decent income at local craft fairs. That was all I had intended my business to be…a side-hustle. But, when my original Messy Bun Hat video went viral (with over 70M views on Facebook) and I made over $135K in just three days, I learned a few things:
(a) If I wanted to continue making a full-time income selling physical product, I was going to need to scale my business and hire (several) people, and
(b) nothing makes me happier than helping others create a life they love.
As a psychotherapist, I knew (b) already, but it was solidified even more in December of 2016 when so many women wrote me letters of thanks for "saving Christmas," "saving our car from repossession," and "saving our home from foreclosure." These women had used my profit-optimized Messy Bun Hat pattern and seen their businesses soar and I realized that's the direction I wanted to take my crochet business – helping others to create the business they love…and what better way to do that than through starting a crochet blog and, eventually, building that into an entire learning-community of crochet business owners?
Find Your Why
So, what about (a)?
Sure, if I had dreamed of scaling my business, hiring crocheters to mass-produce products, and really grow the retail side of my business, I could have done that. But that's not me. That's not where my heart is.
Yes, I love to sell hats that make women feel beautiful and I love designing products that my customers love…but I never wanted to grow that side of the business to anything much larger than it already was.
So…blogging! I decided to start blogging about the crochet business in order to share the lessons I learned while building a successful product-based business, to spread the word about profit-optimization in product-line design, and to help other women succeed.
That's my WHY….why I blog, why I get out of bed excited every day, and why I'm writing this post – to help you succeed.
And I encourage you to blog because I believe, through blogging, you can further solidify your chances of creating a profitable crochet business. Not only does a blog bring exposure and opportunities to connect with production partners and customers – helping you fulfill YOUR why – but the blog, itself, can be a source of income through advertising, affiliate sales, sponsored posts, and product sales.
And the great thing is that the blogging world needs you – it needs your voice, your ideas, your energy!
It doesn't matter that there are all kinds of maker blogs out there…none is exactly like the one you'll create. You are a missing piece. Isn't that exciting?!
The possibilities are as endless as your imagination – your blog can be about so much more than just crochet, even. Go ahead….dream, figure out your why, and use our blog as a means to reach out and create your future.
Yes? Great! Let's go build your crochet blog!

How to Start a Website for Your Crochet Blog
Now, I'm no technological genius, but I've been able to do almost everything on my blog by myself. So, that means it's not going to be too tough for you to get started, either. And I'm going to walk you through just how to do it the same way I've done it. Ready?
1. Choose Your Host
While many hobby bloggers will use a free site like blogger.com or wordpress.com to host their blog, if you're going to be using the blog to make income (and you are, right?), you'll save yourself a lot of trouble by just starting on wordpress.org with a self-hosted site.
I did a lot of research before starting my blog and, finally settled on Siteground as my hosting provider. I read many reviews lauding SiteGround's incredible customer service, reliable up-time, and site speed – all of which were very important to me.
So, I decided to go with them and I haven't been disappointed.
Since that's what I use, that's what I'll walk you through to set up your own site.
To start, click here to open a new tab and let's work through this together.
When you get to the opening screen, click on "SEE PLANS."
2. Select a Hosting Plan
OK, now that we've headed over to SiteGround, we need to select a hosting plan. At this point, you're just starting out, select whatever plan you feel is most cost-effective. I started with the GrowBig plan and, after 8 months, I'm getting over 25,000 visits a month so I'm ready to upgrade to GoGeek. Don't let this step trip you up. Just select whatever you feel fits your business best and you can upgrade later.
Click on "GET STARTED."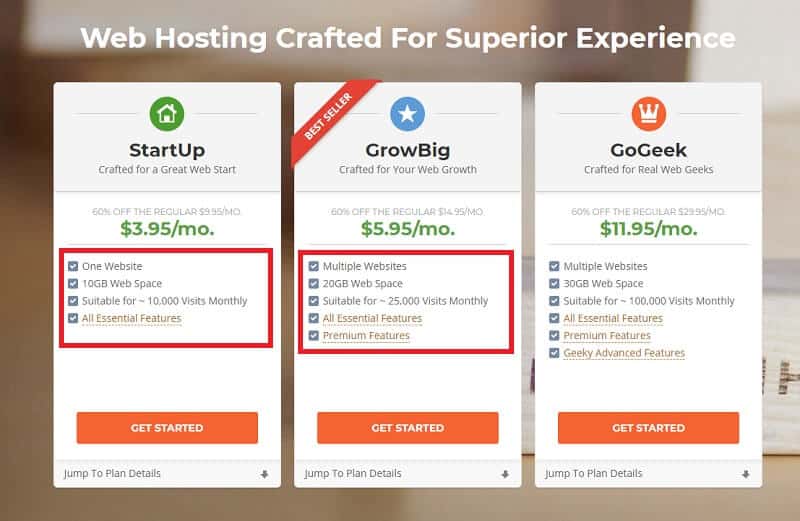 3. Choose Your Domain Name
SiteGround makes procuring a domain name so easy! The option is included right along with your setup. The domain name is the URL your readers will use to find your site.
Ideally, your domain name will match your business name or your personal name. Sometimes that doesn't work. Just do your best – you can always change the domain name if you find it doesn't work for your purposes.
*While there are several options to select a .net, .co. or one of several other extensions, I recommend finding a domain name with which you can use .com, because no matter how many times you tell your readers it is something else, they will always type in .com when looking for you.
Enter your chosen domain name and click on "PROCEED."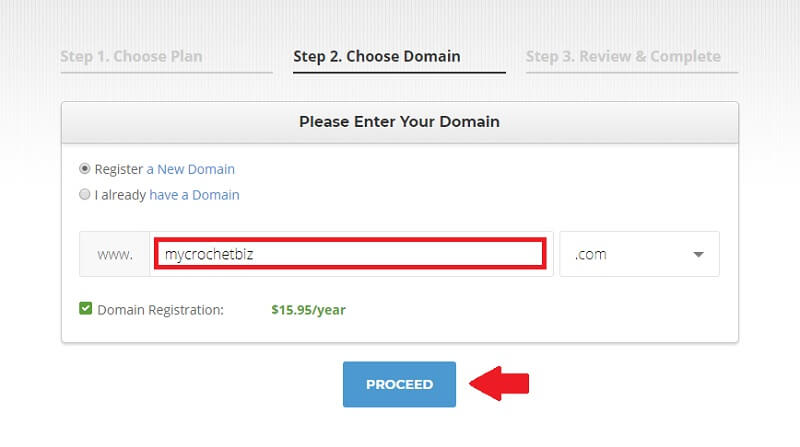 If you already have a domain name, you can still host your blog on SiteGround. Simply "I already have a domain," and proceed from there. You can, also, transfer your domain from its current provider to SiteGround if you prefer.
4. Enter Your Details
Create your account as you enter your username and password, fill out your contact info and payment details. Then, select your hosting period.
Then, select "Domain Privacy." While this is optional, for only $12/year, you protect your private information from being publically listed as the owner of the site. It's totally worth it.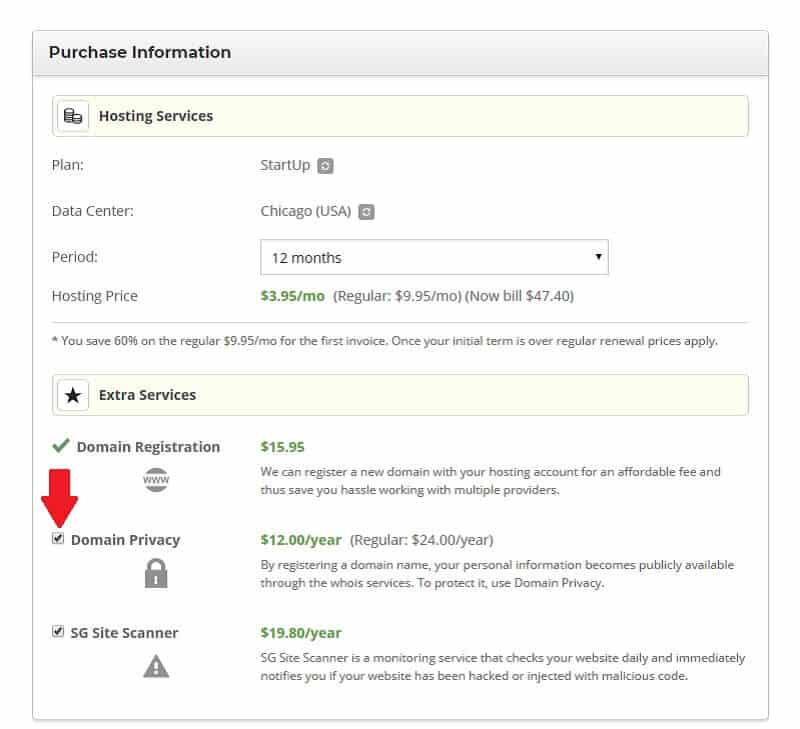 5. Install WordPress (better yet, open a support ticket and have SiteGround install it for you for FREE!)
I told you SiteGround's support team is great – they'll install your WordPress for free.
After you sign up for SiteGround hosting, log into your account and select the "Support" tab.

Scroll to the bottom and click on, "here."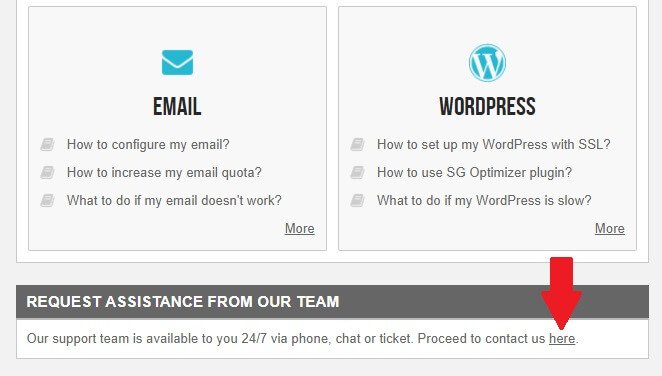 Then, select "WordPress Assistance."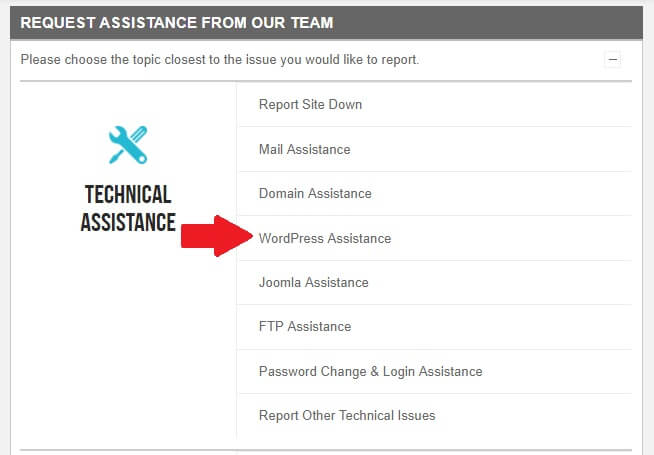 6. Pick a Theme
The visual appearance of your blog will be dictated by your theme. When you first create your account, you will be set up with the default theme. To change this, log into SiteGround and click on "My Accounts."
Then, click on "Go to Admin Panel."

From your site's Dashboard, select "Appearance" and "Themes." Then, click on "Add New."
From the next screen, you'll be able to browse thousands of free WordPress themes. Look through those and, when you've found one you like, just bring your cursor over to the theme and click on "Install."

Once it's installed, click on "Activate."
YOU DID IT! You are an official Crochet Website Owner!
Go ahead click the dropdown under your website's name and select, "Visit Site."
Remember, everything you see will be the theme's default info – content, photos, etc. You'll want to take some time to play around with those options and make the site YOURS.
To do that, click on the dropdown menu under your site name and select, "Dashboard."

Then, start customizing your site by going to "Appearance," "Settings," and "Customize" to get it looking the way you'd like.
Again, everything here can be changed later, so don't let it stress you out. Down the road, if you have any trouble, you can contact the theme's designer. They're typically very quick and happy to help.
7. Start Brainstorming Content
Take some time, figure out how you want your blog to look, write your "About" page and figure out who you're writing to….this will be you're customers, right?! Have you figured out who your customers are yet?
Once you determine who your ideal customer is, decide what her pain points are and how you can help her. Then, create content that speaks to those felt needs by clicking "Posts" and "Add New Post" in your dashboard. Write a post, publish it, and you'll be golden!
Congratulations, Blogger Buddy!
Do you see how easy that was? Now, you are on your way to diversifying your business' reach, creating yet another income stream, and garnering the income you desire from your crochet business.
Don't worry about creating content every week for now…just work on finding your audience and your voice. We'll work on the rest soon. Remember, this is the foundation for everything that comes next like refining your voice and monetizing your blog for profitability.
I hope you found this guide on how to start a crochet blog on SiteGround super helpful. Please, comment below and let us know the name of your new site!
Price Your Products Like the Pros
Includes: the exact formula I use to price my products for maximum sales and profit while attracting my ideal customer.