I've heard it over and over again, "Etsy is oversaturated, they charge too many fees, and I'll never be found." So, is selling on Etsy worth it for crochet business owners?
We're going to tackle this question on today's Crochet Business Chat and dive into the most commonly shared reasons for not selling on Etsy in 2021.
Then, I'll deep dive into the stats for my one-month old product-based Etsy crochet shop – find out where my views are coming from, how many sales I've had, and what my plans are for getting ready for busy season.
This post may contain affiliate links. If you click the link and make a purchase, I may receive a small commission at no additional cost to you. Please see our disclosure policy for details.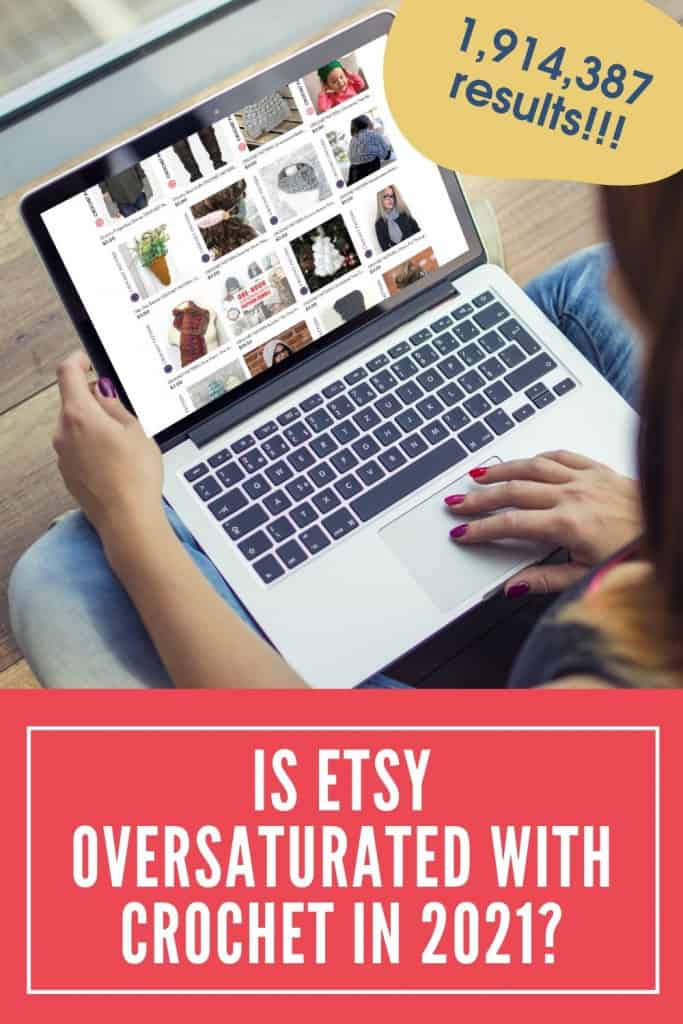 Here are some of the things we'll dive into in this Monday Morning Crochet Business Chat video (above). If you just want the short and sweet version (not recommended because I go into these much more deeply in the video), you can read a synopsis, below.
Most Common Objections to Selling on Etsy as a Crochet Business
…and whether they are true, false, or somewhere in between. PLUS what to do about them
The crochet market is saturated on Etsy.
When I searched "crochet" on Etsy, I came up with almost 2 MILLION hits! Oversaturated? Sure, maybe.
But, as I looked through those listings, I found that some of those listings were for supplies, some were gifts for crocheters (t-shirts and mugs, etc), some were for machine-made items that weren't crochet at all, some were patterns, and some were finished products.
Let's say those categories were split evenly. Then, we're looking at 400,000 hits for any particular category. Yup, that's a lot.
But, you know what? I didn't see a lot of high-quality photography, a lot of high-quality products, and a lot of "oh my gosh, I MUST have this".
When you focus no excellence, you stand out.
Then, using strategies for search engine optimization, potential buyers will find your listings, fall in love with your products and/or designs, and buy them because they're irresistible.
Do I believe the market is saturated? Sure.
Is it saturated with your kind of awesome? No. You can do this.
Etsy takes too much of my profit in fees.
According to the Etsy Seller's Handbook, the fees collected are
Listing fees $0.20 USD
Transaction fees:

Shipping transaction fees: 5% of the listed shipping cost of an item
Item transaction fees: 5% of the listed cost of an item (full retail cost, not sale cost)

Payment processing fees (US): 3% + $0.25 per transaction
Additional fees you might incur are
Square manual processing fees for items not synced to your Etsy account: $0.20
VAT processing fees
Etsy offsite ads (may or may not be optional based on your selling history): 12-15%
Etsy ads (optional)
Shipping label fees
Auto-renewed fees: $0.20
Pattern fees (optional)
Deposit currency conversion fees
Regulatory operating fees (for sellers in the UK, Italy, Spain, France, and Turkey)
You can read all about Etsy fees inside the Seller Handbook.
Sure, that's a lot of fees. Each seller will have to determine if the amount of traffic generated on Etsy makes these fees worth it. For me, 85% of a sale is better than 100% of no sale. It's worth it.
Another thing I had to reconcile myself with was that, if I were selling wholesale or on consignment, I'd be giving up approximately 35% of the sale price. So, to give up just 15% to Etsy, considering the number of sales they bring to me each day, is worth it.
Also, I know someone will ask, yes, I do charge slightly more for my products when selling on Etsy than I do elsewhere. That's the nature of running a business. These business expenses (fees) are rolled into the average cost of an item so that my profits aren't lost to e-commerce fees.
Etsy might shut my shop down for no reason.
Again, sure. They might. But this has not been my experience.
And, this is why so many business coaches recommend selling both on Etsy and, once you get going, on your own, self-hosted platform, too. In this way, if you do lose your Etsy shop, you still have a platform to sell on.
This is why I don't recommend Etsy Pattern websites. Because, if Etsy shuts down your Etsy shop, you lose your Pattern shop as well.
But don't fear. This is a rare occurence.
However, Etsy does have some extensive seller policies that, when broken, might lead to the shutting down of a seller's shop. I really encourage you to read through the Etsy Seller Policies before (or after, if that's where you are) opening your shop.
Customer service is a nightmare on Etsy – the customers are too demanding and, often, are trying to scam sellers.
Serving your customers is part of doing business. If you're afraid to serve your customers, to troubleshoot issues, and to say "no" when a customer asks too much, you might need to do some CEO mindset work.
I'm not saying that customer issues aren't a real thing but they will be a part of doing business whether you're selling online or at a brick and mortar. That hard part is that when selling online, you don't get the empathy and compassion that naturally come from face-to-face encounters…you also don't get the yelling. So, it works both ways.
I don't want you to use the horror stories that others have shared in Facebook groups and elsewhere as an excuse to not go after your dreams.
In the end, if you do your best, put yourself in the customer's shoes before responding, take a deep breath, and understand that it's impossible to please everyone, you'll be able to take a balanced approach to business and everything will be OK.
I may not get the Etsy Star Seller badge…so why try?
Stop it. That's all I have to say about that.
Conclusion
Ultimately, as the CEO of a crochet business, your success is up to you. Every single one of these objections can be overcome or dismissed…IF you choose to own your awesome and you choose NOT to operate out of a scarcity mindset and powerlessness.
You are a crochet CEO…you've got this!
Update on My One-Month Old, Product-Based Etsy Shop
I share the update on my new, experimental crochet shop right in the video, above. I'll be sharing more about that in a post, coming soon. For now, check out the video and hear about the traffic generated in the first month, the sales, and the expenses required to start a brand new Etsy shop on a budget.