We're coming up on the busy season and it's all so exciting. Every fall, I just love the way handmade sellers begin to flourish and feel a renewed sense of purpose and understanding of the value of their craft.
I began seeing an uptick in September and it continues now, in October. I hope it's the same for you! So, without further ado, here's how I made money with crochet in October 2019.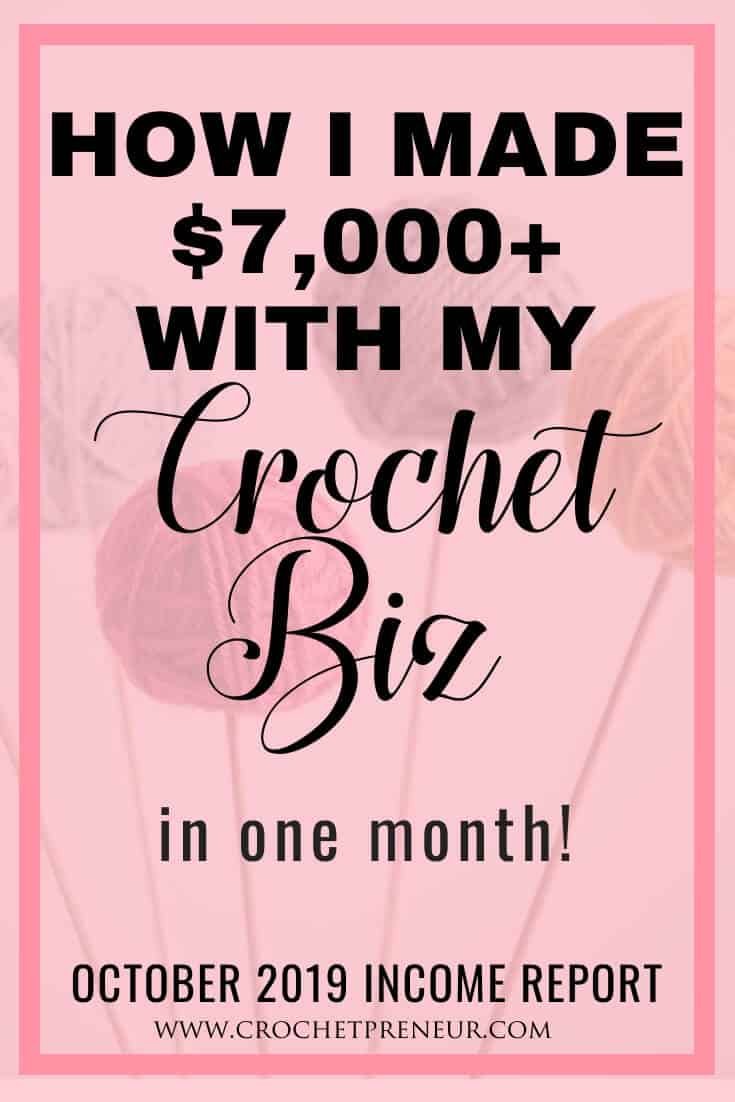 First, Let's Talk (again) About Income Streams
Every single time I post an income report, I get emails from disgruntled makers who are upset with me that I make money from a blog, from coaching, from ads on my blog, from designing, from affiliate sales…you name it, if it isn't made of yarn, they don't feel I should say it's part of my crochet business.
Listen, if that's you, please don't read any further. This income report is for people who want to think outside the box and maximize the possiblities for themselves, their families, and their futures. If you want to believe that teaching and blogging have nothing to do with the craft then we aren't meant for one another.
I believe that diversifying income streams is the best way for any handmade seller to build a business on a firm foundation. Sure ad revenue fluctuates and affiliate revenue is unpredictable…but so are patterns and product sales.
But when we take all of these income streams together and leverage each for the good of our customers, followers, and readers, we build a business that is sustainable.
If you're on board with that, that's press on.
The Stuff I Say Every Month About Income Reports
Why I'm Doing This: Inspiration
I know, it seems counter-intuitive for an introvert, such as myself, to put herself SO 'out there' by posting public income reports but, from my perspective, the reason I do it is more important than any reason I wouldn't (for now).
See, when I first started blogging, I found such encouragement from reading income reports. They helped me believe that it IS possible for a regular, hard-working individual to find personal and financial freedom by creating a successful crochet business.
I share these reports because I hope to inspire you in the same way.
If you've been reading for any length of time, you'll know that I'm a passionate advocate for multiple streams of income – the cornerstone of which is starting a blog.
From that, all the rest of the income opportunities flow. I hope to help you see that play out, in real life, over the course of the year.
Why I'm Doing This: Accountability
Secondly, the reason I share these details is you deserve to know.
I feel like I (and anyone giving business advice) need to be accountable to you and show you that I'm not just telling you what I think will work, but what does work for me and, also, what doesn't.
That's right when I hit the inevitable struggles, I'll share those with you, too.
I think it's important that, as someone sharing business tips with you, I'm open with the numbers.
Because, really, anyone can share their ideas on how to grow a crochet business, whether they've actually done it or not, and I want you to make wise and informed decisions about who you're following.
Am I the most successful blogger/designer/maker out there? Nope. But I'm growing my business right alongside you and I want to be as transparent about that as possible.
Ultimately, on those days (weeks and months) when this blogging thing, this crochet thing, this maker thing feels HARD (and sometimes it IS hard – please don't set yourself up for disappointment by believing otherwise), I hope you can come here and find some inspiration to know that you can push through the hard days and build a business you love.
Ready to make the wisest decision you'll make this year by adding a maker blog to your crochet business income stream? Read my simple START A PROFITABLE CROCHET BLOG, to get your website up and running on the #1 rated hosting site, today!
BEWARE, The Danger of Income Reports: I can't tell you how many burgeoning crochet business owners I hear from who have seen an income report and tried to reverse engineer someone else's business…trying to do all-the-things, all-the-time, and all-at-once…to try to create an income for herself and getting herself sick, discouraged, and burned out. While I understand the temptation, this is not the way to build YOUR business with YOUR people and YOUR own passion. Take inspiration from this or any other income report, but know that growing a business into a full-time income takes time, strategy, and work…no income report can include all the nuances of how any individual made that happen. If you want help growing your business, please join us in the Crochetpreneur Business Academy.

Income and Expenses Report for My Crochet Business
October Income
Mediavine Ads: $1194.00
Affiliate Sales (Amazon, Siteground, Ultimate Bundles, etc): $1310.09
Pattern Sales (on Etsy, Ravelry, and my Shopify Sites): $3243.29
Other Digital Product Sales (Printables): $227.96
Pattern Bundle Sales (30 Days of Cozy): $2184.00
Courses: $2875.00
(Please don't send me an email saying that courses are not a crochet business. Take a look at how many designers offer courses and memberships and you'll see that it's possible for anyone who wants to pursue this income stream and I'm trying to show you the possiblities – be open and coachable and the world becomes your playground.)
EARNINGS TOTAL:
$11,034.34
October Expenses
The things included in my monthly expenses include marketplace fees, credit card transaction fees, affiliate payments (I had two different promotions with affiliates this month, so that was over $2,000 in expenses), software and app fees, tech support, supplies, and contract employee payments.
EXPENSES TOTAL:
$3761.65
Net Profit:
$11,034.34 – $3761.65 = $7,272.69
Charitable Donations:
Together, in October, we (you and I) gave $800.00 to charitable organizations whose goal is to rescue the hearts and lives of hurting people particularly the homeless, children in foster care, and those being exploited through human trafficking.
Cumulative donations in 2019: $3,200.00
Crochetpreneur Traffic Report
October Traffic
So, here are the numbers:
Crochetpreneur.com
Monthly Visitors: 17,947
Unique Visitors: 14,526
Page Views: 14,526
Madewithatwist.com
Monthly Visitors: 45,146
Unique Visitors: 33,723
Page Views: 83,052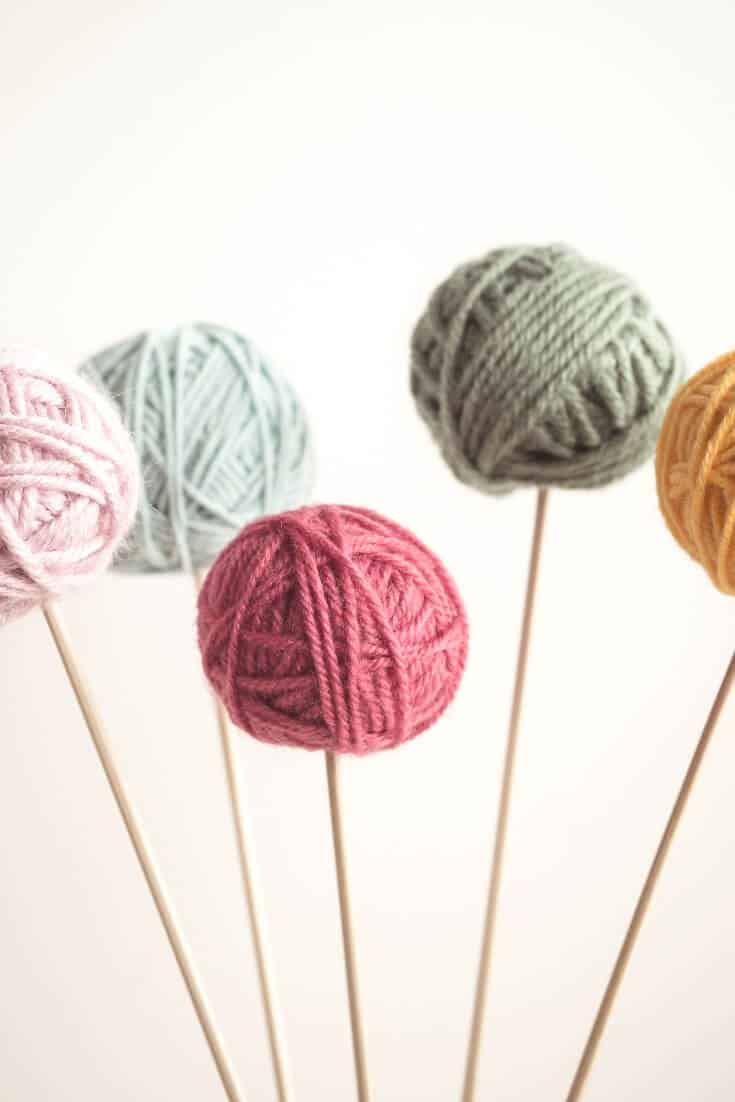 Debrief
What Happened in the Business
I've decided I need to start keeping notes about what is going on in my business because it's hard to remember from month to month. But, overall, here is a synopsis of things that happened in October:
It was a busy month with my being gone for 15 of 31 days, but we finished out our 30 days of Cozy this month and it was a successful promotion.
The other big promo this month was the Genius Blogger's Toolkit from Ultimate Bundles.
Pattern sales have begun to pick up as we move toward the holidays and blog traffic is steadily growing.
October was great! (SEE $17K+ NOVEMBER 2019 INCOME REPORT HERE)
New/Updated Blog Posts:
There was a log of new posts shared over on the Made with a Twist blog. Head on over there to check out the free and premium designs from our 30 Days of Cozy celebration!
What Happened in Our Lives
Hudson started daycare in October and I'm having terrible Granny guilt. It's hard to watch him make the difficult adjustment from being alone with Grandma and Grandpa all day to being in a classroom with 9 other kiddos.
I spent one weekend in the mountains of Colorado at the women's retreat with the ladies from church. I was asked to lead a small group this year and it was amazing…to say the least. I can't wait to go back next year!
Right on the heels of returning from the retreat, we left for Florida. We were blessed with special times with family and then went off to Disney World by ourselves for 9 days…..9 days at Disney is a long time.
We were happy to get home and spent Halloween serving at the church's trunk-or-treat celebration. Over 8,000 people came to get candy and play in the bouncy houses (that were set up in the sanctuary). It was a chilly 20 degrees or so outside so we didn't serve shaved ice this year as we normally do.
Looking forward to a fun November!
Grow Your Own Crochet Business
Join the Crochetpreneur Business Academy
If you're one of those go-getter crocheters who knows that you want to be more than a hobby seller, I'd love to invite you to join us in the Crochetpreneur Business Academy. While the class isn't enrolling right now (Or is it? We're planning something special for Black Friday!), doors open toward the end of summer. You can be sure to get in on the action by signing up for the waitlist.
Are you ready to grow your income with a maker blog of your own? Check out my START A PROFITABLE BLOG guide and get yours up and running today!
Blogging Resources
Find all my favorite blogging tools on my Resources page.
If you want to learn more about why starting a blog is a great choice for makers, how they can use it to build a variety of income streams, how to start gathering emails and driving traffic to the blog, check out my introductory mini-course, Blogging for Makers 101.
Already have a blog, but looking to increase your income, check out these free resource from Elite Blog Academy,
Other Resources for Crochet Business Growers
That's OK! There are plenty of other ways to make money with your crochet skills. Here are some articles you might enjoy:
The Ultimate List of 20+ Ways to Make Money Crocheting
An Impulsive's Guide to Starting a Crochet Business Right Now!
Other ideas? Take my free ROCK YOUR CRAFT FAIR Training Series or, for aspiring designers, sign up for the GET IT DONE Concept-to-Launch Crochet Pattern Writing Email Challenge!
I can't wait to help you build and grow your business into the business of your dreams!
Price Your Products Like the Pros
Includes: the exact formula I use to price my products for maximum sales and profit while attracting my ideal customer.