It's that time of year again to start planning your handmade business strategy for the holidays. At Christmastime and throughout the winter holidays, your sales can skyrocket. That's exciting! But it can also be overwhelming. You need a plan for your product line, listings, holiday promotions, shipping concerns, and even self-care. Keep reading to learn how to approach each of these. And I'll also share a great new course that can set you on the right track with holiday prep.
Is Your Handmade Business Ready for the Holidays?
Good morning. It's time for Monday morning Crochet Business Chat. So happy to have you here today. We are going to be talking about Christmas. So have any of you walked into a Hobby Lobby, or a Target, or even a Walmart recently and noticed that some red, and green, and gold beauties are starting to pop up everywhere?
It's time for retailers, and that means you, to get ready for the holiday season–to start thinking about your messaging, your marketing, your graphics, your product line, all of the things. And today, what I wanted to do is just talk through broad categories of things that we need to think about as we're talking about the holiday season and then invite you to a fun event.
Transcript: Are You Ready? It's time to Prepare for Holiday Sales
[00:00:56] If you are new here, thank you for popping in. Thank you for stopping by, saying hello. I am sorry about this. I'm still moving into my new office and so it's a disaster right now. We have the satellites just coming in through the window rather than being wired through the house. And things are just piled everywhere. We'll get there starting next week. My goal, anyway, is for next week, for things to be put away and things to be settled. So we'll see if that happens.
[00:01:30] So what are we talking about today? The holiday season. So typically, in the retail timeline, we look at things three months in advance. So right now we are hot and heavy right into the holiday season, thinking about what you're going to sell, when you're going to sell it. Where are you going to sell it? How are you going to sell it? How are you going to ship it? All of those things. And it can become overwhelming.
[00:02:00] So not only do I wanna talk about the broad categories that you need to think about. I want to talk a little bit about taking care of yourself and not getting too overwhelmed.
Welcome to the Crochet Business Community
[00:02:15] First, let me see who's here. Hello, Amaris, I think. Annie, Joanna, hello. So happy to have you guys here. I'm just going to be sharing a little bit and then I'll be back in to answer any questions that you might have this morning. All right. And I'm sorry. I'm really off this morning. I got my second cup of coffee. And yeah. We're getting things rolling. All right, let me go over here and we'll share this.
[00:02:51] So are you ready? Holiday season 2022 is upon us. And I'll be talking more about this in a little bit but join us for our free Holiday Prep Challenge. I don't know if you joined us for the holiday prep challenge last year. It's a free event, a week long. It's going to start [Monday, October 3]. But again, I'll talk about that in a little bit. Okay.
Six Things to Consider About Holiday Prep in Your Handmade Business
[00:03:12] First, things you need to think about. Again, broad categories because at the Holiday Prep Challenge, we'll be deep-diving into some of these things.
Plan Your Holiday Product Line
[00:03:21] Product line. Are you going to have a specific holiday product line? Are you going to do a product line launch? Do you have some products that are specifically for the holidays that you need to tweak, update your listings, get photographed, get listed? New designs for the holidays, now is the time to launch those. All of those things. What events are you participating in that you'll need to have products ready? All of the things with your product line.
[00:03:52] If you joined us for the Product Line University, you have this all set. If you did not, you can still get a hold of the Product Line University. I'll go ahead and add it in the description. It is a paid course. However, it is really great content to help you really nail your product line so that you get your products to a place where you know that people are going to be wanting to purchase those things rather than just creating something and hoping someone buys it. So it's taking a different look at how to design your product line. So you need to have your product line figured out, and developed, and all of that.
Refresh Your Holiday Product Listings
[00:04:36] Next is your listings. It's time to clean up those listings. Make sure you have some links to coordinating products in your store. Make sure you have some bundles set up. Make sure your SEO is on point with your titles, tags, keywords, and description all set.
[00:05:08] Think about adding video this year. Think about your alt text this year. These are new things on Etsy. So all of these things are things that need to be looked at and tweaked for your listings.
[00:05:20] Be sure to check in and add any holiday tags or keywords that you need to add, like gifts for her, gifts for him, gifts under $25, gifts under $50, those kinds of things. Or gifts for teachers, gifts for crochet lovers, whatever it is. If you need to add those holiday tags, now is the time to do that. So that's your listings.
Offer Special Holiday Promotions
[00:05:47] Next is thinking about promotions. Are you going to do a Black Friday promotion? Are you going to do a Cyber Week promotion? What will that look like? What will your graphics look like for that? What will your marketing strategy be? Will it be online? Will you be emailing your list? Will you be selling in-person as well so you have to think about marketing your Black Friday sale in person? All of those things. So these are other ideas that you need to think about as you're getting ready for the holiday season.
Consider Holiday Shipping Deadlines
[00:06:26] Shipping deadlines. So this year–and it's been this way for the last two years so this is not anything new. But this year, shipping deadlines, I think that we should push them forward a little bit, as far as if USPS … I'm speaking specifically United States Postal Service. In your country, if you're somewhere else, you'll know what things look like there. But here, we're looking at things are being a little bit slower than they had been. I heard that they had added on an extra day for priority shipping. So that's something to recognize.
[00:07:08] And I would ship two, three, four days earlier than what the shipping deadline says. So if you're trying to get things there for Christmas Eve and they say the shipping deadline is December 16th, I would try to get it out by maybe December 12th, December 13th, just to be safe. I'm going to go look and see what all those shipping deadlines are specified and have those available for you during our challenge so you can make those kind of decisions.
Set Your Holiday Shipping Strategy
[00:07:40] Next is what is your shipping strategy, not only your pricing strategy for your shipping? Will you increase your shipping prices because you're going to increase the quality of your shipping? Are you going to do free gift wrapping? Are you going to do paid gift wrapping? Will you provide a handwritten card with purchase if people are gifting it? All those things are ideas that you need to think about.
[00:08:11] And also, how are you going to get your products to the postal service, to UPS, to FedEx, to DHL, whatever it is, whoever you're using for shipping? Will you be shipping every day? Will you be shipping three times a week? Will you be shipping once a week? Know that ahead of time so that you can set your shipping deadlines for all of your products so that you don't get yourself stuck knowing that, "Oh my gosh, I have 10 orders to fulfill and they have to be shipped tomorrow." That's a nightmare situation.
[00:08:46] So try to make it so that you give yourself enough leeway, if you get custom orders and those kinds of things, for those selling physical products, that you'll be able to ship those or have enough time to create those and ship them.
A Note on Custom Orders
[00:09:02] And also, I really suggest that even if you do custom orders, that you prepare a back stock that can be personalized. So for me, I usually do hats of a specific color with embellishments of a specific color. So I create a back stock of hats and I create a back stock of embellishments so that when someone places an order, I can just take a hat I already have with an embellishment I already have, combine those, and then I can ship it rather than having to make the entire product right when that product is purchased. And then I can use that back stock for my craft fairs and such. So that usually works pretty well for me as a strategy.
[00:09:48] I do to do made to order items rather than … Let me say I prefer and I sell better when I do made-to-order items. Last year, I didn't do any made-to- order items and I still sold fine. So I don't want to scare you there. So shipping strategy.
Tend to Your Self-Care During the Holidays
[00:10:07] Next is self-care strategy. Last week, we talked about self-care and I do have a video about self-care during the holidays. And you can find that. It's linked down in the description and we'll leave it as an end card as well. Taking care of yourself during the holidays is really important. Business can become overwhelming. So there's two scenarios, when you're not making the sales you had hoped for–we need to be able to carry ourselves through that disappointment–and then when sales are better than you had hoped for and you become overwhelmed with trying to meet demands of your customers, that brings its own kind of stress.
[00:10:51] So we have to be prepared for both. I really think that if you can, set up a babysitter or figure out how to swap with a friend with childcare so that you have some time to yourself to get things done. If you can manage to hire a house cleaner, do that.
[00:11:15] If you can create some freezer meals now so that when the holidays do come around or when really busy season comes around, you have those freezer meals ready to just take out of the freezer and pop 'em in the oven. Or other quick meals like ramen noodles, spaghetti, sandwiches, pancakes for dinner, oatmeal for dinner, oatmeal casseroles, all kinds of casseroles are great for this time of year to help get you through that.
[00:11:48] So think about those things. Where do the stressors come? Not just in business, but in life. And take care of those now so that you have a strategy when they actually pop up.
[00:11:59] Also, Christmas shopping. Start Christmas shopping now. Try and get that finished. Get your shopping done. Get your gifts wrapped and get your Christmas cards done. And get all of that taken care of now so that you can enjoy the holidays when they come around and you're not just totally stressed, running around last minute, getting all that done.
Register Today for the Holiday Prep Challenge!
[00:12:33] And then finally, join us for the Holiday Prep Challenge. Holiday Prep Challenge is a free five-day event. We're going to start [Monday, October 3]. It is going to be held on Facebook and Zoom. I will put out a schedule.
[00:12:51] So I just decided this morning that we're going to do this. I was not going to do a Holiday Prep Challenge this year, just because of the chaos of home, and the chaos of moving in and all of that stuff. But I just want to. I think it was really beneficial for people last year and I have all of the content written. I just need to tweak it for this year. So it's not going to be a huge stressor for me. And I think it will be a huge benefit for you. Why not do it?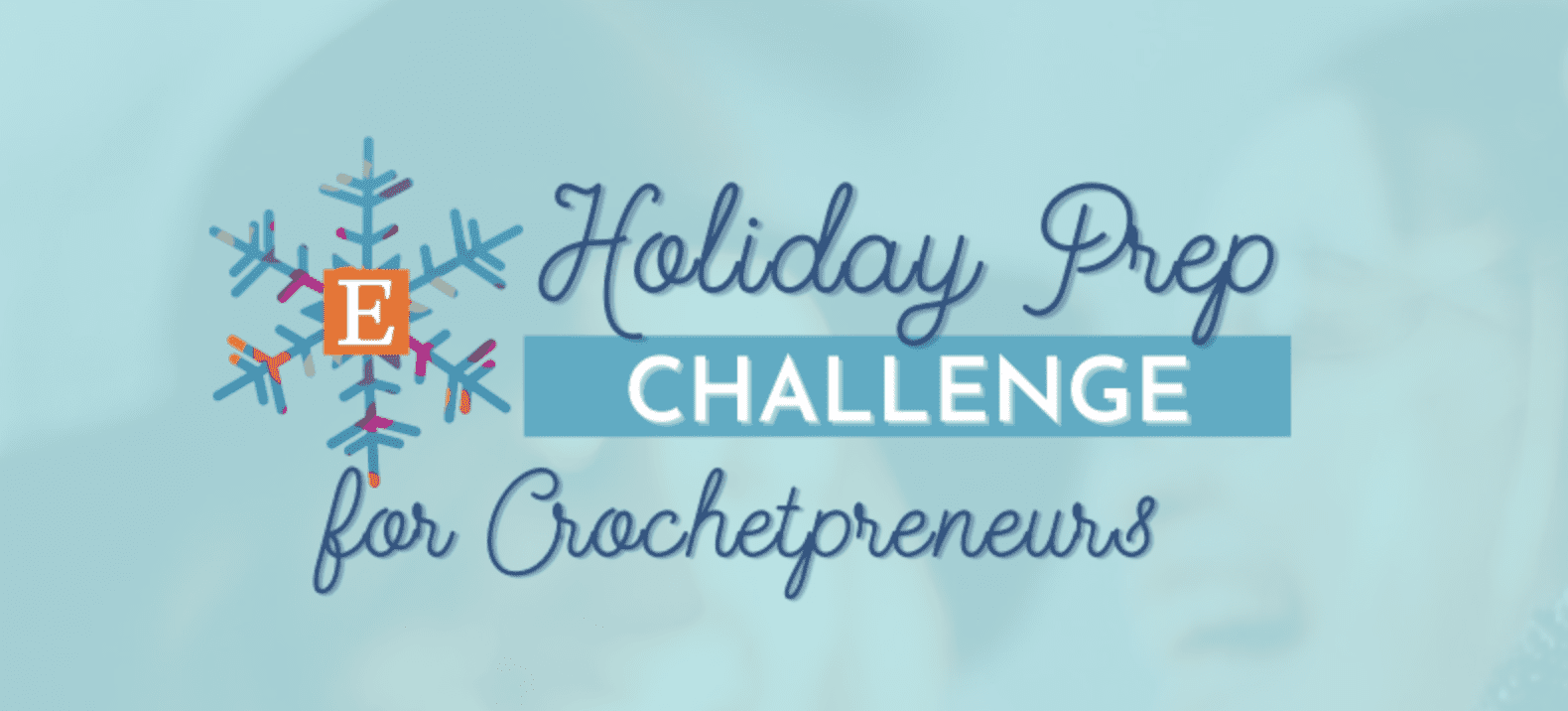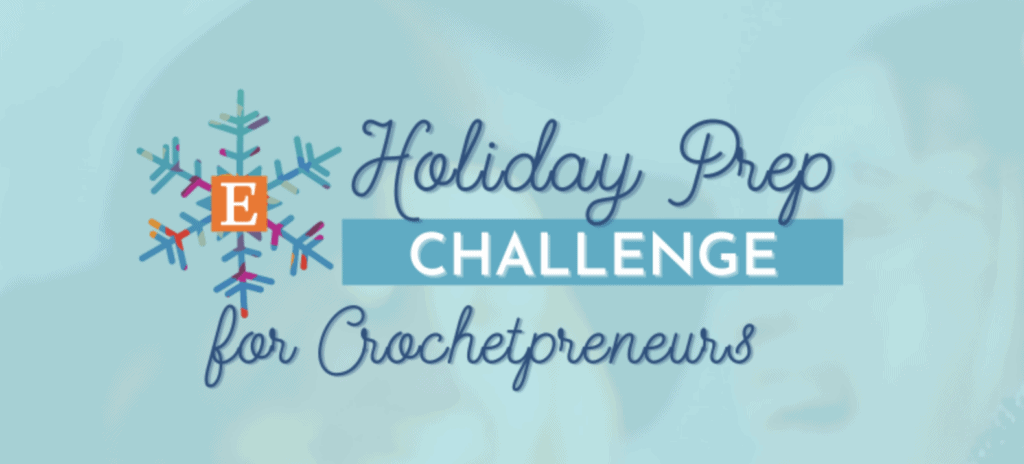 [00:13:24] We're going to do that next [the first week of October]. I'll get you all the details. But you can register for free today. If you want to go ahead and take care of that, you can go to crochetbusinesssummit.com/challenge And It has a little button there where you can register for free. You'll get a quick confirmation email from me. You'll also get a free gift that I have for you as well. Once you register, you'll be taken to another page where you can get your free gift.
[00:13:56] There's that and then we'll be together [the first week of October]. We will have lessons every day. We'll have some time together. We're going to have a pajama party. We're going to have a networking session. We're going to have a Q&A session.
[00:14:11] As well as, of course, after any event that we do, we open up the doors to the Crochetpreneur Business Academy to anybody who would like to continue learning together and growing in community together. Business Academy doors will open that Friday. So that's the plan for [the Holiday Prep Challenge].
Community Discussion
[00:14:30] I'm going to check in with you all and see if you have any questions. Sonia's here. "You're the first person outside of my family to say my name right." Oh my goodness. Good. I'm glad I got it right. Sonia, "So far it's been phenomenal." Gayle's here.
Connect with the Crochetpreneur Community on Social Media!
[00:14:50] Yes. Amaris says, "Remember to hit the like button." Please hit the like button so that more and more people are offered this video so that they can watch it. They can hear about what's going on with us. And please send a link to your friends.
[00:15:06] If you have friends in the crochet community who you would love to have join you for the Holiday Prep Challenge, it's going to be a community event. We're going to have our own Facebook group. Be sure to invite your friends. We'll be having prizes. But I really like to make it a fun time. And yeah. I have some free time next week so I think it's going to be really awesome, a really great time together. And I hope that you will join us.
[00:15:36] And if you haven't subscribed … Again, if you're new here, you don't know who I am, you want to get to know me a little bit, go ahead and look around at my old videos. Be sure to like this video, subscribe so you get notified any time a new video comes out about crochet business or about business ownership in general.
Wrapping Up
[00:15:58] And I think that's it for this week. So I'm going to be popping in on Instagram, doing lives there this week too, to invite people over and also on Facebook. Follow me in all the places. I'd love to see you. And I can't wait to spend next week together. All right. I hope you all have a great week and I'll see you soon. Bye!