It's plain to see it can be a profitable endeavor and a rewarding outlet for your creativity when you sell crochet items online. One quick look on Etsy you'll see there are thousands of others running successful crochet business…why not you?! But where do you start? The answer is closer than you think. Follow these ten easy steps to start your crochet business journey on Etsy, Ribbler, BigCommerce, or anywhere your heart desires.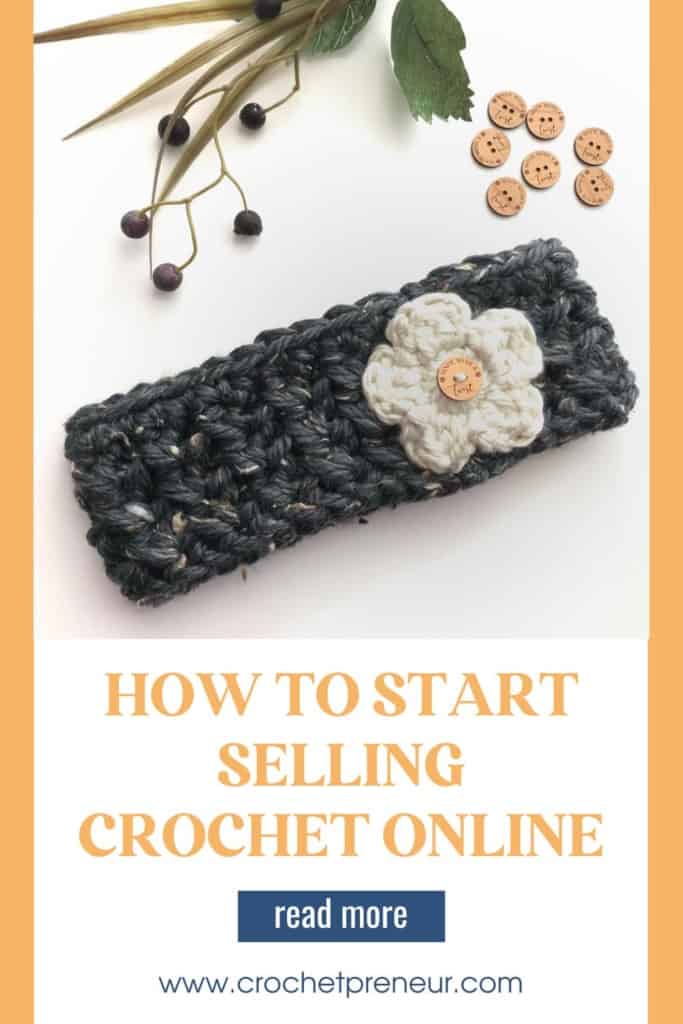 Step 1: Develop Your Niche
The key to reaching your ideal customer
Having a unique selling proposition sets your crochet business apart from the rest. Maybe you specialize in crochet baby clothes, or perhaps you have a knack for creating charming amigurumi creatures. Finding your niche will make your products more identifiable and attractive to a specific group of customers, helping your online shop stand out in the crowded market. Take the time to research what's already available, identify gaps, and then create products that fill those gaps.
Learn more about developing a niche for selling crochet items online listen to the podcast episode, "How to Develop a Niche When You Love Making All-the-Things".
Step 2: Develop a Memorable Brand
The key to being seen as a professional crocheter
Building a brand entails more than just coming up with a catchy business name. Think about what your brand represents. Is it eco-friendly? Whimsical? High-end? Your brand identity should reflect in your logo, color palette, tone of voice, and overall aesthetics of your shop. Make sure to convey your brand's message consistently across all platforms and customer interactions.

Step 3: Price Your Products Right
The key to a sustainable business selling crochet
Pricing is a crucial aspect of your business. Too low, and you may not make a profit; too high, and you might drive potential customers away. To price your crochet items correctly, factor in material costs, time invested, overhead expenses, and a reasonable profit margin. Analyzing competitor pricing can also provide insights into what customers are willing to pay.
For more about how to price your crochet items properly, check out my post, "How to Price Crochet Products for Profitability" and be sure to request your own copy of my Handmade Product Pricing Calculator while you're there!
Step 4: Create High-Quality Photos
The key to attracting potential customers to your online crochet business
In the online marketplace, customers base their buying decisions largely on visuals. Clear, well-lit photos that highlight the intricate details of your crochet items can make a world of difference. Invest in a good camera or use a modern smartphone, and photograph your items in natural light against a neutral background. Take photos from different angles, and don't forget to include a shot that gives a sense of scale.
This Photography guide for Etsy Sellers might prove handy.
Step 5: Write Effective Product Descriptions
The key to converting sales in your online crochet shop
Your product descriptions should provide detailed information about your items and evoke a sense of desire in your customers. What materials did you use? How big is the item? How should it be cared for? At the same time, use relevant keywords to boost your items' visibility in search results. The better your SEO, the more likely your items will appear in front of potential buyers.
If you need help writing product descriptions that convert, request your copy of my free Product Description Blueprint.
Step 6: Implement Excellent Customer Service
The key to growing a solid base of loyal, raving fans
Providing exceptional customer service can turn first-time buyers into loyal customers. Ensure you respond to customer queries promptly and politely. Keep your customers informed about the status of their orders, and resolve any issues proactively. Personal touches like handwritten thank you notes or beautifully wrapped items can also significantly enhance the customer experience.
Step 7: Market Your Shop
The key to gaining and maintaining traction for your crochet shop
Promoting your shop is crucial for driving traffic and increasing sales. Utilize social media platforms like Instagram, Pinterest, and Facebook to showcase your items. You could also start a blog or send out a newsletter sharing updates, new products, or crochet tips. Collaborating with bloggers, influencers, or other Etsy sellers can also help you reach a larger audience.
For more marketing help, check out my article, "Marketing Your Handmade Business During a Recession".
Step 8: Use Your Platform's Selling Tools
The key to a productive and profitable online business
Most online platforms offer a variety of tools designed to help you succeed. On Etsy, you can use Etsy Ads to promote your listings, Shop Stats to understand your store's performance, and Etsy's Promotions to offer deals and discounts. Understanding and leveraging these tools can significantly boost your store's visibility and sales.
Read more about ads on Etsy in my article, "How Etsy Offsite Ads will Impact Your Business".
Step 9: Keep Learning and Adapting
The key to long-term success
The e-commerce world is constantly evolving. Stay updated with changes in online selling policies, the policies of the platforms you sell on, market trends, and customer preferences. Join Etsy forums and seller communities to share experiences and learn from others. Don't be afraid to experiment with your products, marketing tactics, or pricing strategies.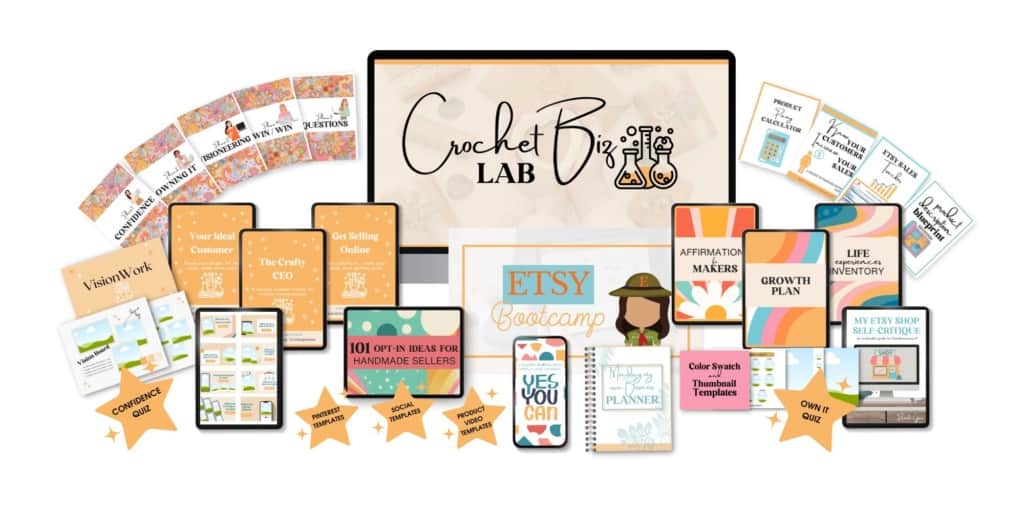 For incredible learning opportunities, check out the Crochet Biz Lab (formerly Maker Boss Lab) for a low-cost (just $7 monthly), high-impact community with crochet business strategy, step-by-step guide to getting started, video course content, incredible bonuses to help your business grow, and monthly Q+A/group coaching opportunities.
Step 10: Maintain a Healthy Work-Life Balance
The key to avoiding burnout and overwhelm
Running an Etsy business requires a lot of work, but it's important to maintain a balance. Remember, you started this business because of your love for crochet, so don't let it consume all your time. Make sure to take breaks, pursue other hobbies, and spend time with loved ones. A healthy work-life balance will keep you motivated and ensure your business remains a source of joy.
Want to see how I've navigated this in my own life and business? Check out my article, "Dealing with Unexpected Challenges in Your Handmade Business".
Conclusion
Embarking on your journey to sell crochet items online may seem daunting at first, but with these ten steps, you're well-equipped to navigate the ins and outs of an online marketplace. And know that, in the world of crochet, the opportunities for growth, profitability, and innovation are endless.
Now it's your turn to join the ranks of successful crochet entrepreneurs. So, grab your hook and yarn, and let's get crafting!
Tips for New Sellers:
Start with one item…there's no need to build up a huge inventory before getting started with selling online.
Then, develop a regular schedule for uploading new items to your shop.
Monitor and engage with your customers' reviews to build a strong brand reputation.
Try to offer a variety of items to cater to different customer preferences. Learn to build your product line in my article, "How to Create Your Perfect Product Line".
Experiment with sales and discounts, especially during the holiday season.
Join the Crochet Business Chat Facebook group for support and networking opportunities.
Links to Other Helpful Resources