Hey, you. Yes, you! I know where you're coming from…
You've been perfecting your craft for years. You're proud of the awesome (always start with awesome!) products you create and you're ready to turn your hobby into a thriving handmade business…but you're struggling with the 'how'.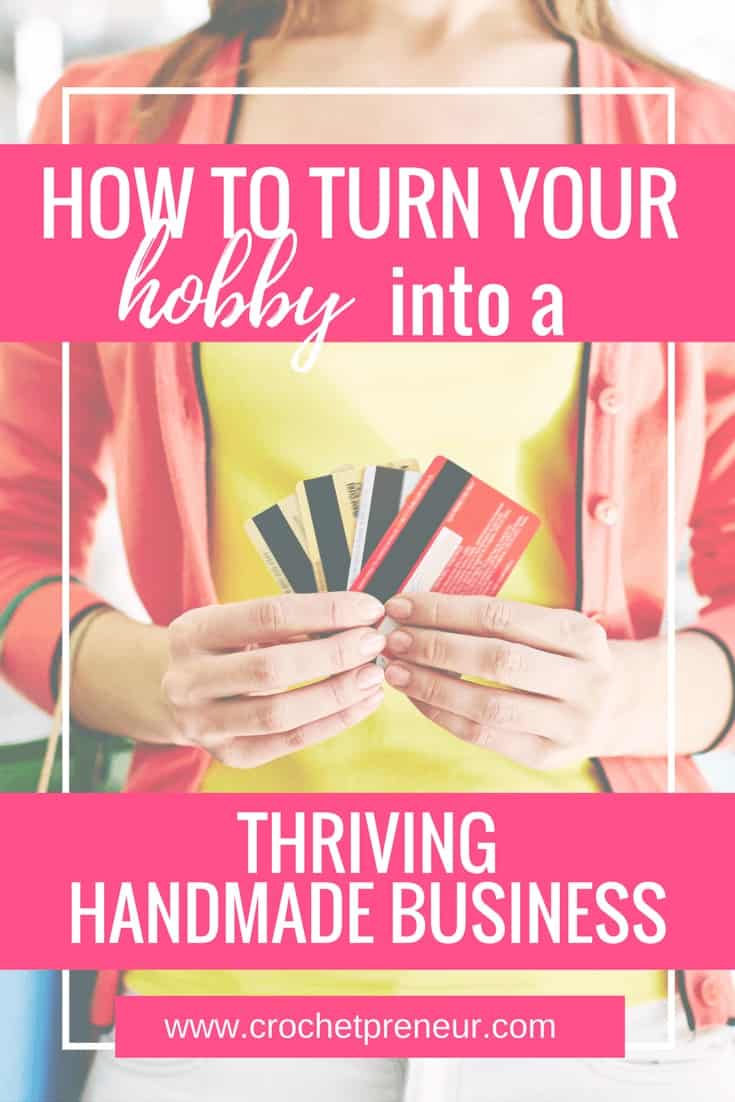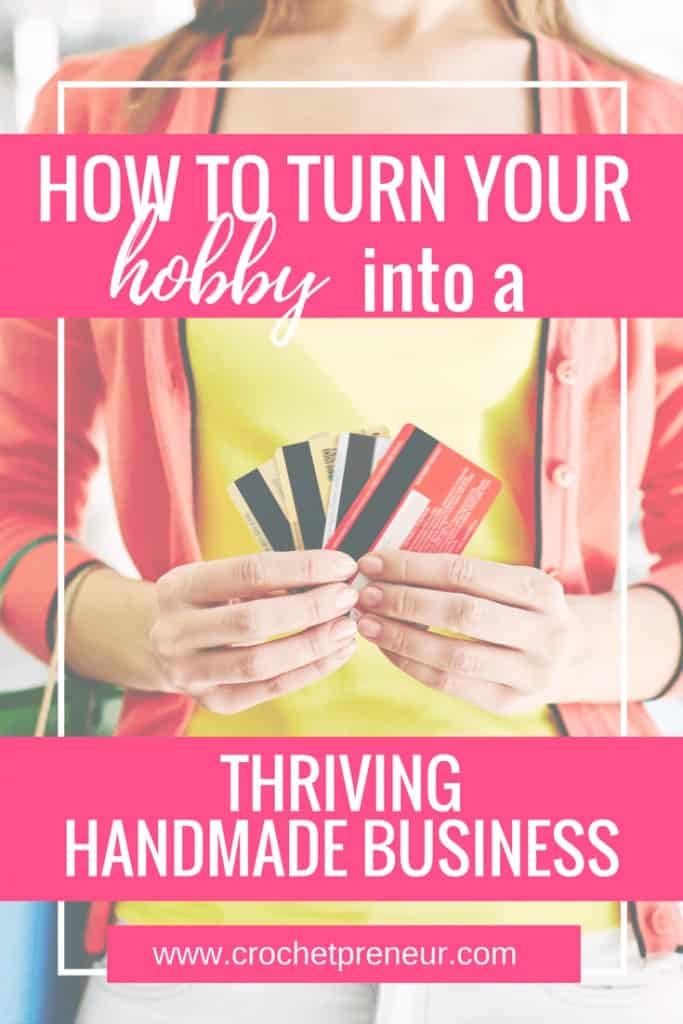 Well, let me tell you right off the bat, it's going to be a lot of work. But, if you are willing to take on a challenge, work hard, be open to possibilities, and push through the physical and emotional exhaustion that is bound to come, you can do it! I know you can do it.
As you might know, crochet is the focus of my handmade empire 🙂 but these tips will work whether you're a jewelry maker, soap maker, candle maker and more. You simply need to begin…
PLAN
You're a creative, details are tough, but you do need some sort of a plan. Ask yourself:
What will you sell?
What are your company's values?
How will you deliver?
How will you produce?
What do you want people to feel when they think of your brand?
When will you find time to not only create a product, but learn about business, marketing, branding, trends, and online tech stuff?
Where will the funds come from to build inventory?
What are your state and local business regulations and when/how will you comply?
Most importantly, are you willing to make sacrifices to get this thing off the ground?
Yes, unfortunately, turning your hobby into a business is more than simply placing your product up for sale and making money.
If you're going to be one of the ones who succeed, you're going to have to plan and work for it. I know you feel that entrepreneurial spark inside. So, let's get that flame glowing with some hard work and gumption.
SELL
Now that you've got a basic plan, it's time to start monetizing your business so you've got some money coming in. It's time to make your first sale (or in some cases, your first sale as a legitimate business).
How many times have you read posts on social media reading, "I posted my product for sale, but no one is buying"? The problem is the perception that all we need to do is place our product on the kitchen counter, take a photo, and post it online. We know our product is awesome, so it should sell quickly, right?! If only it were that easy.
In reality, while there are plenty of places to sell, getting that first sale can be tough. What makes it possible is your plan to make that sale with intention. Make it your quest.
First, we've all got to understand that everyone "out there" doesn't know who we are, why they should purchase from us, or what makes our products so great…and we have precious little time to get that information across to them before they click "next" or scroll down the page.
So, before you post your first item for sale, let's go back to your planning questions and ask other questions as well:
What are you selling?
Where will you sell (online marketplace, social media, craft fair, boutique, etc.)?
Who are you selling to?
How will you appeal to them?
How will you let them know that your products are awesome and that they NEED to purchase what you're offering?
What payment processor will you use and how will you close the sale?
Click here to sign up with Square and get up to $1000 in free processing in the first 180 days.
As an example: Susie sells lovies. She makes them from all-natural cotton yarn and complies with all state and national regulations for baby items. She is planning to sell to new and expectant moms on Facebook. She's going to connect with them through the local FB marketplace, through FB ads and mommy groups that allow advertising. She's going to create an awesome visual and will accept PayPal as a payment method.
Susie now needs to set up a FB business page in order to legitimize her business. It needs to look professional and reflect her branding and business values. Then, she needs to get some really great, well-lit photos of her product both static and in use and put them all over her page. Finally, she'll create a FB ad that compels her buyers to visit the page and make a purchase and she'll get it showing up in front of all the right people.
See, it's a lot of work, but it's going to be worth it…Susie is going to be a rock star!

MANAGE YOUR TIME
Now, it's time to talk about the dreaded T-word. Managing time can be one of the most difficult propositions for a start-up small business. You may still be working full time or raising your kids and time is precious, but this business is important, too. Without an investment of time, it can't grow.
So, be intentional about where you'll use your time. I go by the rule "if it's not making me money it goes to the bottom of the list." That's a very general statement because there certainly are some things that must get done that don't make money (like paying bills, etc.), but as a general rule, it works.
Additionally, I've taken to using time-blocking and goal setting to keep myself productive and on task. Where might you find some extra time? Can you wake up an hour earlier? Would you be willing to work during the kids' naps? Might you be able to stay up late to create inventory? Try to pinch every minute out of the day – the doctor's office, the school carpool line, the kids' baseball games – these are all great places to grab a few minutes to work on your business.
GET OUT THERE
In this day and age, having an online presence is key to building your business. At the very least, your customers will expect you to have a Facebook page to legitimize your business and build trust. Then, over time, add a social media strategy that includes Instagram and Pinterest. And for optimal results, build your business a website that is all yours. You can start small and build it up over time.
While there are many plug-and-play website platforms that you might use, if you plan to build your business into a long-term success, all the experts will tell you that hosting your own website is the way to go. After playing with several different platforms over the years, I have settled on a WordPress.org site hosted by SiteGround. I moved over from a WordPress.com site with ease – when I signed up with SiteGround, they moved it for me! Since I'm not that much of a "techie," I find their customer support invaluable.
Click here to build your own site on SiteGround.
If you don't feel ready to bring out the big guns just yet, then a Shopify site might be the way for you to go. On the site, you can have both a blog and a cart. You can customize the theme to best fit your brand and you can set up a shopping cart to get selling!
And, for ease of use and build in customer base and marketing, there is always Etsy. I've had great success on Etsy and so have many other sellers. Again, it's not as easy as one might think to simply post a product and make a sale, but with some intentional strategy, you can get found and make a great business there.
Click here to visit Etsy and open your own shop.
Additionally, if you'd like to sign up as a new Etsy seller and receive 40 free listing credits, send me a quick email to pam (a) crochetpreneur.com and I'll send you a code.
BE BUSINESS MINDED
Now that you know what you'll sell, who your customer is, and where you'll connect with her, it's time to really begin treating your hobby as a business.
Be Passionate
You're already passionate about what you do – so you're ahead of the game and have an advantage over other business owners who feel ambivalent about their pursuits.
Yay! You're on the right track.
Analyze
Next, analyze your products and processes for quality and efficiency. Make sure your products reflect well on your brand, are within the right price point, and fill a need for your customer. Ask yourself how you might make the products with more efficiency and at a lower cost while maintaining quality. Do you need to set up an assembly line? Can you order your supplies wholesale to lower cost? Hobbyists don't necessarily think about these things, but business owners must keep an eye on the bottom line and return to these analyses on a regular basis will help you keep your business on track.
Invest
Part of owning a business is being willing to invest in its success. I'm not just referring to time and energy. I'm talking about a financial investment. As you begin to shift from a hobby to a business mindset, you're going to have to think about advertising, branding and product development. All of these cost money, but they also bring a return on investment that helps your business grow.
Now, you don't necessarily need to go out and raise a bunch of money or raid your 401K in order to invest. When I first started, I set aside a percentage of my profits for reinvestment into the business. In the beginning, I set aside 50% of profits. That number has reduced to 20% these days as I've grown and streamlined processes. It may take some trial and error, but you'll find what works for you. The important thing to remember is that you need to put some money into your business – neglecting to do so will limit your ability to grown and build a profitable enterprise.
Dream Big
Nothing embodies that spirit of an entrepreneur more than her ability to dream and nothing will squelch her success more than giving in to limiting beliefs. So keep dreaming and turning your dreams into reality. Work hard. Believe in yourself. Make it happen.
You've got this!
I'm so excited to walk this journey with you. Won't you share your dreams in the comments below? I want to get to know you and your business and cheer you on!

Create Product Descriptions that Sell for You!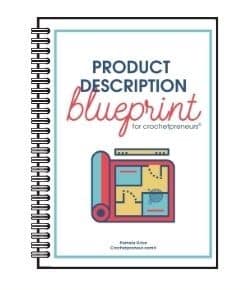 Includes: the exact formula I use to create best-selling product descriptions that help get your products found and SOLD!