Hi there! Welcome to my very first income and traffic report. You may be wondering why I would ever want to share such a transparent behind-the-scenes look at the inner-workings of my blog. And, well, honestly, I'm hesitant…the internet is full of haters and I'm not one who particularly enjoys vulnerability, but I'm sharing this info because I have found so much encouragement and inspiration from other bloggers who have been open about sharing their successes (and failures) with their readers. I was determined, from the start, that I would do the same once I started monetizing my blog.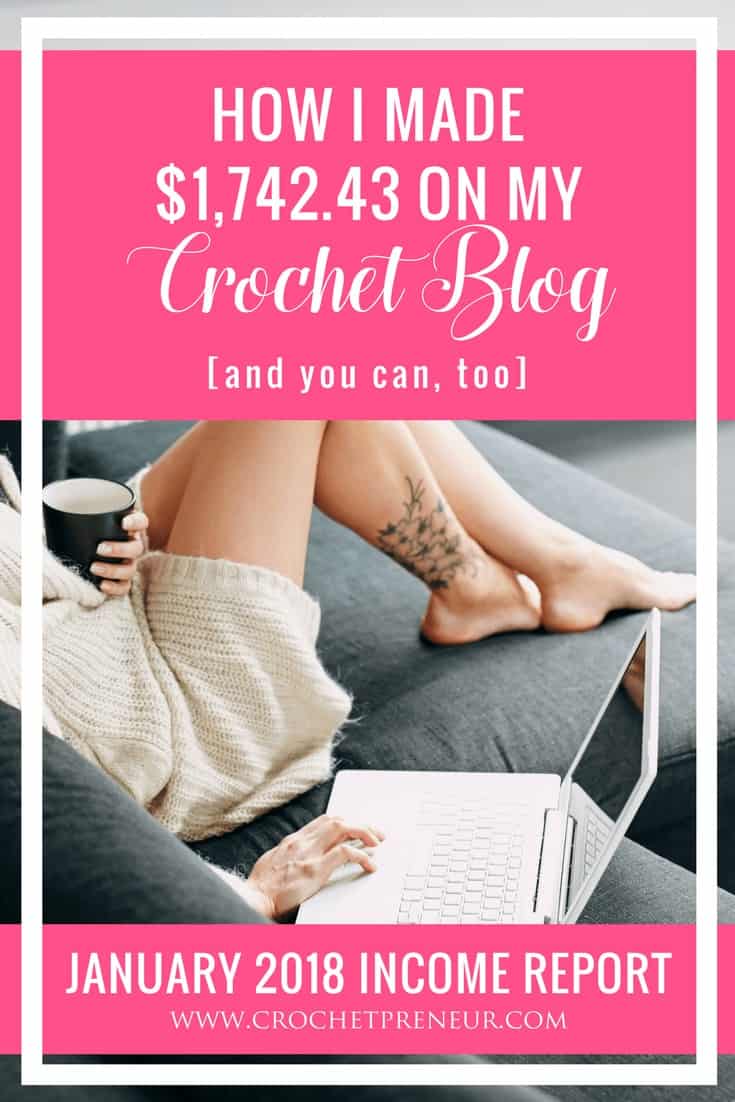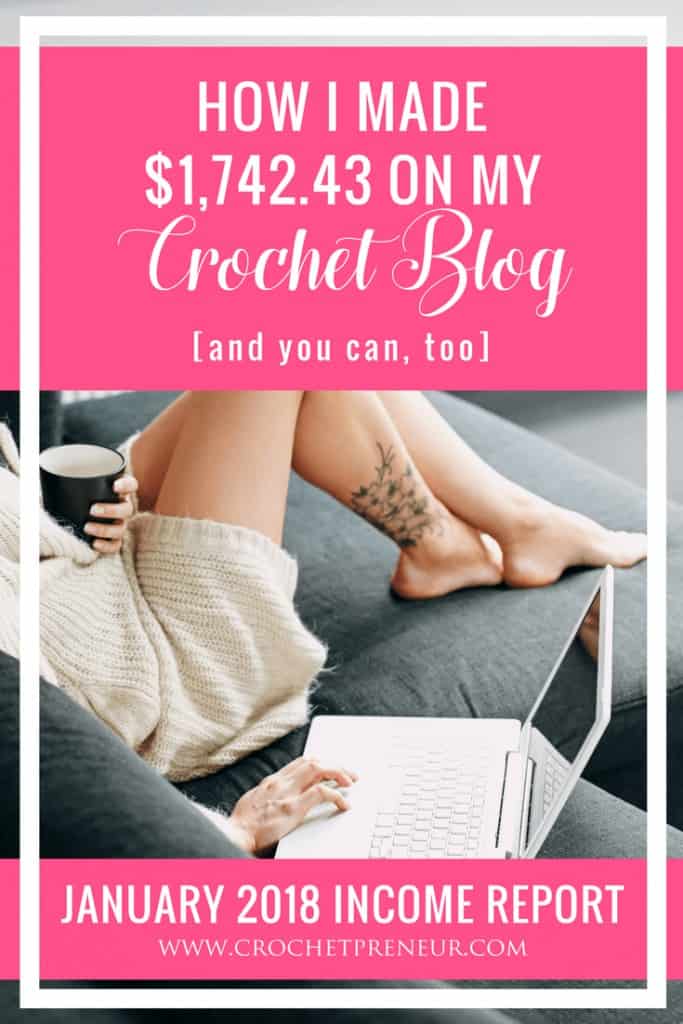 So, here it is!
A Little Background
I am currently in my ninth month of running this crochet blog and am happy to say, it's starting to pay off!
When I first started the Crochetpreneur blog, my mission was clear, "to help crochet business owners turn their pastime into profits and create a business they love that fits their lifestyle and personality." Or, put more simply, "to help crocheters turn yarn into money." But that wasn't my only goal, my hope was to turn blogging into a full-time income stream in order to help support my family and build a nest-egg so that my husband and I can have a secure retirement and could live a life that we love.
Before starting the blog, I worked as a psychotherapist in private practice (and I still do) and had built a full-time income from my crochet business, Made with a Twist, but scaling a product-based business and hiring contract crocheters was never my dream. Instead, I realized that by focusing on creating the Crochetpreneur coaching blog, I could combine my two passions; helping people and crochet.
This is actually my second blog. The first, a blog for women in mid-life, I started in February of 2017, when I first started taking Elite Blog Academy. But as I worked through the intensive blog-creation course material, I realized that I wasn't blogging my passion. So, I switched gears mid-stream and Crochetpreneur was born.

Back to the Why
So, that brings us back to the "why" of this post. Why am I posting my income and traffic report?
Well, the truth is, like those other bloggers did for me, I want to offer you some hope and encouragement to believe that you can make money from home, too. Like me, you can provide an extra revenue stream for your family by blogging about crochet or about whatever else it is that you're passionate about.
If that sounds like something you'd like to do, you can follow my step-by-step instructions for setting up your website in less than 15 minutes. The best part? You can build your website for less than what you spent on your gourmet coffees this week!
Making money from blogging is not just for tech wizards and famous writers, it's for stay-at-home moms, women who want a creative outlet, and grandmas who want to make some extra money to bring the kids on a nice vacation. In other words, it's for all of us and you can do it, too! And I want that for you…to grow your business and to create a life you love.
Blog News
So, what happened on the blog in January?
Well, just after the first of the year, I purchased Kim Anderson's 12-week Blog Growth Strategy course and found it so helpful in breaking down my goals for the first quarter of the year and creating an action plan to accomplish them.
I started using Tailwind to schedule my Pinterest pins and it has, literally, been life-changing. My Pinterest account went from just over 300 followers and 600 visits per month to almost 700 followers and 2 MILLION monthly visits! Pinterest is now the #1 referral source for visits to my blog. You can sign up for Tailwind for free, here.
While attempting to figure out a Pinterest strategy, I was thankful to find a hidden gem in my Genius Blogger's Toolkit file – a Tailwind course from Kate Ahl of Simple Pin Media. If she has the course on sale again soon, I'll be sure to let you know!
I also, had my first post go viral (whatever that means, right?). My post for the Free Beehive Messy Bun Hat received over 30K pins and played a big part in increasing visits to the blog.
Finally, I set up three free resources this month: the All Free Pattern Library and the Free Business Resources Library. as well as the free Rock Your Craft Fair Training Series.
That was a lot to accomplish in one month and it paid off!
Page Views and Income
Page views: 56,157 (up from 5,801 in December 2017) This is due, in large part, to the Beehive Messy Bun Hat post and I'm hoping to keep the momentum going in the coming months.
Income: $1742.43 (up from $1148.90 last month)
Income Breakdown
Ad Network Income: $232.26
Affiliate Income: $211.06
Pattern and Planner Sales Income: $1299.11 (I don't include physical, crochet-product sales figures because I consider that a separate business)
Expenses
I don't really think it's fair to talk about how much I made without being realistic about the expenses. So, excluding taxes, which will be paid at a later day, my monthly expenses for things like web hosting, advertising, software/app subscriptions, and Etsy/Paypal seller fees, my expenses were $591.58.
12-week Blog Goals (Jan. 1 – Mar. 31 2018)
Grow Pinterest followers from 330 to 1,000 followers. (as of Jan. 31, 2018 this was at 637)
Pin 30 times per day using the Tailwind App. (Successfully set up posting schedule which is updated weekly)
Increase Instagram followers from 7,604 to 10,000. (As of Jan. 31, 2018 this was at 7993)
Increase e-mail subscribers from 1,853 to 5,000. (As of Jan. 31, 2018 this was at 2888)
Write two blog posts per week – one business focused and one 'other'. (Completed 7 out of 9 planned post for Jan. 2018)
Create one new course to help crochet business owners. (I'm behind schedule on getting this course completed)
Set up shop critique and business coaching service packages. (I'm behind schedule on getting these set up)
Things to Improve
Self-care: Because I'm trying to get the blog filled with content so I can slow down a little bit and care for my grandson three days a week (starting in March), I've been working 18-hour days between my counseling practice, crochet business, and blog. (In fact, as I write this, I've come down with the flu…so I'm forced to slow down).
Comparison: As much as I tell my readers not to compare their journey to the journey of others, I'm constantly feeling "behind." I need to simply rest in the truth that I'm doing the best for myself and my readers and stop comparing my vanity numbers (followers, etc.) and network/sponsor opportunities to those of others who have been along much longer than my nine months.
Elite Blog Academy: Ever since returning from the Activate conference in September and, then, working my crochet business through the busy holiday season, I've neglected my coursework for Elite Blog Academy and I think that's stunting the forward progression of the blog. So, I am, hereby, recommitting to my coursework!
Goals to Focus on for February
Brainstorm 6 weeks of blog posts
Continue with two blog posts per week (Mondays and Fridays) with the appropriate affiliate and related posts links.
Work closely with an upcoming affiliate opportunity.
Work on a course and coaching service packages.
Make plan to explore sponsored post opportunities.
My Income Strategy for February
Ad Network: Now that monthly page views are over 25K, apply for the Mediavine ad network in hopes that this will increase ad network income.
Affiliates: Continue to explore affiliate opportunities for products that will help crochet business owners. Work with Ultimate Bundles on upcoming bundle releases.
Private Advertising: No immediate plans to pursue private advertising
Pattern and Planner Sales: I expect these numbers to decrease as we move into Springtime, but by continuing to add new patterns, the anticipated decrease may be mitigated.
Courses and Services: Once these are set up, these will help counter the downturn in product and pattern sales during the warmer months.
Sponsored Posts: Work on a strategy for reaching out to brands that I love and explore sponsored post opportunities.
That's it, Crochet Blog Income Report #1 complete. I'm looking forward to growing more and helping more crocheters to take their businesses from surviving to thriving in the online landscape. If you're ready to start your blog, don't forget to walk through the step-by-step website setup and start creating great content for your target audience!
Price Your Products Like the Pros
Includes: the exact formula I use to price my products for maximum sales and profit while attracting my ideal customer.