It's that time of year again. The class of 2019 has settled in nicely and are rocking and rolling in their shops and on their blogs. So, it's time for the doors of the Crochetpreneur® Business Academy (CBA) to swing wide and welcome a new class of brand new and veteran crochet bosses. They are crochet bosses, just like you, who can't wait to grow and build their crochet business this year.
Are you a crochet producer wondering how to increase sales and profits from your Etsy shop?
Or are you a fledgling designer wondering how to write your first crochet pattern?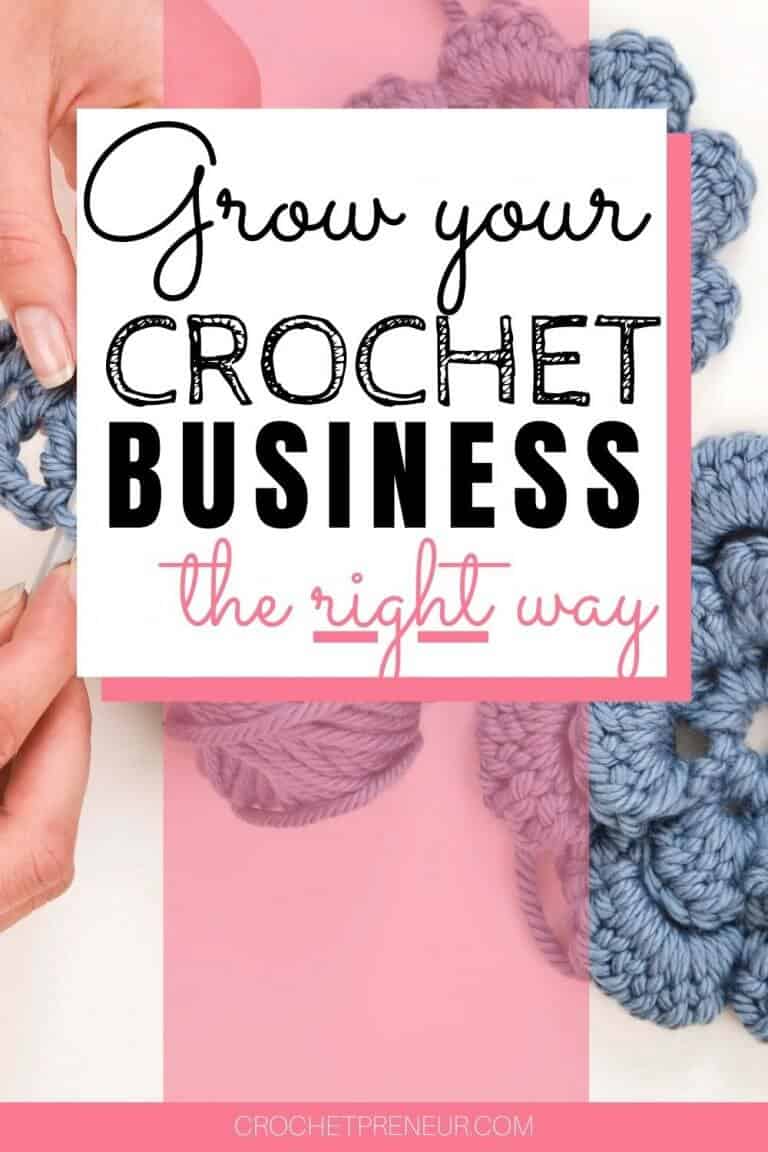 Feeling overwhelmed with all-the-things that need to be done in order to grow, build, market, and sustain your crochet blog and business?
We've got you covered in CBA™!
Well, you might be wondering…
A Crochet Business Academy, what's that?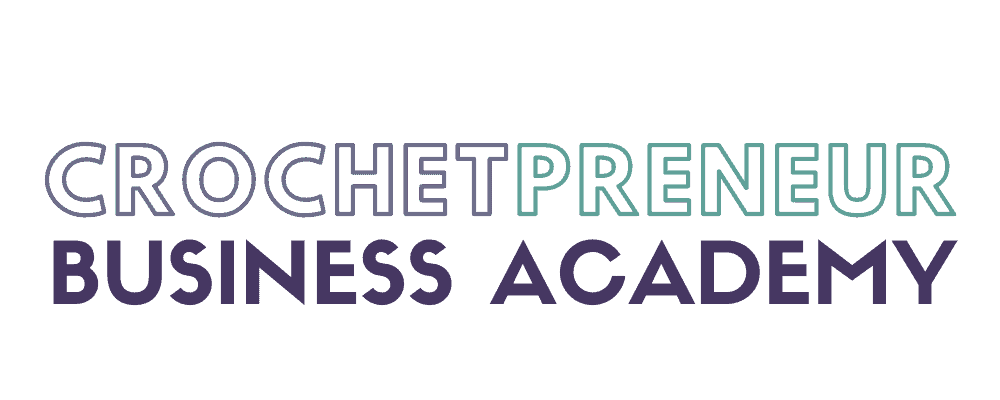 I'm so glad you asked! The Crochetpreneur® Business Academy is an established learning platform and membership community. Everything we do is focused on helping crocheters turn yarn into money.
Basically, it's the worldwide hub for all things crochet business. (OK, I made that up, but I think the members would agree.)
And to make it a little more clear, let me break it down for you.
The framework of the CBA™ is broken down into four main parts:
The Success Roadmap for Crochetpreneurs,
Crochet and Online Business Coaching,
The private CBA™ Facebook Community, and
Various Support Materials
A Proven Path for Growing a Successful Crochet Business
THE SUCCESS ROADMAP FOR CROCHET BUSINESS OWNERS
This is the foundation of the Crochetpreneur Business Academy. As you can see in the infographic (be sure to pin it for later), the roadmap to success is broken down into three steps with three parts each.
These are the strategic, proven steps to success I've developed while growing my own booming crochet business and helping thousands of others do the same. The steps will walk you through the process of starting your business on a solid foundation, building into a reliable, a money-making enterprise, and growing into the future.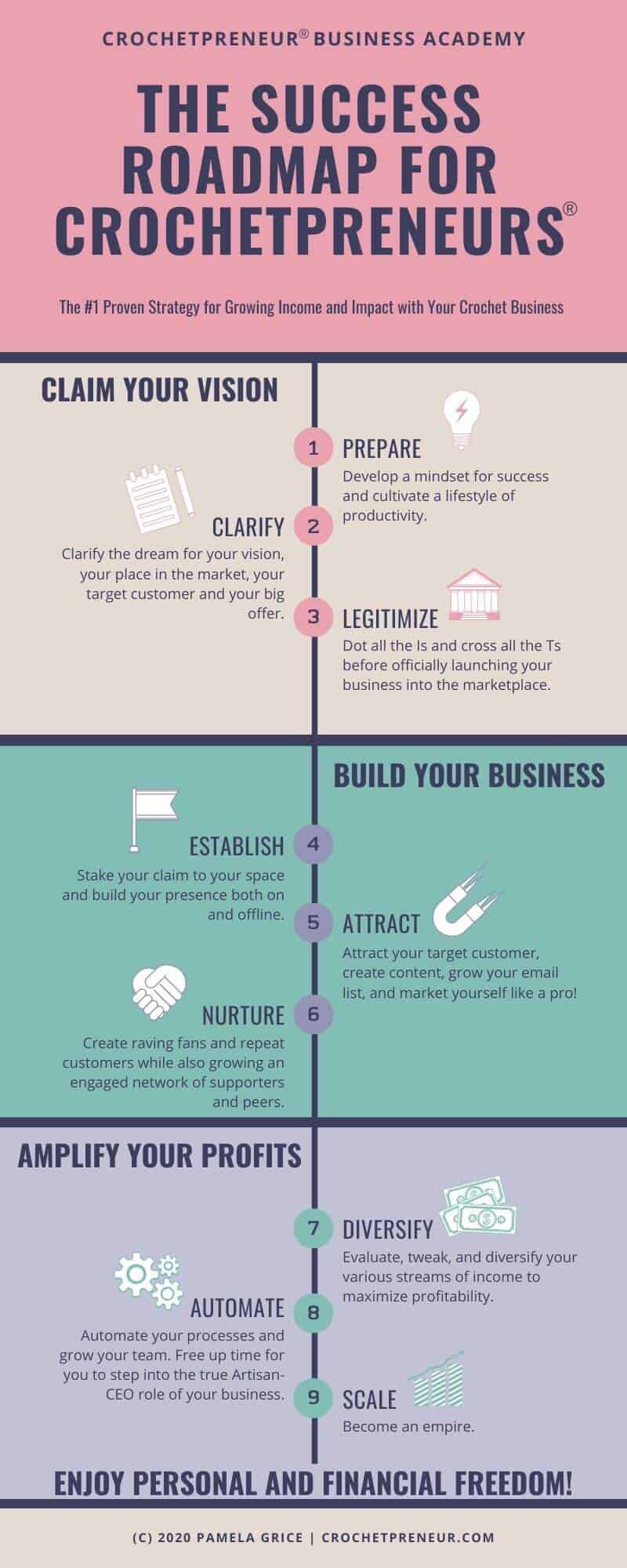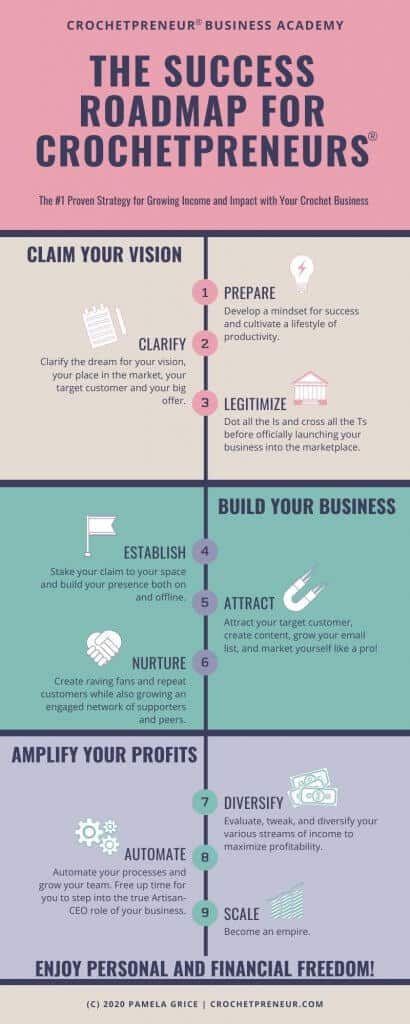 Each step of the way is filled with lessons, video tutorials, workbooks, worksheets, checklists, and spreadsheets to help you chart the way of a unique crochet business that will help you build your dreams your way.
There's no cookie-cutter, look-the-same, sound-the-same business in your future!
Monthly Crochet Business Coaching
Each month of your annual Crochetpreneur® Business Academy membership, you'll receive 3-hours or more of face-to-face group coaching and Q&A sessions with both me (your personal crochet business coach) and other experts in the yarn-based business, online business, and online marketing fields.
Join your new crochet biz besties, see their smiling faces (and sometimes their kids), as we dive deep into business-building topics you need to know from some of the industry's best. Recent guests for our monthly themes have been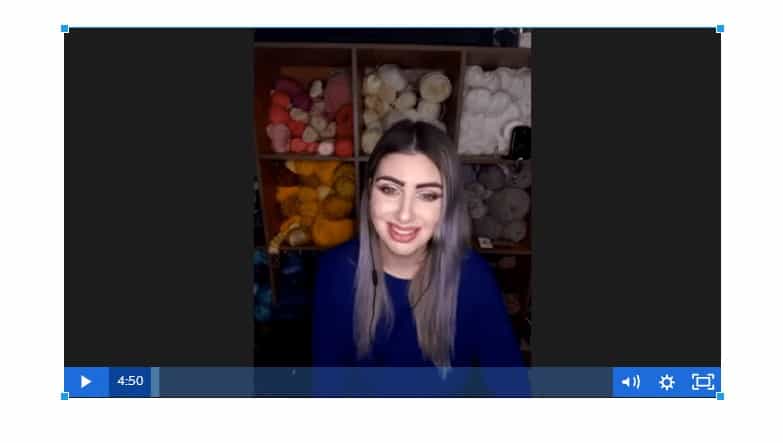 You'll also get a group-coaching session and a Facebook live Q&A session with me, Pam Grice, your own crochet business coach. Want to know more about my qualifications? Check out my about page.
And, well, I can't seem to stay away, so I'll be hanging out in the Facebook group on the regular to help brainstorm, troubleshoot, guide, and encourage you along the way. And, sometimes, I might give you a little push, when you need it.
The Best Maker Community Around
Filled with take-action, no-holds-barred, kick*** crochet business owners, the private CBA™ Facebook group is THE place to be on the internet. Every day, I'm blown away by their pure embodiment of the "Community and Collaboration of Competition" philosophy.
They're waiting and ready to welcome you, encourage you, and hold you accountable when you need it. And they'll be excited to share your posts, pin your pins, and talk you up in stories. It's all about mutual support, networking, and rising tides that lift us all.
Support Materials for Crochet Sellers, Designers, and Bloggers
The CBA™ is no single course that leaves you with just one piece of the puzzle. No, it's meant to cover all the bases for your crochet business and point you to expert resources when it's time to dive deep.
Aside from the lessons, coaching, and community, mentioned above, you'll find video tech tutorials, an extensive list of my favorite resources for crochet business success, and access to all my mini-courses, like

The Rock Your Craft Fair Training Course,
The Get It Done: Concept to Launch Crochet Pattern Writing Course,
The Holiday Prep Workshop for Online Sellers, and
The Basics of Blogging for Makers.
And there's so much more!
Join the Waitlist
The doors to CBA are currently closed. Click the link, below, to learn more and read through the FAQs and sign up for the CBA waitlist.
I can't wait to see you on the inside!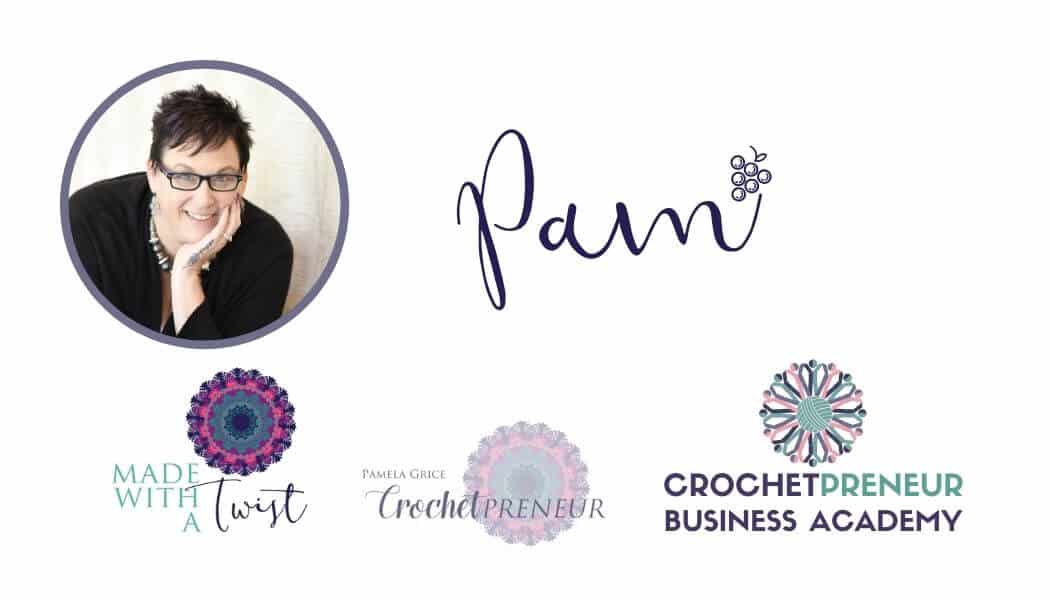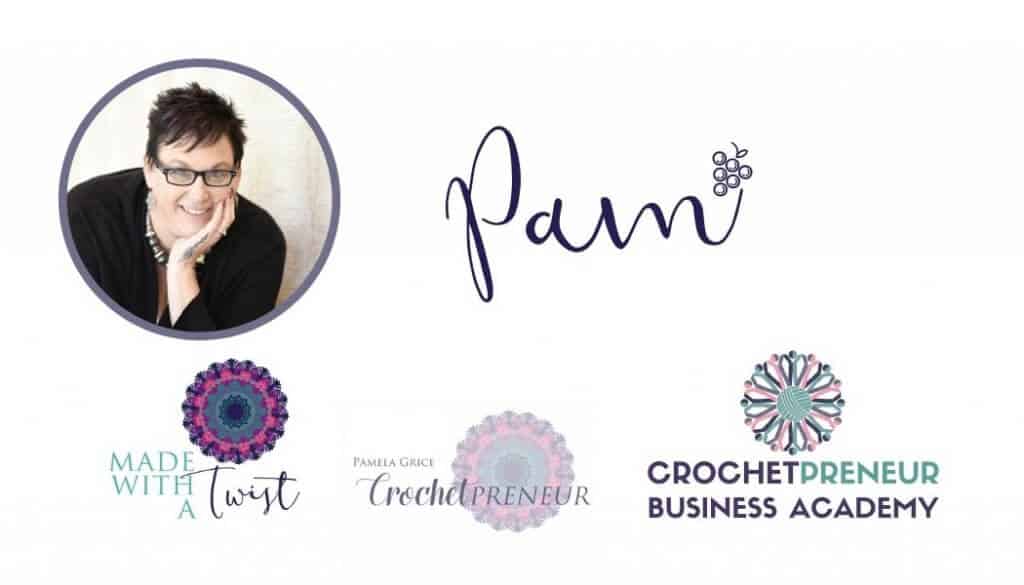 Price Your Products Like the Pros
Includes: the exact formula I use to price my products for maximum sales and profit while attracting my ideal customer.