Well, I recognize that it wouldn't really be fair for me to just start up a crochet business podcast without letting you know a little bit about me, where I came from, and why I want to help you grow your crochet business.
So, today's episode is all about those things, answering the question, "Who is the Crochetpreneur and how can she help me grow a profitable crochet business?"
Listen in to hear all that and more…and check out the tidbits below for even more meet-the-maker morsels (I love alliteration).
5 Things You Don't Know About Me
I thought I'd add these few little things into the mix to make this post a little more interesting to those of you who have been following me for a while. You already know how I went from psychotherapist to viral crochet designer to crochet business coach and, now, podcaster. But, did you know…
I'm a huge fan of personality tests
Even before I ever went into the field of psychotherapy, I've always been fascinated by the way people operate, what makes them tick, which traits are innate and which are learned.
As a kid, I would even sit and read through self-help books (which could be quite interesting back in the 70s) and delve into the world of human psychology.
Now, I use them in my business to help crochet business owners uncover their strengths and weaknesses, defense mechanisms, and potential areas of growth.
Some of my favorite online tests are:

I am a terrible housekeeper.
There, I said it. I've just never been good at putting aside my crafts and taking care of mundane tasks that don't bring me joy.
Thankfully, my husband is an ace at all those things I hate doing. He takes care of grocery shopping, laundry, dishes, and housekeeping. I still cook though, because I'm good at that…maybe that's because cooking feels like a creative outlet for me.
Honestly, when I was single and dating, I basically wouldn't even date someone if they didn't enjoy cleaning because I just new it would become a bone of contention if neither of were good at it! I'm so thankful for Kevin and the way he cares for our home so I can continue to play with yarn whenever I want.
I'm originally from Michigan.
I'm not even sure if most of my friends know that! It's not that I'm trying to keep a secret, but we moved away from the Grand Rapids are when I was just two.
From there, we moved to New Haven, CT, then to Roxboro, Quebec in Canada, and I spent most of my childhood in a small town called Hudson, just west of Boston, MA.
I moved to Colorado Springs, CO in 1991, when I was just 27 years old, and it's been Home ever since.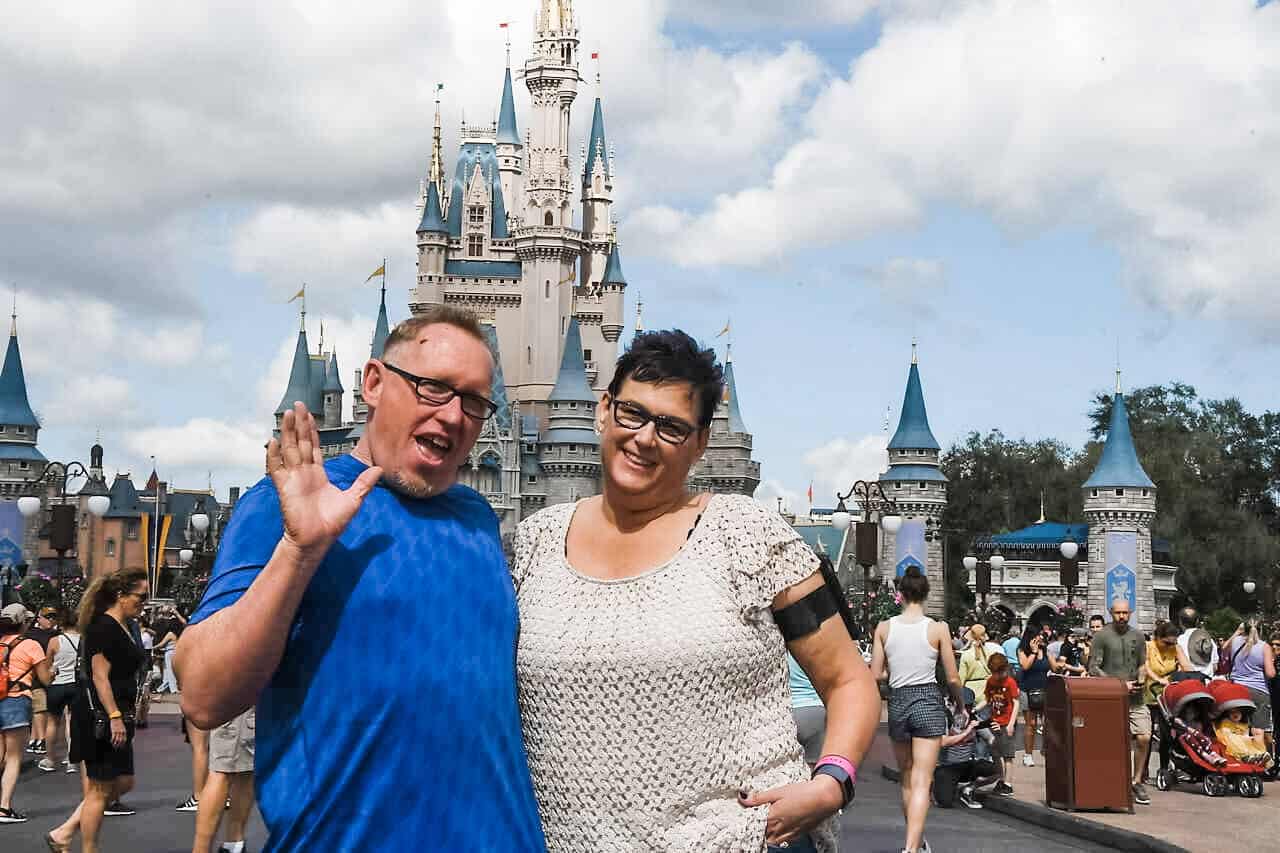 I'm a Disney Annual Passholder.
My husband, Kevin, is a nut when it comes to Disney World. As a child growing up in Florida, it was one of his favorite joys for his mom to take him and his brothers to Disney World each summer.
Now, I just can't keep him away. Every year he says, "We'll wait about 3 years before we come back." But it only takes about 6 – 9 months after a visit for him to get the itch again.
As annual passholders, we're able to visit Disney World twice each year and still have it be (somewhat) affordable. We take a $99 roundtrip redeye and stay in our timeshare to keep the expenses down and we always have SO MUCH FUN.
I'm always up for an adventure.
An adventurous spirit was instilled in me from a pretty young age. My parents always allowed my brother and I to run wild and free and taught us to find adventures in the everyday.
I'm so grateful that this crochet business of mine has made it possible for Kevin and I to continue having adventures whenever we choose. You never know where I might podcasting from. While I may be broadcasting from your yarn studio in the Colorado Mountains, it is just as likely that I'll be in our RV traveling the country and enjoying the beauty of our national parks.
I so hope you'll stick around and enjoy this crochet business adventure with me!
Won't you tell me a few things about you in the comments? I love getting to know my readers and, now, listeners!
Further Listening and Reading
All Dear Crochetpreneur Episodes
The Crochetpreneur Business Academy
Impulsive's Guide to Starting a Crochet Business Right Now
Let's Connect
If you'd like to have the opportunity to be featured on a future Dear Crochetpreneur episode, click here to submit your question.
Price Your Products Like the Pros
Includes: the exact formula I use to price my products for maximum sales and profit while attracting my ideal customer.