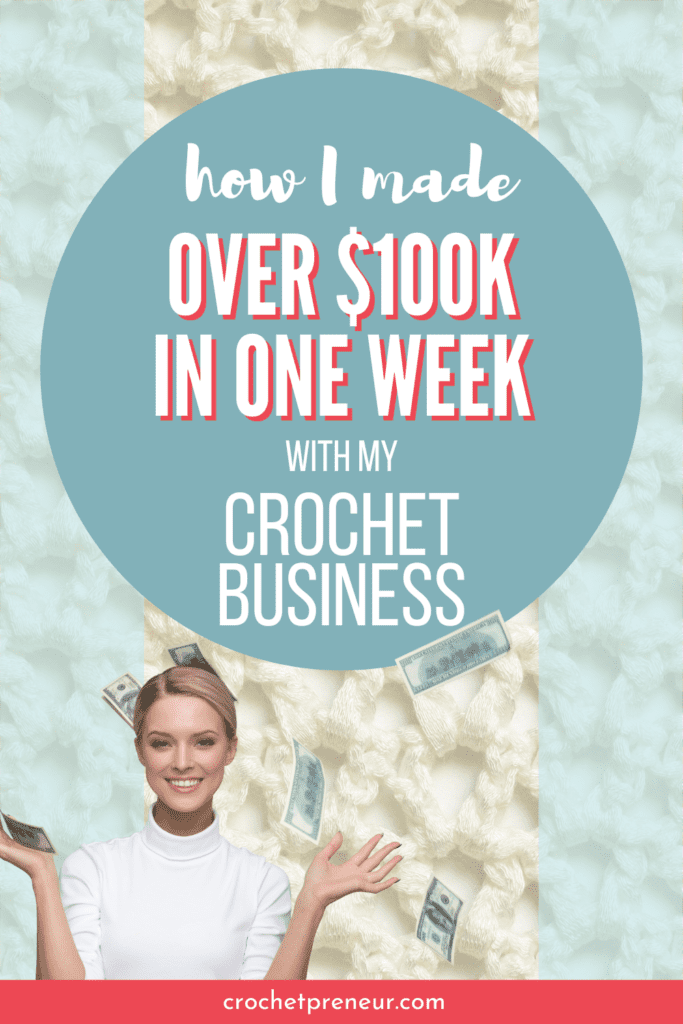 So, the image says, "How I Made Over $100K in One Week with my Crochet Biz." Notice, I didn't say, "and you can, too!" Well, maybe you can … but I'm not going to lie and say I can give you the formula for creating a successful crochet business that quickly … otherwise, I'd just be doing that myself, right?!
However, what I CAN do, is share some tips about how I made some right choices that made virality possible for my product – if I hadn't made those choices, no $100K for me.
Let's see if we can get you on that same track, too.
"They say it's better to be lucky than good, but it's even better to be both lucky AND good." ~ Vern Lundquist
Have you ever had one of those ideas?
You know the one that keeps rolling around in your head, nagging you for months and years, but never quite making it out onto paper or canvas or, in my case, yarn?
I'm not sure why I hadn't taken the time to sit down and create the Messy Bun Hat years ago. It was just one of those ideas that sat in the recesses of my mind waiting for the right time.
How I Got Lucky
So, on Dec. 7, 2016, when I was tagged in an ISO Facebook post about a sort of unfinished hat where someone could pull their hair out of the top, I thought, "The time is now!"
I Google searched the image of that lovely open-topped hat and discovered that it wasn't being offered for sale and there was no pattern to be found anywhere. The original poster had simply posted a photo of a hat saying, "Look at the cute hat I made!"… but she wasn't selling anything.
How I 'Done Good'
So, I set out to create "the messy bun hat."
My design was in typical Made with a Twist (by Crochetpreneur) style–chunky, quick, and as far as I'm concerned, good.
And when I say "set out to create" I mean, it was 10:00 PM. My husband and I were settling in for the night, watching television and relaxing when, all of the sudden, I jumped into action!
"Oh my gosh, honey, I have an idea! Don't talk to me for at least an hour. I'll fill you in when I'm done!"
So, I grabbed my favorite yarn and my favorite hook and searched the house for an elastic hair tie.
To me, the hair tie was the most important part and the key to the uniqueness of my design.
Now, I've had short hair for at least 6 years. Finding a hair tie proved no small task, but I finally pulled one out of the dark recesses of a drawer in my vanity.
After 60 minutes or so, I had the hat finished.
I turned on every available light in my night-darkened studio, propped Mandy (she's my lovely mannequin whom you will come to know and love) on the cloth-covered ironing board and took some quick (and horrible, see below) photos. I posted the photos on Facebook and created a listing on my Etsy shop.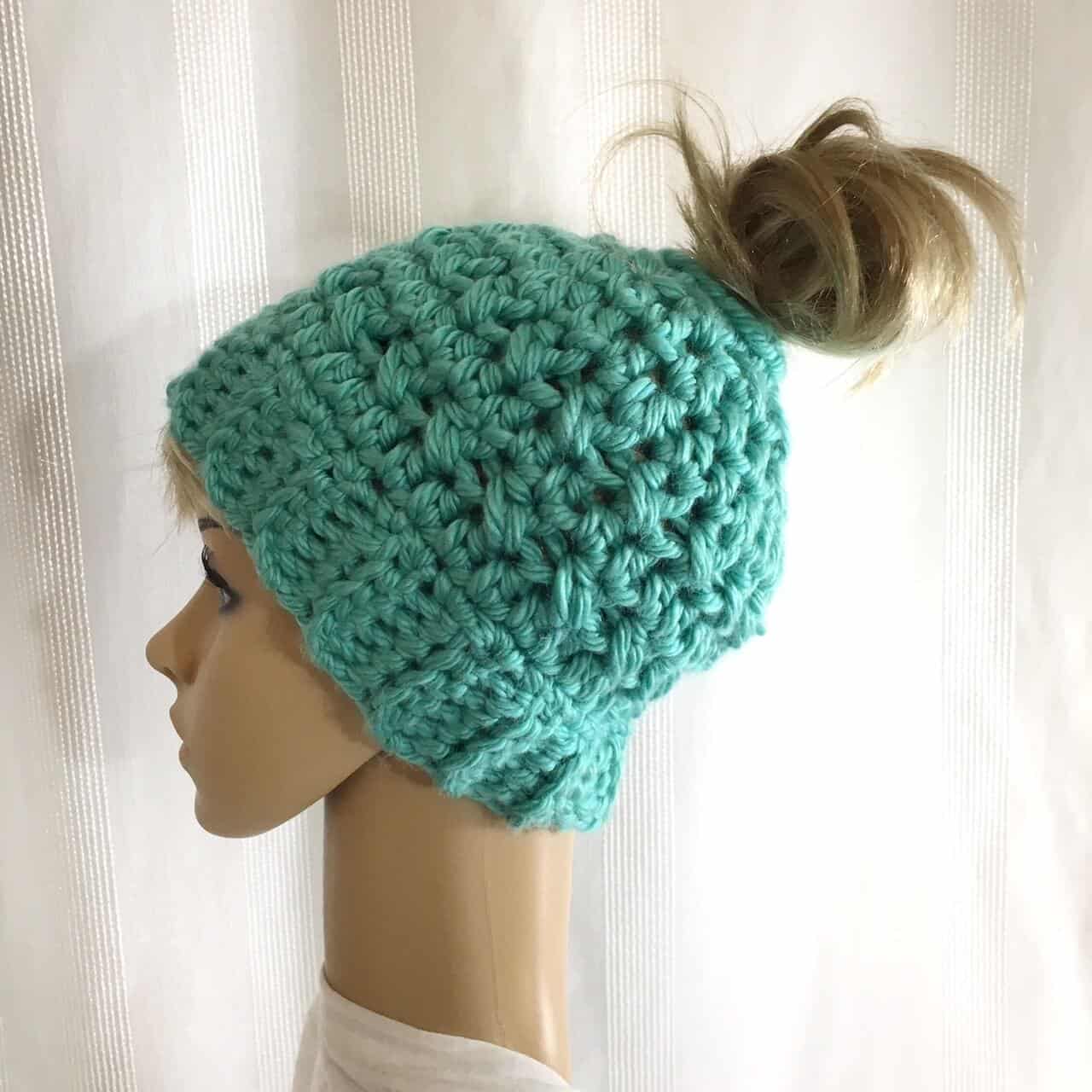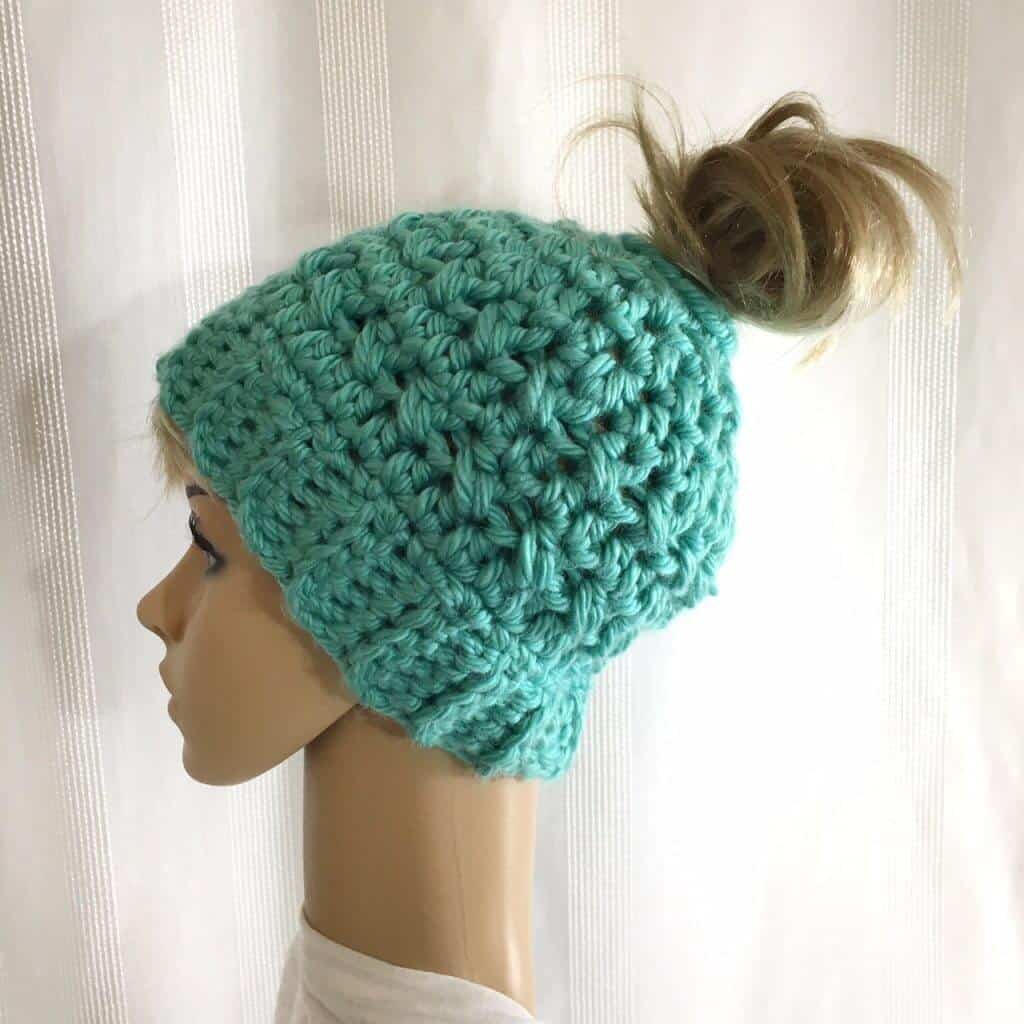 Then, I quickly whipped up the pattern and got that listed as well. (I'm sad to admit that, in my haste, the pattern wasn't up to my usual standard. But that was remedied within a few days. Read the story about my biggest failure as a crochet designer, here.)
The next day, Chelsea (one of my brand reps whom you will also come to know and love), asked if she should stop by to take photos.
"Yes!"
We took some cute pictures…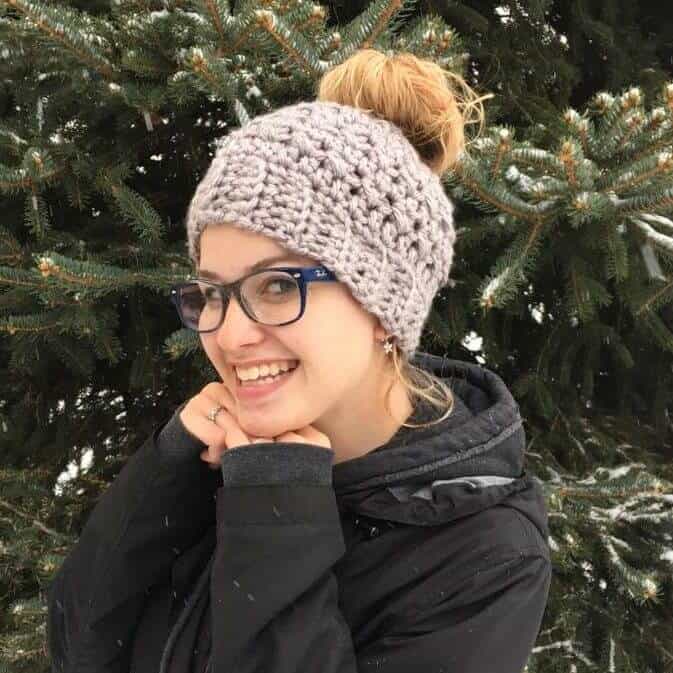 … and a quick 15-second video of how to put on the hat and, within a matter of minutes, she was gone.
I posted that video on Facebook (twice) and YouTube. Since then, over 70 million people have viewed the video, life hasn't been the same.
Here's that same video from Facebook, as seen on YouTube:
Then, my world got rocked, and within a week, I had made WELL over $100,000! (With complete transparency, it came to just over $80K after expenses.)
See, it IS Possible to Have a Successful Crochet Business!
But is that a replicable success strategy? Maybe, maybe not. But let's go over some of the practical, replicable strategies I used to get my product in front of people and have them buy. These are things you can do in your business, too.
When you see a need, fill it. An important principle of business is that you must identify your customer's pain-points and needs. Once you identify the need, creating a solution provides your greatest opportunity for success.
Timing is everything. Even the best ideas, shared at the wrong time, will not bear fruit. This idea has been waiting for its time, and once that came, the buyers were ready. Which leads me to the next point …
Get prepared while you're waiting for the opportunity to arise. If I had written the pattern and taken beautiful photos of the product well in advance of the "time," I would have been prepared to jump. But I waited and had to act quickly. My first draft of the pattern and my first photos were not great. That caused some pain at the very beginning of the sales process.
Video is quickly becoming our greatest ally in getting the message out about our product. Had Chelsea and I not made that 15-second video, I believe the sales would never have been so impressive.
Post your video on YouTube right away. I originally posted my video on Facebook and received over 70 million views. While I made sales on those views, I made no advertising money from them. If I had posted to YouTube right away, I could have monetized the video and made a significant profit from the views in addition to the sales. But I missed the opportunity by waiting over a week to post there.
Well, that's Part One of this story. Part Two entails a lot of coffee, sleepless nights, the beauty of community, and sadly, the downside of going viral. Keep an eye out for it!
If you're a crocheter who'd like to add this amazing, profit-propelling product to your inventory, you can click this link to purchase the Messy Bun Hat Pattern.
Price Your Products Like the Pros
Includes: the exact formula I use to price my products for maximum sales and profit while attracting my ideal customer.