If you've been following me for any length of time, you know that my passion is helping others learn how to make money with crochet. In one word, my system is to diversify.
And one way I diversify my income is by participating in craft fairs. I've certainly dialed down the number of fairs that I'm participating in since most of my time is spent coaching crochet business owners (at this point), but I still enjoy setting up for markets once or twice a year.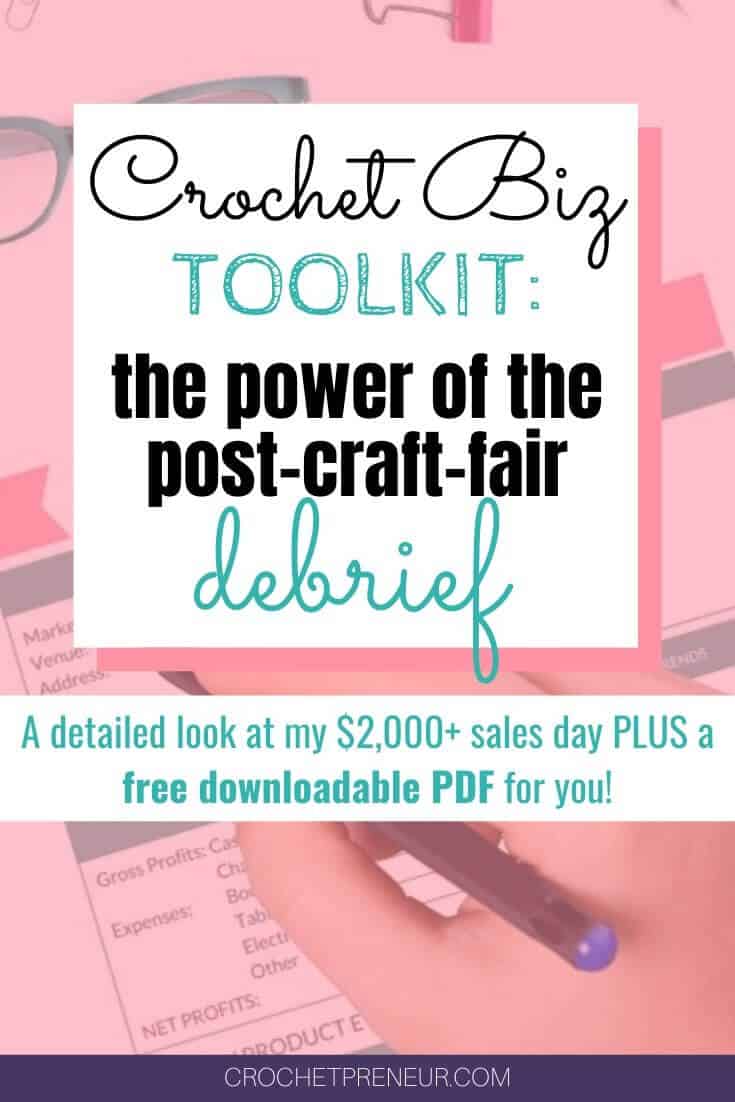 This year, I've scheduled to set up my crochet booth at two of my most profitable fairs and, in fact, one of those fairs has already taken place!
Liberty High School 2019: Market Debrief
What is a Craft Fair Debrief?
As business owners, part of our job is to 'know the numbers.' Even if you're not a numbers person, if you want to make money with your crochet business, you're going to have to bite the bullet and get a system in place to track numbers for everything.
If you don't know your numbers, you can't know the health of your business. Part of my regular data gathering and numbers crunching routine is the craft fair debrief.
My debrief process entails taking a look at
environmental details,
sales data, and
general perceptions.
Once I gather this information, it lets me know about market trends, year-to-year changes, and variables that may have positively or negatively impacted sales.
I know, it sounds like a lot! Don't worry about having it all figured out, I have all of the details available in one handy dandy Craft Fair Debrief Template.
And just to help you understand the debrief process a little better, I'm going to walk through a debrief of my most recent show right here….so you can follow along.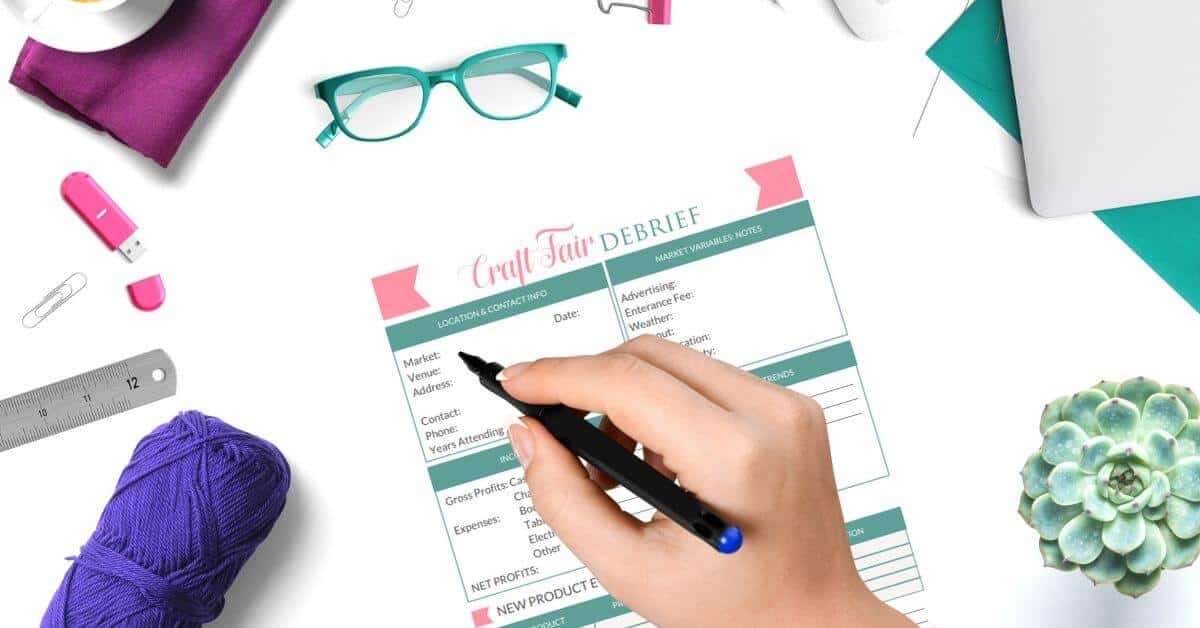 Conducting a Post-Market Debrief
OK, I have my Craft Fair Debrief form in front of me and I'll just go through each section and fill out the applicable info so you can see how you might go about conducting a post-craft-fair debriefing.
Here we go!
Location and Contact Info
Market: Liberty High School Craft Fair
Date: November 9, 2019
Venue: Liberty High School, 8720 Scarborough Dr., Colorado Springs, CO 80920
Contact: Holly
Email: [email protected]
Years attending this market: 4
Market Variables: Notes
Advertising: The school doesn't conduct any marketing efforts, but this show is known throughout the city and has a good reputation. Even so, two other vendors and I created our own Liberty High School Craft Fair public event on Facebook and had a reach of over 16K (an increase of 10K over last year's reach).
Entrance Fee: There was no entrance fee for visitors to the craft fair.
Weather: The weather reached almost 70 degrees on the day of the fair. That's higher than our average mid-50s temperatures in early November. Note: We had mid-20 degree temps and snow last week.
Turnout: I have a message into even coordinators to get an estimate of the foot traffic for the event, but it seemed to be down by about half this year.
Booth Location: Booths 106/107. Booths were laid out a little differently this year and instead of being in a quadrant of booths, I had a double booth with no adjoining booths. I had aisles on all 4 sides, so I had to adjust my setup. Last year, the booth was 8′ x 20′ with two booths behind me. This year, the booth was 10′ x 16′. I liked the change. My booth is situated just inside the gym entrance and faces the door. So, when customers walk in, I am the first booth to be seen.
Vendor Variety: This is a juried show. There seemed to be fewer handmade sellers this year and direct sellers (MLMs and such) were moved from the segregated spot upstairs, into the 'general population'. I'm not sure this impacted my sales at all, but it did impact the overall feel from artisan craft fair to a just-a-regular craft fair.
Parking: Since this is a high school, there are a great number of parking spots available and they are within close walking distance of all entrances. As always, the parking lot was packed for the majority of the day. Parking is free at this show.
Other: There was a large, well-advertised event held on this same day at an event center downtown. While it did have an entrance fee of $10, it still may have impacted overall attendance at Liberty since they advertised in the papers, online, on radio, and television.
Craft Fair Income and Expenses
Profits
Cash: $673.00
Credit Card: $1,577.00
GROSS PROFITS: $2250.00 (boy, you gotta love round numbers!)
Expenses
Booth Fee: $180.00 (for a double booth)
Tables: $10 (6-foot table – I also brought others)
CC Processing: $49.76
TOTAL EXPENSES: $239.76
TOTAL NET PROFITS: $2,010.24
Note: Net profits were half of what they were last year. We'll go over some thoughts about why that might be, later in the debrief.
Craft Fair Inventory and Trends
Inventory Value:
Starting – $8251.00
Ending – $6001.00
Sales Tax Rate: Colorado Springs, El Paso Cty, CO (jurisdiction code 04-0017) 8.25%
Sales Tax Paid onsite: $0.00 (Will file the $185.63 in collected sales with my quarterly sales tax filing)
Note: We are not allowed to add sales taxes to our product prices in Colorado. Each transaction must have sales taxes calculated and collected individually. To make this easier, I process each transaction, whether cash or credit card, through my Square processor with the sales tax rate turned on and adjusted for the location of my market. This way, square automatically calculates my taxes and I can save time working out the math.
5 Top Selling Craft Fair Products by Volume:
5 Top Selling Craft Fair Products by Value:
5 Top Selling Colors for Craft Fair Items:
Navy
Black/White Tweed
Cream/Black Tweed
Charcoal/Tan Tweed
Black
Note: I carry 20 colors of each product. No, I don't recommend you do this. My customers are just accustomed to having a wide variety of colors to choose from. My suggestion would be that you limit your palette to about 6 popular colors so as not to overwhelm your customers with too many choices.
New Product Evaluation
Each year, I introduce a few new products just to see how my target audience will respond to them. Then, I evaluate the sales to decide if I will keep them in my lineup, call them profitable, and recommend them to other sellers.
Knit Look Hat (pattern coming soon)
Price: $26
Number Sold: 3
Gross Profit: $78
Evaluation: I added these to the inventory without removing anything else. I think the addition of this and the other hat, following, was a bit overwhelming. If I choose to keep these, and I think I will, I'll have to select something from my regular product line to remove. I also need to better highlight how great these hats are.
Textured Slouch Hat (pattern coming soon)
Price: $28
Number Sold: 4
Gross Profit: $112
Evaluation: Like I said, above, I should have removed a hat or two from the product line before adding these in. Otherwise, the customers really loved how soft they are and how they sit on the head with the perfect amount of slouch. I'll be keeping these for the next show and will do a better job of highlighting them on a mannequin.
Long Buttoned Scarf (pattern coming soon)
Price: $30
Number Sold: 5
Gross Profit: $150
Evaluation: For some reason, I think it was the weather, neckwear just wasn't a big seller for this show. However, if a customer did buy neckwear, they were more likely to purchase this design. I didn't expect that since it is more expensive than most of my others. That just goes to show you…it's not about price.
Scrunchies (pattern coming soon)
Price: $5/each or 3/$12
Number Sold: 6
Gross Profit: $24
Evaluation: I went to college in the 80s. I don't love the look of scrunchies. However, the popularity of these little guys is being touted all over Instagram. So, I decided to jump in, design my own velvet scrunchies, and see how they sold. I don't think they're a big hit with my market. Most of the customers purchased them for their kids and since I don't generally market to kids in my booth, I think that's why they didn't sell very well. I'm not too worried about that. I still think they're a worthwhile product to make for sellers who sell in smaller markets with a lower price-threshold. I'll probably end up tossing a scrunchie in an as a free gift with purchase at my last market of the year though.
Bibbledy Bobbledy Christmas Trees
Price: $18, $14, & $10 or $35 for set of 3
Number Sold: 1 set, 1 small
Gross Profit: $45
Evaluation: Again, this is not a normal product for me to offer. I don't usually sell home decor items in my booth and they were kind of shoved in a corner and not highlighted well. I was happy with the sale of the few trees that I brought with me and think these will be a great seller for artisans who, particularly, specialize in home decor or Christmas-themed products.
Christmas Tree Ornaments (pattern coming soon)
Price: $10/each or 2 for $16
Number Sold: 5
Gross Profit: $42
Evaluation: I love making these little guys. Each one takes just about 15-20 minutes. So I was excited to add these to my little decorative Christmas tree in my booth. All of the trees that sold were white. I had made some light green and some blush pink, but those weren't as popular. So, I think I'll stick with white for my next show. Definitely a profit-optimized product. I can't wait to share the pattern on my Made with a Twist blog.
Notes and Impressions
Will I attend this show again? Yes, even though sales were half what they were last year, it was my second best-selling year at this show and I'll be back next year.
Application submitted for next year? Yes, I submitted it at the show in order to secure my favorite booth spot.
Fee paid? $180 for a double booth and $10 for a table
What went well?
The new booth layout worked well.
Some of my highest value items sold well. So, that was awesome.
My new pompom bar was a hit. I'm going to have to do a post about how to set up a pompom bar!
Kevin came at noon to help for the rest of the day since I wasn't feeling well. He always does a great job engaging the customers.
As always, the staff and students were super helpful and this fair is organized really well. So there's no worry about vendors who have bad attitudes or who overstep their bounds. That's always nice.
What didn't go well?
I think the weather had an impact on both customer turnout and average purchase value. Normally, customers will purchase a hat and scarf sets, but I think it was just too warm today to even think about bundling up. (70 degrees is like summertime in Colorado…our sun is HOT.)
We had to set up at 6:00 AM again this year. It's always easier to set up the night before, but there has been a conflict with scheduling the gym. I think this has an impact on the number of handmade sellers that sign up for the fair. It's just so hard to set up a quality booth in just 3 hours.
We broke down right at closing time because it didn't seem like vendors were shopping this year. I think everyone was just really tired and, maybe, disheartened from lower sales. I spoke with several other vendors and most everyone was down by about 1/2 this year.
I didn't love having non-handmade sellers mixed in with the handmade sellers this year. For me, it's just a preference. Thankfully, none of the MLM sellers were hauking their wares the was some have in the past.
By the end of the show, I was done. I'd been struggling with a headache for about a week and it finally turned into a full-fledged 'sick' by the end of the day. Glad I have two weeks before the next show.
General Impressions and Notes
Well, everything that didn't go well were things out of my control. So, that's all good. Hopefully, it will be cooler next year.
Other than that, I was pleased with my sales and I'm happy to have $6K in inventory left so I don't have much (like 0) work to do before my next show.
Conclusion
So, there you have it. That the process I used to debrief what went well at my craft shows and what might need improving for my next fair.
Sadly, I neglected to get very many good photos of the booth. I'll be sure to get some at the next show so I can share them with you in the next debrief!
I hope you found some tidbits to take with you, to help you have your best fair ever, and to continue growing your business in the future. Be sure to grab your copy of the Craft Fair Debrief Template here!
Want to learn more about craft fairs? Check out these resources!
Oh, and before you go!
If you're ready to take your business to the next level, to invest in your own future success, and to find yourself embraced as part of a community of thriving, excited, and supportive crochet business owners (many of whom you already know!), be sure to get your name on the waitlist for the Crochetpreneur Business Academy.
We only open the doors to CBA to the public once or twice a year. You don't want to miss it!
Price Your Products Like the Pros
Includes: the exact formula I use to price my products for maximum sales and profit while attracting my ideal customer.