Pinterest isn't just for wedding planning. Shocking right?! Actually, I'm sure you know Pinterest is an awesome visual search engine and it can be used not only for wedding planning but for baking a cake, restoring your kitchen, finding crochet patterns and selling on Etsy. Wait, what? Didn't you know you can use Pinterest for your Etsy shop?
It's true! In fact, more and more buyers are heading to Pinterest to search out artisan-made products, unique and beautiful fashion accessories, and, yes, to search out the perfect handmade gift. So, now is the perfect time to establish a pinning strategy that will leverage those Pinterest searchers and turn them into buyers for your Etsy business.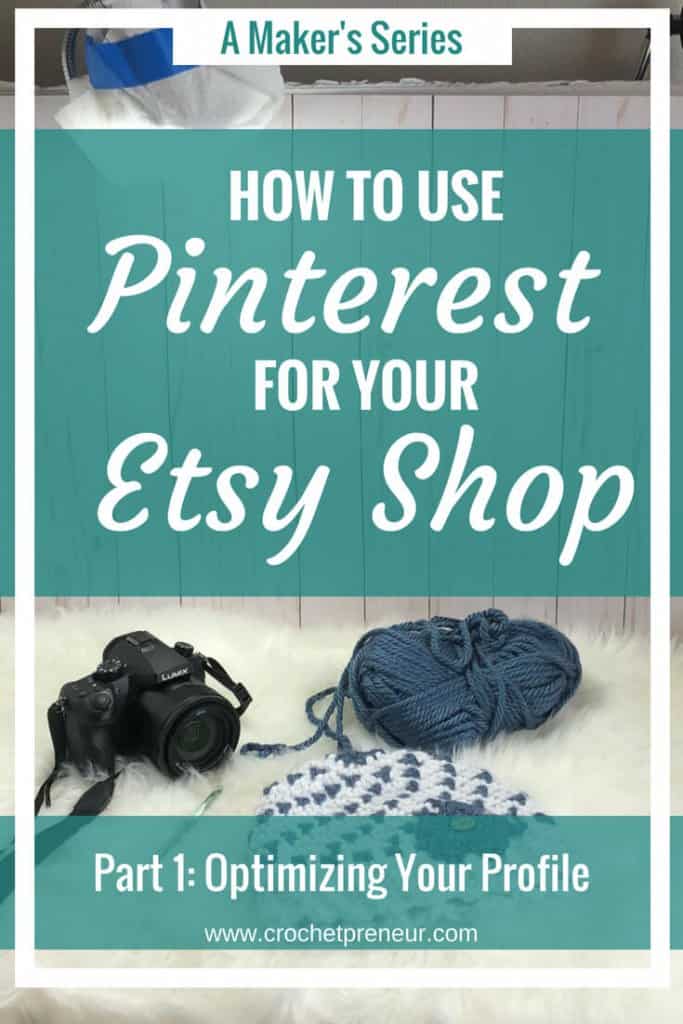 To help you do that, I've started this little series:
SERIES: HOW TO USE PINTEREST FOR YOUR ETSY SHOP
As we work through this series of articles together, I'll be walking you through how to
Optimize Your Profile for Your Etsy Business
Set up Your Boards to Draw Your Target Market
Attract Customers with Great, Keyworded Pins, and
Create a Pinning Strategy to Increase Sales
How's that sound? By the time we're done with this series, you'll have a complete strategy to use Pinterest for your Etsy shop as a way to speak to your target market, engage with your ideal customer, increase visits to your shop, and make sales! So, first on the docket is:
Optimizing Your Profile for Your Etsy Business
I'm going to assume that you've already got a Pinterest business account. If you don't, go ahead and click here to set up a business account.
Once you're ready, we'll set up a profile that will really speak to your customers and give you the opportunity to engage with them more. Just follow these simple tips.
Open Your Profile Editor
Just click on the avatar image in the upper right-hand portion of your screen and select "settings."
Check to be sure that all your information is correct and fill in any missing pieces. Then, when you get to the PROFILE section,
Add Your Profile Picture
Yes, add your profile picture. A picture of YOU.
I want to see our smiling face and so do potential customers. Buyers of handmade products, in particular, want to know that they're buying from a person, not a nameless, faceless corporation. So, using your logo in this valuable real estate doesn't speak to your personality, your artistry and your talent. Instead, put a clear, smiling, headshot of yourself in your profile.
To do that, simply click on "change picture" and select your photo from your computer. For branding purposes, select the same image that you use for your Etsy shop profile picture and on social media platforms.
Here's how it will look on your page (well, except that it will be a photo of you). 🙂


Add Your Business Name
You're allowed only 30 characters in this field – which is sad. It used to be that you could fill this field with searchable keyword phrases, but it looks like things have changed recently. You may not be able to add anything other than the name of your business, but if you have a short business name, consider adding a keyword here, like, "fashions" or "home decor."
A little tip: while I use the word "crochet" on my business title, that is because my target customers are crocheters. If you are selling handmade fashions or photo props or geeky decor, be sure to use those keywords and not "crochet". Learn more about this philosophy in my article, Why You Need to Stop Selling Crochet if Your Want Your Business to Succeed.
Optimize Your Description
Here, you have 160 characters to tell the world what you do and invite them to connect further.
In the first part of your description, speak to the heart of your ideal customer by telling them, succinctly, who you help and how you help them. For example: "I help new moms wrap their babies in the soft comfort of an heirloom blanket." This would be in contrast to "My name is Sue and I make crochet baby blankets." Do you see the difference?
Then, add a link to your email opt-in – be sure to provide them with something of value in return signing up. This could be a coupon for free shipping, a 10% off promo code, or a free gift with their first purchase. Just be sure to offer them something that they'll find valuable enough to give you their email address in exchange.

Add Your Website
If you've only got an Etsy shop and no other online presence, add your shop URL in the "Claim a Website" field. You won't be able to verify the website because it belongs to Etsy, but that's OK for now.
However, if you have a separate website for your shop (say a blog or e-commerce site), include THAT URL here. Then, verify the site following the instructions on Pinterest. This is so you can drive customers to your OWN site, first, where you can collect e-mail addresses, establish a brand presence, and, then, send them to Etsy if you'd like.


OK, so how simple was that? And even though it was simple, having this optimize profile will go a long way toward improving your reach, engagement, and sales when you use Pinterest for your Etsy business. I'm so excited to you…and for me, because I just know we're all going to grow through this process!
Keep an eye out for the next part of this series: Setting up Your Boards to Attract Your Target Customer
Don't know who your target customer is? Check out these posts to get you prepared for the next step:
Know Your Customer: How to Quickly Connect to Your Buyer and Increase Sales
The Number One Mistake Handmade Sellers Make (and how to fix it)
Price Your Products Like the Pros
Includes: the exact formula I use to price my products for maximum sales and profit while attracting my ideal customer.