In this article, I'll share my top reasons for choosing to run a crochet blog hop along with a behind-the-scenes, tell-all income report from my most recent blog hop, 30 Day of Cozy 2020.
After I recent blog post all about how to host a crochet blog hop, I had several readers ask why a designer-blogger might want to do such a thing.
I mean, seriously, it's a LOT of work, a lot of coordination, and, sometimes, a lot of hand-holding…all on top of their regular business tasks.
Could it possible be worth it?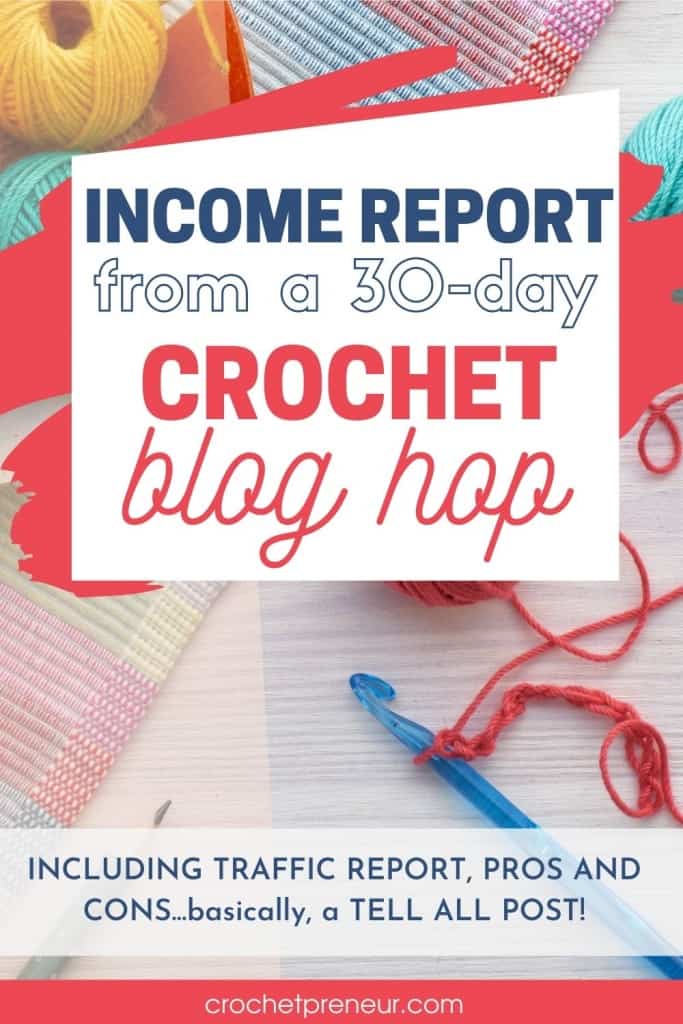 I think so! So, I thought I'd jot down a few ideas on why I think hosting a crochet blog hop (at least once) is a good idea.
Don't know what a blog hop is? Start at my previous post and return here when you're done.

SEVEN REASONS YOU SHOULD HOST A CROCHET BLOG HOP
1. Traffic/Exposure
Whether you're trying to grow your readership, gain exposure, or qualify for the ad network of your dreams, as a blogger, sessions and pageviews are a big deal.
The more people you can attract to your blog, the great opportunity for connection to your target customer…and the more likely you'll hit that coveted 50K sessions to make it to Mediavine.
A blog hop can, certainly, help you meet those goals.
There are several factors that might go into how much traffic you can generate during your event's timeframe but, if you collab with some well-vetted designers, your pageviews could reach into the hundreds of thousands in a 30 day period.
2. Email Signups
And while all these folks are visiting your site, the hub of your crochet blog hop, you'll have an opportunity to capture their email address.
Some ways you might do that are by having:
a killer opt in that targets your customer avatar,
a pop-up signup form,
an inline signup form,
a sidebar signup form (yes, forms everywhere!), and/or
a giveaway that offers entries a newsletter signup.
The more opportunities you give these new readers to sign up for your newsletter, the better. Just remember, they're going to want something in return.
That might be a coupon code, a free pattern or e-book, a printable of some sort, or, simply, a promise of good things to come (this, of course, has the lowest conversion rate).
As your crochet business coach, I encourage you to do whatever you can (without scaring folks away) to capture as many emails as possible during your event and to add email signups to your event goals.
3. Ad Revenue
This, kind of, goes hand in hand with tip number 1, above. If you already have an ad network set up on your blog, you're going to LOVE this blog hop benefit!
More traffic equals more sessions equals more ad revenue. And, from what I've seen, the more consistant traffic you can generate, the higher RPM (revenue per thousand impressions).
You'll notice in my blog hop income report, below, that my RPMs for the month increased dramatically over the previous month. I would anticipate that this would be the norm whenever such an event is held.
4. Bundle Sales
A crochet blog hop naturally lends itself to a bundle sale. Basically, all you have to do is collect all of the pattern PDFs from the blog hop into a single .zip file and offer it for sale on a platform such as SendOwl.
Then, you can set up all of your contributing designers as affiliates and everyone wins.
The best part about bundle sales is they are just an easy way to make a profit. It costs almost nothing to put together and, when it's priced right, customers just love them.
An added bonus is that customers can get their hands on all of the patterns from the blog hop at the beginning of the event instead of waiting for the patterns to drip out, returning to your blog, and downloading each pattern individually.
As a customer, the simplicity of purchasing a bundle for 80% or 90% off the retail price of the patterns makes it a no-brainer.
5. Upsells
Another opportunity to increase revenue during your blog hop is to offer an upsell.
Basically, an upsell is like saying, "would you like fries with that?"
As the host of the blog hop, you can set up an upsell to pop up whenever a bundle is purchased to increase profits for both you and your affiliates.
Another way for designers to add an upsell is to do that right inside their pattern. When you use my crochet pattern template, the last page is to ask readers to sign up for your email address.
This could, easily, be edited to include an upsell, instead…or add a tripwire to your email signup form for the same result).
Some ideas for in-pattern upsells are:
coordinating patterns,
discounted pattern bundles, and
pattern membership clubs.
The best part about an upsell is that the customer has ALREADY said "yes" to you once and there's a statistically higher conversion rate for that same customer purchasing an 'upgrade' than there is for creating a brand new customer.
And, if they love your product and love your upsell, you'll likely have a turned that customer into a loyal fan.
6. Collab Experience
This is one of the benefits of a blog hop that is, simply, priceless. Being able to highlight the work of your fellow designers is the very essence of community and collaboration over competition.
When your blog hop is framed properly and your participants are all-in, it truly becomes a community event with designers sharing one another, sharing their followers with one another, and support one another throughout the days and weeks of the blog hop.
After spending that time together, they'll have a strong connection to one another than they (and you) had before it all began.
You can make that connection even stronger by holding contributor-only events like a contributor sip-n-stitch, a sales competition, and, even prizes for the designer with the most downloads, the most traffic on their feature day, or superlative prizes like "most supportive," "most photographable," "best stitches," etc.
In the end, it's just a really great way to celebrate the community of designers and join together in a common goal.
7. Good Will
This benefit, too, is priceless. I can't tell you how many emails I received from my list saying, "Thank you so much for sharing these designs. It's so fun to get a new design every day!"
And "Every morning feels like Christmas! I so look forward to your email alerting us to a new design."
Or "Thank you for sharing these designers. So many of them are new to me and I'm following them all now!"
When you look at your blog hop as a way of giving back to your community…both your peers and your followers…all those good vibes just make their way back to you.
It's such a joy and really makes all the extra work worth it.
THE DOWNSIDE
OK, now, the downside…and there are a few downsides.
Hosting a blog hop is quite a bit of extra work on the part of the host. The great thing is, it's just for a short period of time.
However long your event is…that's how long the work lasts. But, after that, you get to look back at the blog hop with fondness, learn some lessons, and start planning the next one!
The only other downside, that I feel should be mentioned, is that there will surely be a rise in customer service issues and you'll hear things like…
The code didn't work.
I don't want to use Ravlery, can you just send me the pattern?
I can't open the file.
You said it's free, why does say it's $4.
I can't open a .zip file.
Unsubscribe me and stop sending me so many emails.
Yes…there will be customer service issues. I prefer to simply respond with grace, explain when I can, and not let them get to me.
Honestly, I had SO many fewer issues than I thought I would. So, that was a blessing.
I hope it's the same for you.
30 DAYS of COZY INCOME and TRAFFIC REPORT
My folks over there at the Crochetpreneur® Business Academy are always interested in the numbers. They asked how my blog hop went and when I asked if they wanted to see the numbers, it was a resounding, "Yes!"
So, before I go there, let me explain, a little bit, why I set myself up for criticism by being transparent about numbers (see my previous income report posts).
Well, there are two reasons:
Inspiration: When I first started, I was inspired to build my business when I saw that others were able to do the same. I read income reports from bloggers and other crochet business owners and thought, "I can do that!" If I can help someone feel the same, it makes all this vulnerability worth it.
Accountability: When you're looking for a coach to follow, it's critically important to understand that she has accomplished what you're wanting to accomplish…build a crochet business to meet your financial needs.
And you can't know whether or not she has actually done that from her follower count, her friendships, her affiliations, or her Etsy sales numbers.
None of these things equal profits if you don't know the whole story.
You can only know whether she has actually done what you want to do by looking at the numbers…so, here I am being totally transparent.
The Event
30 Days of Cozy was held throughout the month of September, 2020 on my 'hobby' blog, Made with a Twist.
I call it a hobby blog because, while I love designing and selling my finished products, my main focus is coaching. So, I don't have the time to devote to a full-time crochet business any longer and work on designing and selling only when I have free time away from Crochetpreneur®.
The event included 34 designers, all members of the Crochetpreneur® Business Academy. Some of these designers have only one or two designs published and others are seasoned vets with over one hundred designs both self-published and in books, magazines, and online venues.
The format included a main blog hop hub, that was hosted on my side. Each of the participants would send their followers to the hub in order to find a link to the days featured pattern(s) along with instructions for downloading their free PDF and using the promo code.
The event also included a Super Bundle of 37 patterns total, priced at $18, with a upsell of a Crochet Project Planner for $12.
Affiliate commissions were available to contributing designers at a rate of 70% for the bundle and 30% for the project planner. This means that for each sale a designer made, they received $12.60 for the bundle and $3.60 for any upsells.
I paid the marketplace seller fees out of my profits.
I think those are all the details you need about how it was set up. Now, let's take a look at the outcome. First, we'll look at traffic. Then, we'll look at income.
I'll try and keep this part as simple as possible…just the facts, ma'am.
Traffic Report
Email Stats for Sept. 2020
MWAT email list, starting: 17,331
MWAT email list, ending: 18,741
New subscribers: 2381 (up from 440 in August)
Unsubscribes: 971 (.22%) (down from .45% in August)
Emails sent in September: 443,096
Open rate: 27% (down from 30% in August)
Click through rate: 5% (down from 7% in August)
Spam complaints: 3 (up from 0 in August)
Blog Stats for Sept. 2020
Sessions: 78.5K (up from 12.5K in August)
Pageviews: 137K (up from 21.2K in August)
Users: 33.8K (up from 9.7K in August)
New users: 32.5K (this is awesome!)
Income Report
Income
Ad Revenue
Total ad revenue: $2,108.33 (up from $215.28 in August)
RPMs: $27.35 (up from $17.58 in August)
Bundle Sales
Bundle sales: $3,474.00
Upsells: $336.00
Total bundle revenue: $3,810.00
Gross Income: $5,918.33
Expenses
Affiliate sales: $1,195.20
Giveaway: $91.00
Giveaway shipping: $20.00 (estimate)
Virtual Assistant: $208.25
Credit card processing fees: $175.81
My eCovermaker: $4.95
Total expenses: $1,695.21
Net Income
$5,918.33 – $1,695.21 = $4,223.12
The total time I put into planning and hosting the blog hop was 50 hours. So, with this net income, that works out to $84.46/hour…not such a bad hourly wage.
All in all, I learned a lot hosting my first blog hop and look forward to hosting more in the future so I can implement changes, try new things, and see if I can increase that return on investment even more.
I hope you found this breakdown of the numbers helpful and I can't wait to hear your thoughts. Won't you let me know when you host a crochdet blog hop so I can support you in your next venture!?!
Price Your Products Like the Pros
Includes: the exact formula I use to price my products for maximum sales and profit while attracting my ideal customer.