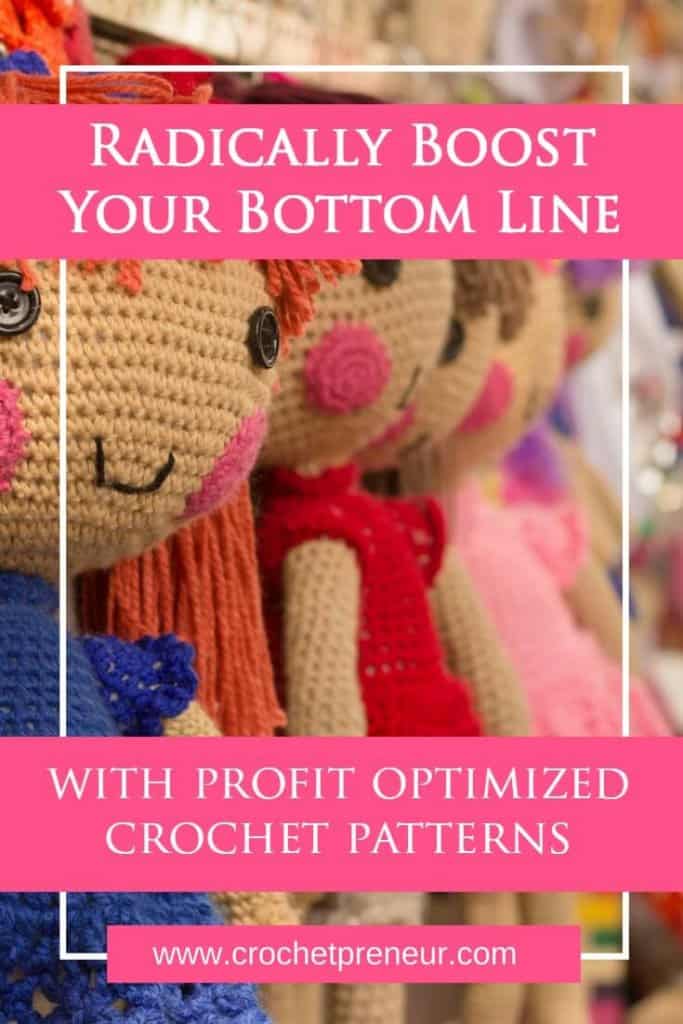 Oh, you know how the story goes…you found an amazing new pattern and you purchased all of the supplies. You made a lovely product and can't wait to add it to your shop. Your customers are going to LOVE it! So, you sit down to calculate the price of your gorgeous finished product and discouragement sets in.
Here's why that happened and what you can do about it.
Conventional wisdom in the online crochet world says "supplies + hourly wage + business expenses + profit = wholesale price x 2 = retail price." I know, right about now you're wishing you had paid attention in algebra class, but let's walk through it together.
OK, here we go calculating the price of a hypothetical summer top:
yarn $12, time 4 x $12, business expenses $2, profit 50% = $93 x 2 = $186
That's right, $186 for a simple summer top!
Now, unless you sell to the boutique crowd, I'm guessing your heart just sank.
You know you'll never be able to sell your product for that price!

This is where the magic of intentional, focused profit optimization cames in.
If we are going to run a profitable and thriving business, we are going to need to offer products at a price that will both sell and generate a profit. In order to do that, we will need to work through the 3 Rs of pattern optimization – Reduce, Raise and Review.
First, REDUCE:
Reduce the cost of supplies – This can be accomplished by couponing, setting up a wholesale account with your favorite yarn producer, buying on sale or changing to a lower price yarn.
Reduce the time it takes to make the product – While it may require adjusting a pattern, switch to a larger hook or a bulkier yarn. Also, working your inventory in an assembly line fashion can significantly reduce time. I have found that I can reduce production time by approximately 20% working in this way rather than working each individual hat from start to finish in one fell swoop.
Reduce business expenses – While reducing general business expenses won't make a huge dent per product, it will make a difference to your profit margin. Always consider business purchases wisely, seek out free online services rather than paid and eliminate unnecessary costs.
Reduce your profit margin – I understand this seems counterintuitive. However, if I determine that I can increase sales by reducing my profit margin by 15%, I may or may not do that.
Reduce your wholesale percentage – Yes, you can do this. When I first started researching wholesale opportunities, everything I found online said that you MUST price wholesale at 50% of retail. For my business, I found this to be unworkable. Instead, I price my wholesale products at 65% of my retail price and I've never had a buyer balk at that. For example, instead of wholesaling a $30 hat for $15, I would sell it to the buyer for just over $20 and we would both make a reasonable profit.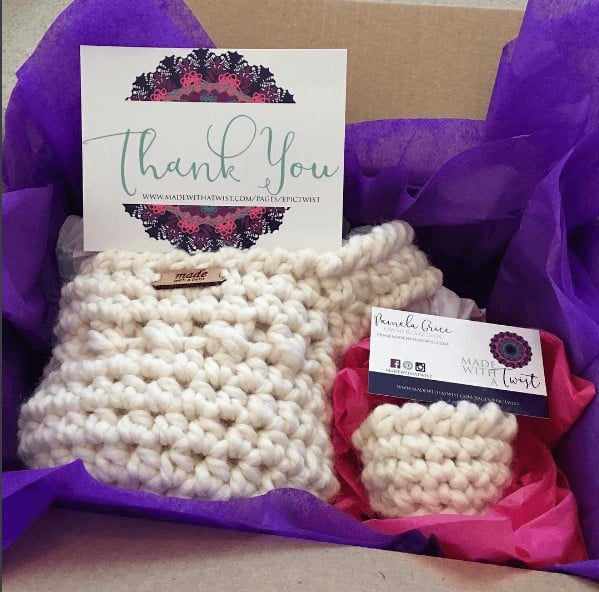 Second, RAISE:
Raise the product's perceived value – You can do this through both branding and copy. A lovely branded tag, matching tissue paper, box and stickers all raise the perceived value of the item. Yes, these things cost money, but you can work those expenses into the equation and still come out on top. Additionally, a well-turned phrase in your product listing or sales pitch can take a "crochet women's hat" to "lovely women's hat made of the finest and softest wool available – designed for both warmth and style, this hat is the perfect Mother's Day gift and versatile accessory for a woman who loves fashion and flexibility." And the best part about copy is that words are free. So, no hit to your expenses!
Raise actual value – Increase the actual value by using a higher quality yarn (yes, you pay more for this, but the boost to the value is exponential…like refinishing the kitchen before selling the home), adding embellishments, or offering customization.
Raise demand – Now, this can be tricky but there are sellers who do this quite well. You can increase demand by creating a unique product, by focusing on a niche market, and by limiting available product. Being the first and/or best to produce a particular item will also increase demand for your product over someone else's and when your product is in demand, you get to raise the price without chasing off customers.
Finally, REVIEW:
Review the viability of the product. As mentioned in my previous post "Finally! A Crochet Pricing Strategy that won't Make you Crazy!", if a product simply isn't viable, meaning that I can not sell it for a reasonable profit, I simply drop it from my line. Business is business and, ultimately, the bottom line matters.
The Bottom Line – You Need Profit Optimized Crochet Patterns
Ater implementing some of these strategies and using my Balance Pricing Strategy, let's see how the price of our hypothetical summer top is effected. We'll use this calculation:
Supplies + Hourly Rate + Business Expenses x 1.3 (30% Markup) = Wholesale Price x 1.54 (54% Markup) = Retail Price
and assume that we reduced the cost of our supplies and our production time. We also adjusted both the wholesale and retail markup (profit margin) to reflect our chosen business strategy. In the end, the calculation looks like this:
yarn $8, time 3.2 hours x $12, business expenses $2, profit 1.3 (30% markup) = $63 (rounded up) x 1.54 (54% markup) = $97 (rounded up)
You see here that my wholesale price is 65% of my retail price and my retail price is $97. With this calculation, I am able to pay myself (or my employee) $38.40 for 3.2 hours of work and I still have a profit of $48.60.
And, the best part is that my customer gets an amazing top at a price that is reasonable for a handmade, quality branded summer top.
Win/Win – Awesome!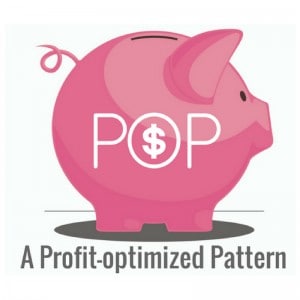 I hope you find that optimizing your patterns and products for maximum profit becomes second nature as you practice these strategies for boosting your income. If you'd like to explore some of those patterns from Made with a Twist by Crochetpreneur, patterns that are already optimized for your benefit, they can be found in our Etsy shop. Simply select the "patterns" category for great products ready to be placed in your upcoming product lines!
I look forward to hearing from you – please let me know how I can continue to help you to grow your crochet business. Comment below and I'll get back to you as quickly as I can. Until then, stay cozy and keep on yarning. Pam

Create Product Descriptions that Sell for You!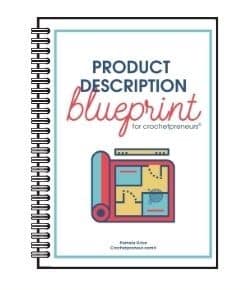 Includes: the exact formula I use to create best-selling product descriptions that help get your products found and SOLD!