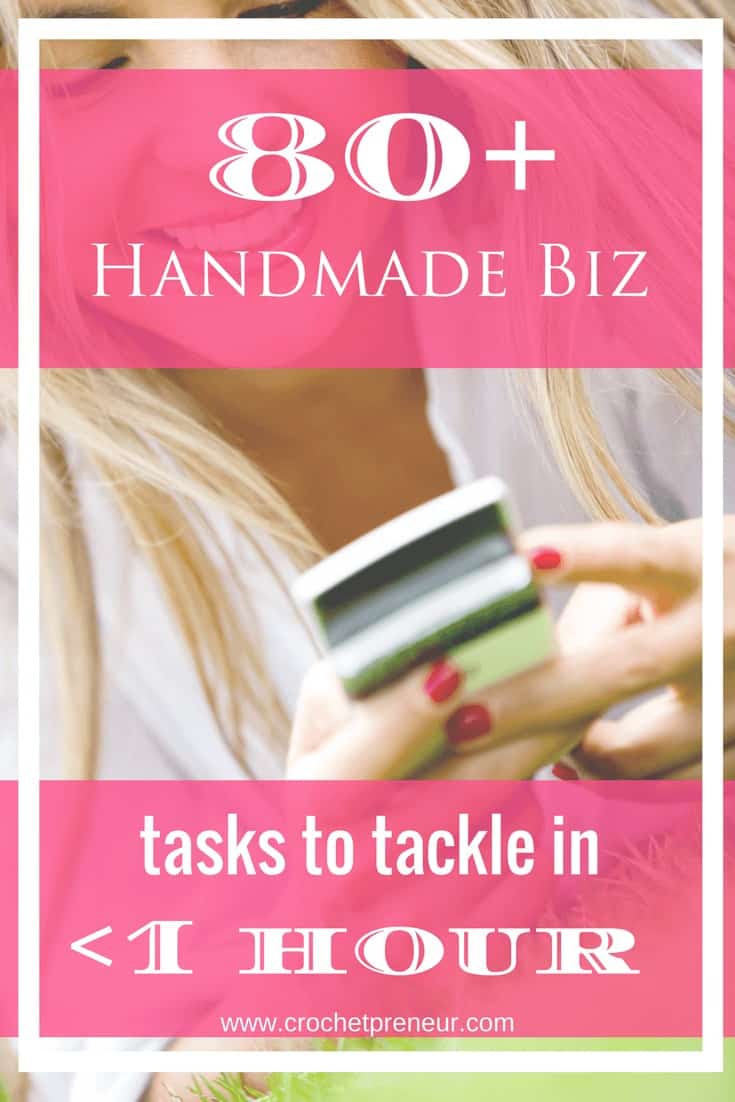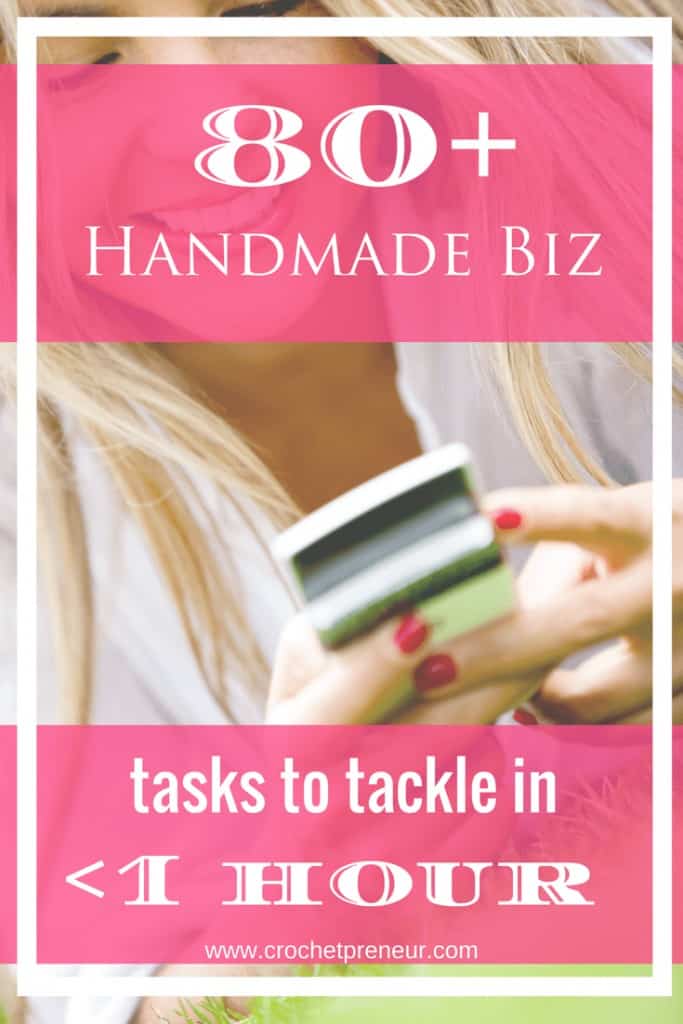 Running a handmade business, whether it's a side-hustle or full-time gig, takes time. A LOT of time. There are always tasks to complete and to-do lists to tackle…there always seems to be one-more-thing to get done. Add these tasks to the important business of running a household and, sometimes, it can feel impossible.
As the owner of three (and a half) businesses, finding time to do all-the-things can feel overwhelming. Throw in the huge blessing, though time-consuming task, of caring for my grandson three full days a week and I've had to really dial in a systems approach to business.
In addition to creating workflows for every process and batching tasks, I've started to use a time-blocking method that I learned from Rosemarie Groner of The Busy Budgeter, called the 10-hour Time Block Strategy. Basically, Rosemarie breaks down all the tasks she completed and the schedule she used to build her blog from the ground up into a $100K/month business.
My circumstance isn't quite the same because, in addition to building this blog, I have my crochet products business (Made with a Twist) and my counseling practice (Journeys of Hope Counseling). So, I definitely work more than 10 hours a week, but I've found the time-blocking strategies to be extremely helpful in helping me to complete tasks in the margins of my life.
I know you're busy, too, so I thought you might find it helpful to keep this list handy when you find yourself with a few free minutes. These are things you can complete while waiting in the school pickup line, at the doctor's office, while baby naps, or during your lunch hour from your 'day' job.
You'd be surprised how much you can accomplish in the margins of your busy life. The best benefit I've found is that not only do I complete the necessary tasks of the business, but I'm freed up, at the end of the day, to be present with my family…and that's priceless.
Tasks to Complete in an Hour or Less
Social Media
Schedule a day's worth of social media posts.

Because I know you're going to ask: I use RecurPost for Facebook and Tailwind for Instagram and Pinterest.

Respond to direct messages.
Comment on your post engagements.
Engage in groups where your target market hangs out.
Engage with peers with whom you'd like to connect.
Do a quick FB or Instagram Live to connect with your followers.
Edit your Linked In page.
Type up and schedule 20 automated tweets.
Share others' content to your business page.
Research new accounts to follow on Instagram.
Engage with target customers on Instagram.
Tweak your bio on social media accounts.
Scan Linked In for questions you can answer in your target market.
Pin to/from your group boards.
Save appropriate pins to your Tailwind account.
Schedule pins from your Tailwind tribes.
Research interesting content to share with your followers.
Send a DM to a follower in response to their comments.
Engage with your own FB group.
Create an Instagram story.
Tweak your Instagram highlights.
Product-Based Shop
Work on a product.
Make some embellishments.
Answer convos.
Edit a description or two.
Research trending items in your niche.
Research tags.
Order shipping supplies.
Order product supplies.
Research influencers in your niche, comment on their posts.
Research craft fairs in your area.
Research booth display ideas.
Print out pending orders.
Write thank you cards for outgoing orders.
Work on the copy for new item description.
Create a video 'shop story.'
Edit your 'about me' section.
Post a shop update to Etsy.
Research tweaks you could make to your shop in Marmalead or EtsyRank.
Brainstorm inventory for winter/fall craft fairs.
Brainstorm product-line for summer/spring craft fairs.
Pattern-Based Shop
Brainstorm new design ideas.
Connect with pattern testers.
Take photos of your process.
Create a template for patterns.
Share free patterns in Facebook groups.
Tweak your "thank you for purchasing" copy on your platforms.
Upload a pattern to your platforms.
Take photos of the completed product.
Add email signup links to PDF patterns.
Edit your 'about me' section.
Create a behind the scenes video to share with followers.
Blog
Check for broken links on your website.
Research SEO.
Begin a blog post.
Brainstorm your editorial calendar.
Work on your graphics.
Take photos for an upcoming blog post.
Submit a sponsored post inquiry.
Create an opt-in.
Create a landing page.
Research stock photos to save for future blog posts.
Edit/update old posts for better SEO.
Join some link parties to get better exposure for your posts.
Create appropriate backlinks within your blog.
Brainstorm ideas to pitch for sponsored posts.
Work on your media kit.
Research Pinterest for stolen pins.
Other
Type up your weekly newsletter.
Listen to a Podcast.
Listen/Work through a course module.
Research travel arrangements for conference trips.
Research your competitor's social media activity.
Design a market survey in Google Forms or Survey Monkey.
Pay outstanding invoices.
Respond to emails.
Write up a press release.
Create a workflow for your business processes in Trello.
Design a Facebook Ad.
Work on copy for upcoming opt-in.
Research local news organizations/reporters' contact details.
Brainstorm ideas to pitch for news, podcast appearances.
Clean the studio (or wherever you make your maker-mess).
Add new headshot photos to all social media and online accounts.
Further, hone in on your ideal customer avatar.
Connect with your mastermind group.
OK, that's a lot of things that you can complete in those little pockets of time that sit in the margins of your life….and I could probably list 50 more. What's your favorite way to kill time while focusing on your business? I'd love to know! Won't you share your tips in the comments below?
Want to fast track your yarn-based biz growth? Grab your credentials to my Crochet Business Resources Library and have the Hashtags for Crochetpreneurs spreadsheet and many more useful worksheets, checklists, and spreadsheets available, at your fingertips, to continue building and growing a crochet business you love. 
Create Product Descriptions that Sell for You!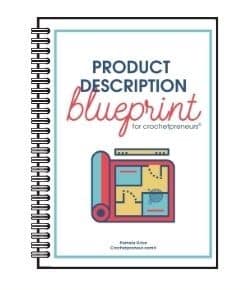 Includes: the exact formula I use to create best-selling product descriptions that help get your products found and SOLD!