Do you love to crochet and have considered making your hobby into a handmade business? Maybe you're brainstorming crochet business names or starting to plan your product line. Or perhaps you've already launched your crochet business but feel you need some guidance to grow your profits. Joining CBA can give you a solid foundation to build on and connect you with a community of crochet professionals. But before you make a big investment, you want to know all about the Crochetprenuer Business Academy.
Read on to learn from four successful crochet business owners who are members of the Crochetpreneur Business Academy Mastermind group. They'll tell you all about their firsthand experiences in CBA!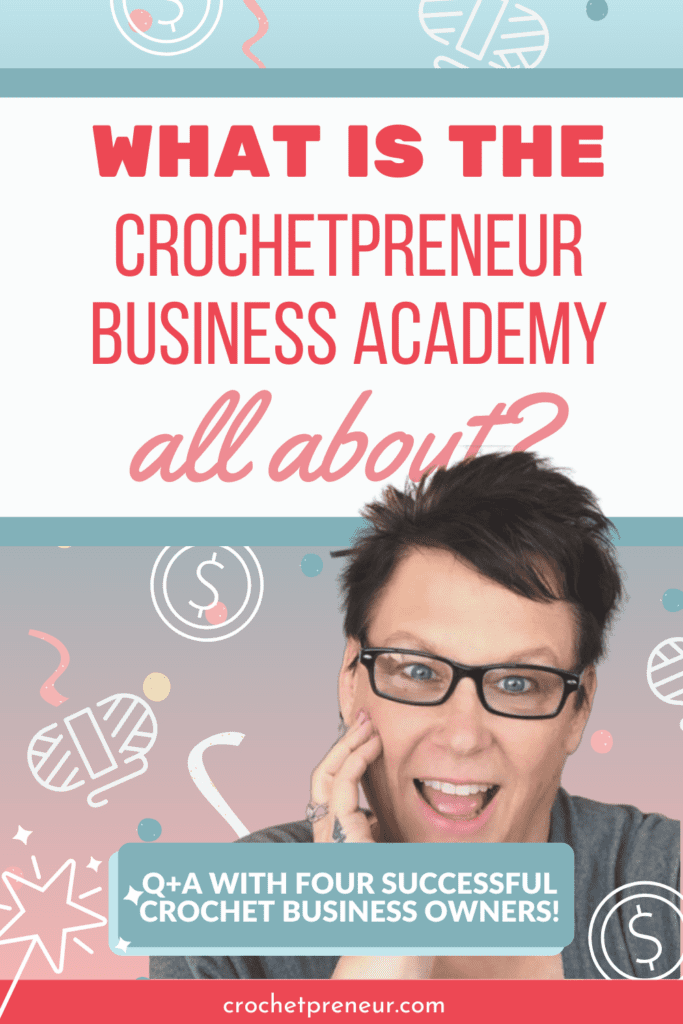 Hey, crochet business owners. Have you ever felt, in your crochet business, lost, like you have no strategy, or everyone else is making money and you're not making money and you don't know why? All of these things are normal experiences for people who are selling online and starting their own business. But it doesn't have to be that way. And so today we're going to be talking about some success stories in the crochet business, along with what to do instead.
Transcript: All about the Crochetpreneur Business Academy
[00:00:54] If you don't know me, my name is Pam Grice, the Crochetpreneur, and founder of the Crochetpreneur Business Academy. I'm on a mission to help 100,000 women find financial freedom through Crochet. If you don't know anything about my story, I am a top 1% Etsy seller, a multi-six-figure business crochet business owner. And I just love crochet and I love helping women succeed. I love men helping men, too. I'm just better at helping women. So I'm so glad that you're here.
[00:01:32] And we're going to talk a little bit about the Crochetpreneur Business Academy and how that can help you to grow your crochet business. I'm actually going to bring my friends online and we're just going to have a jam session. We're just going to chit chat. We're going to talk this morning.
[00:01:56] Here they are. This is Kati, this is Debra, his is Christine, and this is Helen. And these ladies are all members of the Crochetpreneur Business Academy. They're also members of my Mastermind group as well. So we have gotten to know each other really well over the last year or so. We've gotten together in person for a retreat that we did here in Colorado and that was really fun. The Mastermind is something that's available periodically to people who are part of the Crochetpreneur VIP program. So we'll talk all about that as we go.
Why Did You Join the Crochetpreneur Business Academy?
[00:02:42] So first, I want to ask you ladies what prompted you to join the Crochetpreneur Business Academy?
The Invaluable Crochetpreneur Community
[00:03:14] Debbie: What prompted me was I was considering my retirement from my first career. And I had been doing MadameStitch for a number of years without growing at all. And when I came across CBA and started to experience it, and read about, it just seemed like a good fit for me.
[00:03:42] And I wasn't wrong. I joined two years ago and my business has grown exponentially since then because the resources and the networking are priceless. So that's why I joined. I could look all these things up but everything is in one place with CBA. Things are added all the time. The camaraderie, the community, the networking has just been priceless for me.
About VIP Membership
[00:04:14] Pam: And we're so happy to have you. You are a great asset to our community as well. For those of you who don't know how it works, is the Crochetpreneur Business Academy is a lifetime access course. So it's a self-study thing. And then there's a bonus of a VIP membership.
[00:04:44] And inside the VIP membership, you have access to the Crochetpreneur Business Academy VIP Community. And inside that community, there's lots of collaborations happening. There's lots of people asking and answering questions, and lots of just making friends and getting to know the struggles of other business owners as well as their successes. And it's really a great inspiration, I think. So I'm happy to have you there. Christine, you were going to comment.
Bringing New Direction to an Established Crochet Business
[00:05:11] Christine: Before I joined CBA, I was in another business group. It wasn't crochet-related. It was just creatives. I wasn't really doing anything with it for about a year. And one day, I just decided I either needed to take my business seriously or just close my shop because I wasn't really doing anything. It was a very hobby income—very.
[00:05:41] It was like summer. I decided I was going to commit to my business for six months. And I saw such a difference that I knew that I just needed to focus on my business. Then she decided to up and leave and stop coaching our group. And so I thought I was doing fine for a while but I started to just see … For me, I knew I needed that accountability. I knew that is something that was helping me greatly.
[00:06:17] And so I kept seeing CBA pop up in my feed and I kept going, "I don't want pay for it. I don't want pay for it." And finally, I decided to do the same thing. I just decided to pay for it and commit to it. And I'm still here because it works. And it works well.
How CBA Can Help Current Crochet Business Owners
[00:06:32] Pam: Yay! And that, I think, was maybe three years ago.
[00:06:37] Christine: At least, if not four.
[00:06:40] Pam: Yeah, that you joined us. So you were a quite experienced crochet business owner at that point, as in you had a blog. Your business was up and running. You had lots of patterns out there, but you still weren't seeing the success that you were looking for.
[00:06:57] That's evidence that the program, though it's written for someone just starting a business, like taking you through the very foundations of your business and all of that, it's great for people who have an existing business but it's not where you want it to be because you can check and be like, "Did I set the foundation properly? What do I need to tweak? What do I need to change?
[00:07:21] Christine: Yeah. And there were a lot of things as I went back through the videos. Some of it, I could go through and be like, "Oh yeah. Maybe I should have done that different but I don't need to change it." And some of it was like, "Oh, I really need to go back and fix this and do it right," even if was, at the time, like 10 years in. It just helped. It snowballs when you have that foundation.
[00:07:47] Pam: Yeah. Agreed. Cool. Anybody else want to answer that question? Or I can go on to make up another question in my head.
The Benefits of Peer Support
[00:07:58] Helen: I'll answer it while you think of your next question. So I joined CBA, actually, on recommendation. So that was really good. Did I fall into designing or was I pushed into designing? Either way, there was definitely a hand on my back somewhere encouraging me to design. And CBA was recommended.
[00:08:24] And I'm so glad that I took the opportunity when I did because if you're trying to do everything on your own, it's like you're not just a crochet designer. You're a marketing expert. You're an SEO person. You're customer service. You wear, literally, about 15 hats during the course of one day. And it's a lot for somebody to get their head around, especially when it's something that you weren't expecting.
[00:08:54] So to have these guys sat behind you when you're busy going, "Ah! What on earth am I supposed to do? I haven't got a clue." And they're going, "It's okay. It's great. Have you tried this, and this?" It's just amazing for that. And I'm so grateful for all the friends I've made in CBA.
The Value of Engaging in the CBA Community
[00:09:17] Pam: We're grateful for you too, Helen, and your husband. Sometimes it's a family affair. Helen's husband actually has some really wonderful skills behind the scenes in technology. And he has really been an asset to the group as far as helping people with their websites. He taught us an SEO class recently and he's been really wonderful, too. And he sends Helen on wonderful vacations, which is just great.
[00:09:52] Having that supportive family behind your business is so important as well. And sometimes, a lot of people don't have that. They don't have someone there at home encouraging them, helping them, and all of that. And so the community that you get inside of CBA can help to either replace that, if you don't have it, or be an awesome asset as well as having the support at home.
[00:10:24] I know so many people who have been in CBA for years and years. If they choose to participate, if they choose to ask questions, if they choose to come to the weekly events that we have, those people make strong connections. They make lifelong friendships, both in business and in life.
[00:10:50] I think that's really an important asset inside of the program, that you get to meet people who understand where you're coming from as a business owner. But oftentimes you'll meet your soul sister inside the program too, which I think is just a wonderful happenstance that happens when you join a large community. I love that. And I love seeing the friendships that you guys have made with each other.
How Do You Know the Crochetpreneur Business Academy is Going to Work?
[00:11:27] Next question would be it's an investment to join the course, either the self-study course. Then you're adding on VIP, which is additional. And then you guys are adding on Mastermind, which is way additional compared to what's happening with the with the self-study program.
[00:11:55] How do you determine that it was worth it for you? Because you've chosen to start with the course, go on to VIP, go on to Mastermind. So something must be working. How do you tell if it's working? Or a better question would be how do you ensure that it's going to work?
Putting in the Work
[00:12:18] Helen: Work.
[00:12:19] Kati: Put in the time.
[00:12:19] Debbie: Put in the hard work and the time.
[00:12:22] Kati: If you're willing to crochet x amount of hours a day to prep for a craft fair, you take a piece of that and you do your coursework. And that's still work. It's still part of your day, your workday. And it advances you forward. And you do see a huge difference. I think everybody else did. But once you really got going, you do start to see your business taking off. You see it getting traction, sometimes for the first time.
[00:12:51] I was really flatlined before CBA. I was like, "Oh, I can make $1,500 a year. That's what I can make. That's it." And now I've surpassed that exponentially. And so it's funny to think back that I was okay with that—that I was just like flat there and, "I'm just going to groove on along." But that it could gain traction. It's like a boulder rolling downhill. It's picked up speed now and it's really fun to see.
[00:13:20] That's how I know that it's working. Especially when you start implementing something, and you implement something really specific, and then you get an immediate response back from a customer that's like, "Oh, I love that." I'm like …
Doing More Work Versus Doing the Right Work
[00:13:34] Pam: You talk about doing the work. And I think the funny thing is that you're not doing more work. You're just doing the right kind of work.
[00:13:44] Kati: You're putting in the right order.
[00:13:46] Pam: Right. I think a lot of us, we put in—especially in the beginning of a business, putting in 10-,12-hour days and still not getting a return on that. But when you know the right steps to take, and you do take those steps, you're doing the same amount of work or even maybe doing less work for a bigger return. And I think that's part of the payoff of implementing a strategy and investing in that strategy. Christine?
Making The Most of Your Investment
[00:14:19] Christine: I think it's harder to justify paying it when it's a hobby income. That's how I felt. Now that I make enough to cover that expense and I know it's worth it, it's a different mentality. But when you're starting out and you look at that fee … Do you still do monthly or is it just a one-time fee? I don't even know anymore.
[00:14:43] Pam: Both. I do both.
[00:14:44] Christine: Oh, okay. But when you look at it, even from a monthly or a one-time fee and you think, "That would take me months to earn it back," or whatever, I think there's two things. One is consistency. And like Pam said, I've been in this business for 15 years and I've seen a lot of good designers come and go. And I really believe it's just the consistency and the doing the work, implementing it, and not giving up.
[00:15:09] But as far as measuring it, for me it was, "Okay. If I'm going to spend this much money monthly, I have to make sure I can earn it back. And so what am I going to do to invest in that?"
Finding Time In Your Busy Life for CBA Coursework
[00:15:23] And everybody here knows but I used to—the last few years have spent a lot of hours in my car, driving kids around. And I would listen to the CBA courses while I was driving. And then, if there was something that I really needed, I would either tell my kids to write it down for me or I would go back and be like, "Okay, this one I have to actually go back when I have pen and paper and actually write down the things so I can implement them." Sometimes it was just something little that I could do later. Sometimes it was things I wanted to take notes on.
[00:15:54] But there's ways to listen while you're doing dishes or while your kids are—I don't know—while you're crocheting. If you don't feel like you have the time, there are definitely ways to implement it and make sure you get that money back.
Providing Structure for Your Handmade Business
[00:16:15] Kati: Just doing that foundation work, you see your business change. It makes you think about things that you weren't thinking about before. It makes you think about growing your e-mail list, and it makes you think about having customers, and gaining that attention. You maybe were just trying to spew yourself out on random Facebook pages and it wasn't working. That's not that's not the method. It takes more than that. But if you do it in order, if you do it in the steps …
[00:16:43] These ladies know, even recently, I've had a hard time with prioritizing the right things. And sometimes, it's just a matter of going back to CBA and being like, "Done that, done that, done that. I haven't done that yet. Let's do that next." Because if I do in order, it actually helps, shockingly enough. So yeah. It's when I start jumping around, thinking I'm smart. That's when things start to fall apart.
[00:17:09] Pam: Okay, Kati, you are smart.
[00:17:12] Kati: Okay, thinking I can do it on my own. How about that?
[00:17:15] Pam: People like you. I know that because I said your name in a group the other day and they're like, "Oh my gosh, her patterns are amazing."
[00:17:31] Christine: Kati, isn't that the best?
[00:17:31] Pam: Before I forget, those of you, if you're watching [or reading] and you want to join CBA, I'm going to put a link right here. You can take that link and you can learn all about exactly what you get, exactly what it costs, what the payment options are, and all of that.
Implementation is Key: Put It On Your Calendar!
[00:18:28] Another question. This one's good. Implementation is the key. So I don't know if any of you are … I am a course junkie. I am just one of those people who's a lifetime learner. And if there's something that I find out I don't know about something, I just want to learn about it.
[00:18:44] And so I obsessively purchase courses because I've learned, over time, that I could try to do everything myself and try to learn from all of the free resources out there, and get scattered, and go down a rabbit trail, and just get lost, and not accomplish anything. Or I could invest in a course, learn from someone who's already done what I want to do, and then just follow the steps and get it done.
[00:19:13] But sometimes I'll purchase a course and be like, "Yay, me! I did good!" And then I don't implement it, which is just not good. So really, really, implementation is the most important thing and fitting it into your schedule, which is why I offer the Productivity Planner for Crochetpreneurs—when you join the program, you'll also get access to that—because it teaches you how to manage your time and manage your business.
[00:19:48] And I want you to, as you're doing that, find a place for implementing the CBA strategies, whether it's daily, whether it's weekly. Get it on your calendar. I have a day on my calendar with a three-hour time block that says "learn something." So I have all of the courses that I've ever purchased in a Trello board. And I just go there and I click on it and link to the course. And I take some lessons because it's so important to not only just learn, but also to implement.
The Transformation is in the Transaction
[00:20:22] And the other thing I was going to say, bringing me back to what Christine said about taking it with a hobby mindset. But when you have a business mindset, you're more likely to find the success in using the program. And part of that is the fact that you have made the choice to invest in yourself switches something in your brain, in your mindset of, "Okay, I've invested in my business. I'm an official business owner now and I need to treat it like a business."
[00:20:55] James Wedmore says, "The transformation is in the transaction." So you make the transaction because you are making that statement of, "I believe in myself, I believe in my future, and I believe I can do this," by making that transaction to purchase a course. And then you automatically start down the path to transformation.
[00:21:21] And typically, the higher the cost, the more likely you are to make that transformation because you're going to value it more. I have given scholarships away. I've given away free courses. And typically, the people who get access for free don't take advantage of the opportunity because they don't value it, because they weren't willing—typically, sometimes—to put up the cash in the first place. So it's just something to recognize in yourself that when you make the investment, you've already bought into your future transformation. And that's really powerful.
What Is Your Biggest Tip for Crochet Business Owners?
[00:22:11] I'm going to ask you ladies … And this is putting you on the spot. So if you don't have an answer, it's fine. What is your biggest tip for crochet business owners who are struggling either with their hobbypreneur mindset, or they're just not getting the recognition they want, they're not getting followers, or they're not making the money they want with their business? What would be your one tip of, "Do this?" aside from join CBA, because all of you would say that. I'm putting words in your mouth but what would be your one tip for those people?
Figure Out Your Customer
[00:22:54] Kati: I'll go first. Figure out your customer. Figure out exactly who you're selling to. So many people out there are selling to everybody or trying to sell everything. I don't know how many times a day you guys see it but every group is like, "Hey, I have a craft fair coming up. What should I sell?" And I'm like, "I don't know. You're going to have to answer me who your customer is first. I can't just tell you some blanket item that is going to appeal to everybody." So yeah. Get to know your customer. Narrow them down to a person that you can picture in your mind and go.
[00:23:32] Pam: Great. Debbie, do you have a tip?
Be Patient and Do the Work
[00:23:38] Debbie: I do. I would say be patient, do the work, and you'll begin to see the progress. This isn't an overnight thing. You aren't going to sign up for CBA and magic things will happen. That only happens if you be patient and do the hard work. So be patient, be committed, that sort of thing.
[00:24:02] Pam: Sometimes it's hard to build that resilience of saying, "I understand that the work I'm doing right now is eventually going to get me where I need to go," when you don't see the immediate—like, "I started an Instagram account. How come I don't have people following me? I started an Etsy shop. How come I don't have any sales yet?" But knowing that that incremental work, day by day, builds momentum until things kick in and start working the way that you want them. Thank you. That was a good one. Ms. Helen?
Network Within the Crochet Business Community
[00:24:36] Helen: I think for me, probably the best thing I did was get out there and network with the people within the group because, at the end of the day, being in this business can be very isolating and lonely if you choose for it to be. But having a group like these ladies here who, if I'm having a really bad day or I really don't know which way I'm supposed to go next, just having one of them give my head a shake and say, "Look, pack it in. You know what you're doing. Tell me what your plan is and we'll just talk through things together." And it's just invaluable.
[00:25:22] Pam: Yeah. I agree. I really think community is the key. You can have all the information you want. But if you're feeling isolated, and alone, and discouraged, and you don't have people to talk to about that, it's really hard to move forward. So yeah. Thank you for that. Christine?
Don't Get Discouraged
[00:25:43] Christine: They all took my answers. Actually, I was going to say Helen's, definitely. But I think it's a combination of all of their answers. But I think it's a mindset. I think you have to plan for the future but not get discouraged when you don't see progress, because it's not until you look back that you're going to see the progress.
[00:26:12] And so for me, I will literally write down at the top of every month something like, "I can do this," or, "I'm going to do this this month," or, "I'm not giving up," or just something to keep me on track so that when I feel like I'm not making progress, or I didn't get my course polished, or whatever it is—
[00:26:39] Pam: I have to tell you, people are asking for a tech editing course over in the Crochet Business Chat Facebook group.
[00:26:52] Christine: I can say it's these ladies that keep me on track. Or they hold me accountable because I need accountability. But ultimately, if I had a poor mindset, an accountability group isn't going to do anything because you're just going to be counteracting all the positive they're trying to give you.
Don't Compare Yourself to Others
[00:27:09] So I really think it starts internally. And you have to be determined to make this work. Are you willing to take five years to make it work? Are you willing to not look at your stats for a year, and just give it 100%, and then go back and look and see how much progress you've made so you don't get discouraged? But I think the biggest thing is not getting discouraged. Don't compare yourself to others. That was my main problem all those years ago. And community. I think it's just a combination of all those things together.
[00:27:44] Pam: Thank you. Comparison is probably the biggest momentum killer, joy killer, and business sabotager that there could possibly be. It used to be that business owners, all you could do is look across the street and see who's going to the store across the street to know what your competition is doing. And now, all you have to do is, by click of a button, you could see what's happening with hundreds of other people who are in your similar niche. And that is so hard.
Stop Using Other People to Hurt Yourself
[00:28:20] And so yes. Building up that self-esteem—like being able to esteem yourself and say, "I'm doing the right thing. I'm really good at what I do. People need to buy what I want to sell. I'm going to be great at this." All of those things that you talk to yourself, you need to be able to do that because there's so much out there that you could use to beat yourself up with.
[00:28:46] And a lot of times, you're making that comparison without all of the data. Just recognize that's a choice we all make. I do the same thing. So we all make the choice to use other people to hurt ourselves. It's a sort of self-injury that we do. And because why? We only do things that feel better than the alternative. So why does it feel better to beat ourselves up than to not do that? Stop doing that. That's the Bob Newhart method of counseling. Stop it. You know who Bob Newhart is? Many of you probably don't. That's aging myself.
Meet the Panelists
[00:29:34] And I realized the one thing I forgot to do is to introduce you all. That's kind of important. I would like for you to just say who you are, what your business is, and how people can find you, if people want to go find you on the internet and go either go to your blog or your social media. So let us know your social media handle and your website. That's a lot of stuff. Name, business name, website, social media.
Kati Brown, Hooked by Kati
[00:30:12] Kati: Great. Kati Brown. My business is Hooked by Kati. You can find me hookedbykati.com. It's K-A-T-I because my parents were cruel and made me want to have to spell my name every time I meet someone new. And then all my Instagram handles and everything are the same thing, hookedbykati. I'm easy to find.
[00:30:37] Debbie: What's your business, Kati?
[00:30:39] Kati: I make stuffed animals. I design crocheted stuffed toys and teach people to make them.
[00:30:48] Christine: They're really amazing.
[00:30:49] Pam: Mythical creatures—
[00:30:49] Kati: He doesn't have any leg or arms so he looks really creepy right now. Yeah. I like mythical creatures a lot. I have a soft spot for dragons.
[00:30:58] Christine: Where's Vincent? Get them Vincent.
[00:31:01] Kati: He's right there. I don't know where my camera's at.
[00:31:11] Pam: Love your work, Kati.
[00:31:15] Kati: Oh, thank you.
Debbie Field, MadameStitch
[00:31:17] Pam: All right, Debbie.
[00:31:20] Debbie: I am Debbie Field and I am MadameStitch with no space because I don't want be mistaken for a bordello owner. Whatever. My website is madamestitch.com All of my handles are with MadameStitch or MadameStitchCrochet. I have a Facebook group, MadameStitch Crochet Corner, which is growing and having a lot of fun.
[00:31:55] My business is basically designs for the busy crafter to make you feel special and elegant. My favorite design element is granny square and granny stitch. So most of my designs will have something of that in it. And I'm also a crochet technical editor.
[00:32:16] Pam: Perfect. Thank you very much. All right. I put your link down there. Helen?
Helen Wilkinson, Sunflower Cottage Crochet
[00:32:22] Helen: I feel a little adequate following that one up. I'm Helen Wilkinson. My business is Sunflower Cottage Crochet. You can find me sunflowercottagecrochet.com or Sunflower Cottage Crochet Community is my Facebook group.
[00:32:44] Really, I think my niche … It was a little bit wider than what it is now. But I think mainly, at the moment, I'm known for collaborative blanket CALs. It's what I enjoy doing. I really enjoy working with these ladies and anybody else who wants to sign up to an event with me. And yeah. I think that's where I'm getting my infamy at the moment.
[00:33:11] Pam: Helen, along with Erin, who's also in our group, are I think the two CAL queens right now that I see over and again, working on your crochet-a-longs and really enjoying that. Also, why don't you tell us a little bit about, if you want to, other ventures that you're venturing into?
Introducing Caterpillar Yarns
[00:33:44] Helen: Well actually, that should go live this week. Under the supervision, and guidance, and insistence of my husband, I'm also opening a yarn shop and online yarn store, Caterpillar Yarns. If you go to caterpillaryarns.com at the moment, there's a holding page up there, just to sign up to e-mails. But we will be shipping worldwide and it should be a lot of fun. Yeah, I got told yesterday it's going to go live today, tomorrow, all the tweaks out of it. And then my big launch, hopefully by the weekend. So that's good fun.
[00:34:26] Pam: Awesome. Great. I'm so excited. I'm glad I said something because sometimes we just need a little kick in the butt.
[00:34:33] Christine: Now we're going to crash your site before Richard puts it live, Helen.
[00:34:46] Pam: So they just saw your community garden CAL. Yay! Awesome. Okay, Christine.
Christine Mullen, Ambassador Crochet
[00:34:54] Christine: I am Christine Mullen, Ambassador Crochet. Ambassadorcrochet.com is my website. And all my social media is AmbassadorCrochet except my Facebook group. My Facebook group is Crochet Blanket Lovers. And this year, I'm just niching down a little bit—a lot—back to my roots. My roots started with blankets and I'm back there. I'm also a tech editor. Can I give my second site? I have crochettecheditor.com. It's a work in progress but I will have a couple courses up there soon.
[00:36:27] Thank you so much, ladies. I so appreciate you taking the time to come hang out with us this morning to share your stories a little bit, to share your thoughts and ideas. And I'll see you tomorrow at Mastermind. And I think that's it.
Write your Own Success Story! Sign Up for Crochetpreneur Business Academy
[00:36:49] Okay, so those of you who are here, if you have questions about the Crochetpreneur Business Academy, feel free to leave them in the comments and I'll be back to check those out. Or you can join Crochetpreneur Business Academy at crochetpreneur.com/crochetprenuerbusinessacademy. So I hope to see you inside the program so we can help you find the success that you're looking for with your crochet business. You guys are awesome and I hope you all have a wonderful day. Take care.