How to find and develop a successful working relationship with a VA for your crochet business.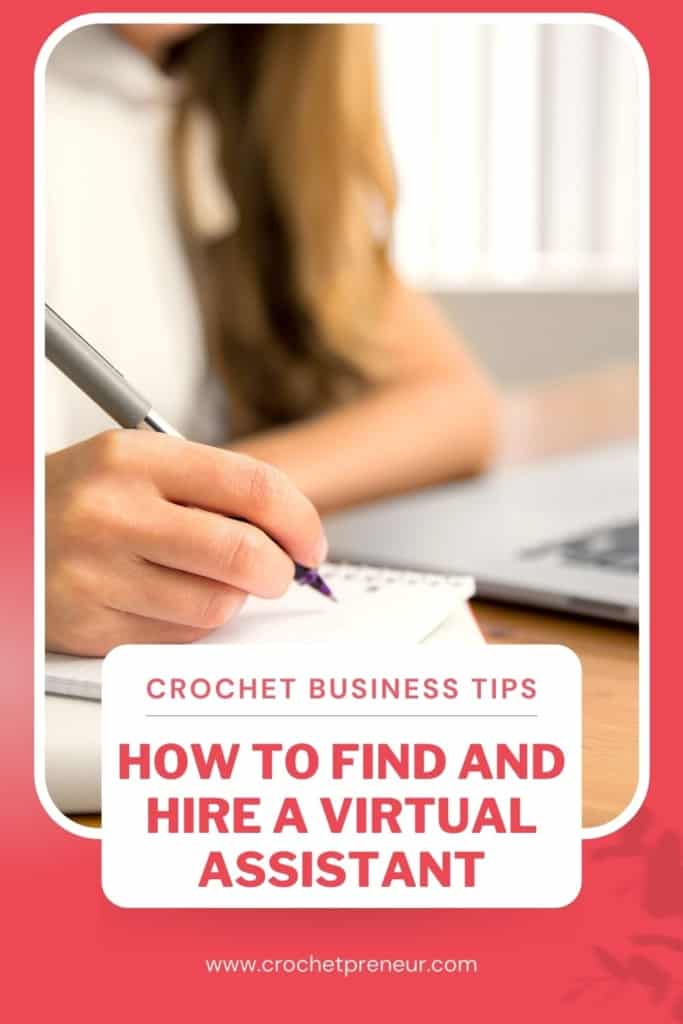 You've probably heard of people talking about hiring a Virtual Assistant (VA) over the past few years, especially since online working has really boomed.
But what exactly is a Virtual Assistant, how can you find one and work with one as a Crochet Designer?
This post will answer all those questions! Part 1 of this post will cover how to find a Virtual Assistant and part 2 will focus on how to develop a successful working relationship with a Virtual Assistant.
Before we dive in, let me explain what a Virtual Assistant is.
A Virtual Assistant is someone who works online for businesses on a contract basis. As a contractor, Virtual Assistants are self employed and responsible for their own taxes. You are not responsible for paying them holiday pay, pension or sick pay.
They are virtual because they do not work with you in your office or in person. A Virtual Assistant generally works remotely from their home or wherever they like!
I started working as a Designer in 2017 and then as a Virtual Assistant in 2020. About a third of my clients to date have been designers. Understanding the crochet and knitting industry was a bonus for my clients, who often had been looking for someone who understood the craft and industry. That said, you do not need someone who has crochet design or crocheting experience, as generally the tasks that you delegate to a Virtual Assistant can be done by someone who doesn't know the industry.
Part 1: How to find a Virtual Assistant
Before you even get started trying to find a Virtual Assistant, you need to figure out what you need support with.
Write down the tasks that you would like to outsource to a Virtual Assistant.
Then write a brief job description outlining key responsibilities and key skills that your Virtual Assistant will need.
Example responsibilities include:
Social media
Group Management
Pinterest
Graphic Design
Example Key skills:
Experience with Canva
Experience with Instagram
Experience managing a Facebook Group.
Once you've got your description ready, then I highly recommend that you come up with a simple application form using Google Forms. Asking for name, email, a short cover letter (500 words max) and a link to their portfolio or resume.
I suggest using a form because you do not want people sending you personal messages on social media with their details or simply dropping you a quick email. A form takes a bit more thought and effort.
Where to find a Virtual Assistant
At this stage you're crystal clear on what support you need, and now you can advertise the role!
Keep it simple and start by reaching out to your own network first. It's much easier (and nicer!) to recruit people who are in the same community as you are, someone who you may have interacted with before, and therefore probably already knows your business. This is how I got my very first Virtual Assistant role, someone in the Knitting world posted in her group that she was looking for a Virtual Assistant and I applied.
Reach out to your Instagram followers, to your newsletter or to your Facebook friends to start off with. Ask your Crochet Business friends in the Crochetpreneur group about if they have a Virtual Assistant and can recommend someone.
If those options fail to get you any applicants, then you could try Upwork. But, I've never actually never used this site before, so I'm unable to give adequate advice on this!
How to interview your Virtual Assistant?
As this isn't a normal employee hire, but rather a business to business working arrangement, it's important that both people in the discussion are able to interview each other and gauge if they will work well together. For this reason, interviews are often described as discovery calls or something equally informal.
In my discovery calls with potential clients, I will arrive at the call with questions about the person's business and an outline of the skills I want to highlight to them. I never assume that a business owner will come to the call with a list of questions for me, as would be expected in a normal interview.
That said, I would encourage you to come with some questions about the Virtual Assistants skills and experience. Base the questions on their portfolio or resume. Ask other questions that will help you gauge if you will be able to work together, for example: "What is your preferred communication style?", "What are your working hours (so I know not to contact you on your downtime)? etc.
Once you've interviewed potential Virtual Assistants, I advise you to select the right hire for you based on the skills that they have. Try not to base it on who is cheapest, this won't work out for you in the long run.
How much do Virtual Assistants charge?
Virtual Assistants tend to charge by the hour, and the rate varies considerably depending on experience and niche.
In the UK, the average hourly rate for a Virtual Assistant is £11 ($15 USD) according to Indeed and £25 ($37) according to the VA Handbook.
In the US, the average hourly rate is $20, ranging from $8 – $60, according to Indeed. So as the data shows, the rate can vary considerably!
Part 2: Developing a successful relationship with a Virtual Assistant
Once you've found your Virtual Assistant and agreed to work together, it's important that your new Virtual Assistant shares a working agreement with you. Most of the time Virtual Assistants will share one with you to sign, if they haven't mentioned it yet, ask them to send you one.
Preparing for your new Virtual Assistant
Before your Virtual Assistant gets started working for you, you need to be clear on what you will delegate to them. When you advertised for the role you would have come up with a list of tasks for the role description, use this list to figure out what you will start delegating to them.
Put your files into Google Drive (or another easy to share platform or programme), so you can share things easily from day 1. I use Google Drive frequently with my clients. It's free to sign up to and is an easy way to share files. The only downside is that you can use up your storage quickly if you send large files. For big files, like images for social media, share them via WeTransfer (one off transfer) or DropBox.
If your files are a mess, that's ok, your Virtual Assistant can spend some time organising things for you when they get started. This is a great way for your Virtual Assistant to familiarise themselves with your files.
Getting started with your new Virtual Assistant
The first thing you need to consider when you start working with a Virtual Assistant is how to securely give them access to your accounts, how to communicate with them professionally and assign tasks.
Passwords
I recommend using Lastpass. I've used this since I started my own business, and it's a secure way to share passwords with people so they can log in without seeing the password. Using Lastpass gives you control over your passwords. It's about $3/4 a month and is really worth the money.
Communication
There's many ways that you can communicate with your Virtual Assistant, but some are better than others! Instead of sending lots of emails, or communicating via text or a messenger app, use Slack instead. That way you can easily keep all communication for work separate from your day to day messages. In Slack you can create threads for different topics, for example: Social Media, General Admin etc.
Slack may not work for everyone, so have a chat with your new Virtual Assistant to see what would work best.
Task management
You can of course assign tasks via email or via a message in Slack, but you can lose track of tasks if you do it this way.
From a Virtual Assistant's perspective, the best way to keep track of tasks is to use a project management tool like Trello, Asana or Clickup. They're all free to use and easy to learn. Project management tools are basically shared to do lists and you can keep it as simple as you like.
How to maintain a good working relationship 
Communication
The key to a good working relationship with your Virtual Assistant is communication.
It's really important that you have regular check-ins. If you don't feel you need regular video calls every week, instead opt for a written weekly check in via Slack (or similar).
The weekly check in can simply be you outlining the priorities for the coming week and asking them to share if there were any tasks they didn't get to last week.
If your weekly check in is written, then I encourage a monthly review call to discuss how things are working, how they are managing the workload, and if your Virtual Assistant needs anything more from you.
Trust
It can be hard to let go of tasks and hand them over to someone else. This will get easier over time! You must learn to delegate out tasks and give that responsibility to your Virtual Assistant.
Trust that your new Virtual Assistant will complete tasks that you assign them and you can rely on them to get things done. Your Virtual Assistant may not do things exactly how you do them but do things slightly differently, and that's ok. It's important for you to let things go, as that's the only way your business will grow – you can't do everything.
It's important that you take responsibility for the tasks you delegate to them and not micromanage how they work. It's important that people feel and know that they have responsibility and feel trusted to do their work.
Partnership
This is a partnership between you as the business owner and your Virtual Assistant, as contractor, this is not an employer employee relationship.
It's important that your Virtual Assistant can trust you. Your Virtual Assistant needs to be able to trust that you will communicate with them, give them direction when they ask, give them independence to work on tasks they are assigned and that you will pay them on time.
Hiring is a necessary step for your business
In summary, if you want your business to grow, you need to free up your time to focus on the tasks that will drive your business forward and you need to hire someone to do habitual tasks for you.
Virtual Assistants can literally transform your business and your life. One of my clients made 6 figures since taking me on, the reason for that? She's no longer spending 7 hours a week replying to emails and instead is using that time on strategic tasks that make her money.
Experienced Virtual Assistants can do a lot in an hour a week and many have multiple clients, so they can be happy to work just one hour a week for clients. Keep things simple and manageable for yourself by getting a Virtual Assistant to do just a few hours a week for you to start, then build up the hours once your income increases.
For more advice, and to download a free copy of my How to hire a Virtual Assistant in 5 simple steps Checklist, go to my website. 
What next?
Read Ruth's blog post 5 signs you need a Virtual Assistant to help you get further clarity on whether you need an assistant. 
About Ruth Haydock
Ruth Haydock is a Knitting and Crochet Designer based in the UK. Her designs are inspired by her travels abroad, her love of science fiction movies and Tv shows. Her most popular designs include her knitted and crocheted Globes, her Knitted Solar System Pattern and Spheres. Ruth has had designs in Knit Now, Simply Crochet, Crochet Now and Your Knitting and Crochet Magazine.
Ruth also works as a Virtual Assistant for creative entrepreneurs, specialising in business administration, planning and organisation.
Ruth's favourite place to hang out online is Instagram (@ruthhaydock). You can find all her patterns on Ravelry. Ruth's website is ruthhaydock.com