Is your crochet business ready for a financial crisis? While the future may be uncertain, you can take positive action to protect your finances and give your creative business the best chance at success during times of financial hardship. In this first installment in my series about how to recession-proof your handmade business, we're going to talk about how to manage your handmade business finances during a recession.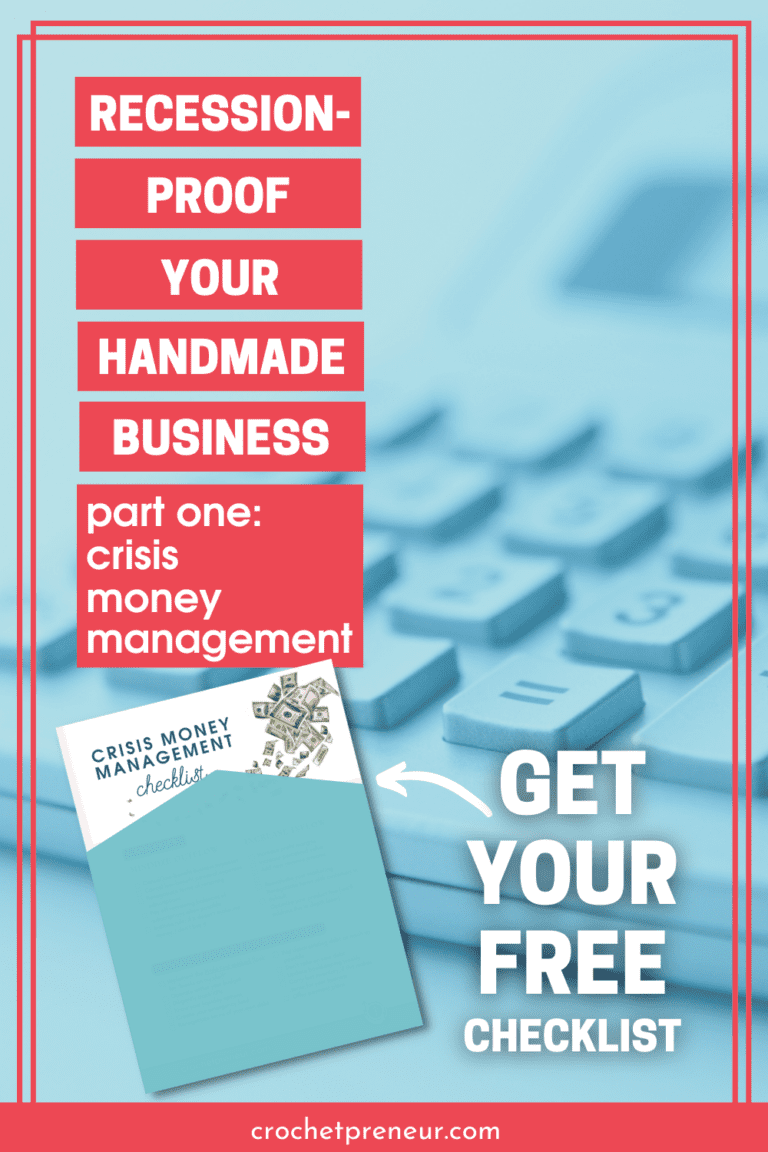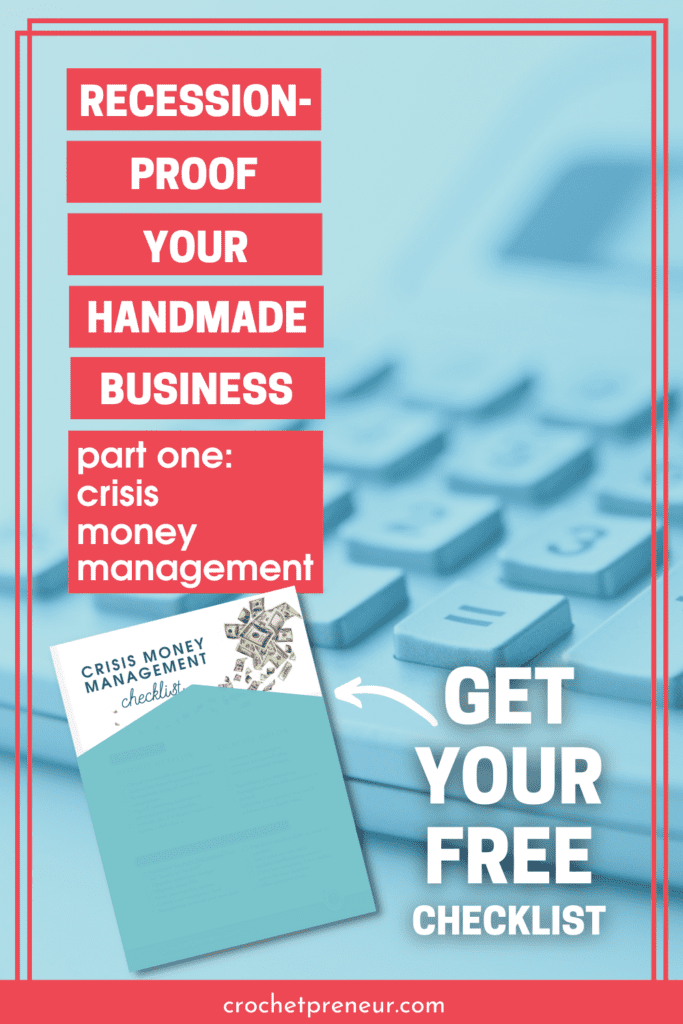 Crisis Money Management for Handmade Sellers
[00:00:00] Hey gang. It's Pam. Hi. Welcome to Crochet Business Chat. I am Pam Grice, The Crochetpreneur. I am a crochet business strategist. I am on a mission to help 100,000 women find financial freedom through crochet. And if you are a crocheter, a knitter, a fiber artist, a handmade business seller, anything in that realm, you're welcome here. I'm happy to have you. I can't wait to share some great information with you.
Transcript: Recession and Handmade Business #1: Crisis Money Management
[00:00:35] Sorry. I'm running at a quick pace today so I'll try to tone it down a little. All right. I've had a crazy busy morning. We have some new chicks on the farm, so Kevin's out there tending to them. I'm not really sure how many. I saw three this morning but I think there will be more. Anyway, that's exciting news here.
[00:01:02] We're going to be talking today about crisis money management. If you were with us last week, we talked about the recession and your handmade business. And today we're going to dive a little bit deeper into the first step of getting ready for recession or uncertain financial times with your business and that is crisis money management. So this is part one of this six-week series.
Get Your Free Crisis Money Management Worksheet
[00:01:38] I'm going to be sharing some details with you this morning but I do want to let you know. There's a link in the description, whether you're watching on Facebook or watching on YouTube. I did create a checklist for you so that you don't have to take notes while I'm sharing these with you. You can go ahead and request access to that checklist and you'll get access to that immediately. So that's that. [Or if you're reading on the blog, fill out the form directly below].
[00:02:08 ] Let's talk about crisis money management. I know today is a holiday in the US. We might not have quite as many people here live with us. If you're watching live, let us know where you're tuning in from. I would love to hear. Are you in the US and you're working today or are you across the globe, elsewhere where you're not celebrating July 4th?
[00:02:36] Let's see. I'm just going to check our comments. Hello, hello, hello. Oh, Christina's here. Kim is here. All right. Jojo Juju is here. Hello. So happy to see you guys. Sonny is here. Yes, Christina said she's working before some family time and she'll be crocheting later. I think I'm probably going to work a little bit later. I really want to come out with a new design and it needs to get written down and it needs to get photographed. And I am procrastinating because it's been done for two weeks. So hi, Debbie. Hello, hello. And Jane's here from the UK. Welcome. Okay, let's get into it. Helen's here. Hi, Helen. So happy to see you.
Three Steps to Manage Handmade Business Finances in a Crisis
[00:03:28] All right. As we're talking about crisis money management, we're focusing on three specific areas—cashflow, money management, and future planning. So I'm going to walk you through each of those areas. And forgive me if I go refer to my notes, I don't want to forget anything. And again, this is all in a checklist for you so you can go through this. But I'm going to expound on that a little bit, just so that we are all on the same page. So I'm going to leave that there. I'm gonna take this off.
[00:04:03] So the first thing we need to do, as we're thinking about crisis money management, planning for a recession, planning for … We don't know what's going to happen. And I don't mean to be a doomsday person. That's not how I operate. I'm really an optimistic person but I'm also a person who believes in empowerment, and recognizing the realities of the world, and planning for those. So not from a place of fear but from a place of strategy.
Minimize your Outflow
[00:04:29] So we're going to minimize our outflow. What that looks like, minimizing outflow. So I have already done this in my business. I did this last week. It took me maybe an hour at the most to do these few things, to minimize the outflow in my business.
[00:04:54] So first, cancel low-benefit business expenses. These would be certain software apps that you're not getting a high return on investment from. I have a lot of things out there that just make life easier, or just make things more convenient, or they're things I don't even need but I like to have. At this moment in time, I've just decided they're not necessary. And you're going to have to figure out what that is for your business.
Uncovering Unnecessary Expenses
[00:05:29] Basically, the way that I figured out … I don't always know what I'm subscribed to because I have so many different software things. I went through my bank invoice, my bank statement, and also my PayPal because I do pay some things out from my PayPal, and just saw what are the recurring payments? What are the things I'm paying for that are not necessary for making money. Making money includes marketing. It includes social media. So I do have a social media scheduler. Ultimately, that makes me money.
[00:06:12] But I had things like Useproof, which kind of pops up and tells people when someone signs up for my course. And while that's nice to have, and it is nice for incentivizing people to also join, it's not necessary. And I had some pop-up things that I was paying for to pop up my website and say, "Hey, go follow me on Instagram." Nice to have, not necessary. That $10 a month here, the $50 a month there, all of those things add up. And ultimately, just by minimizing outflow of recurring subscriptions, I was able to reduce my monthly outflow by $300. So that's pretty significant.
About Payment Plans: Honoring Your Commitments
[00:07:02] Now, I do want to say if you have recurring payments that are on a payment plan, where you've committed to pay a certain amount of money to purchase something, don't go canceling those things that you've committed to as far as contractual obligations, a, because that could get you in some legal trouble, b, because that kind of lack of integrity, of having a contract with someone and then not fulfilling it just because you don't want to, that's an integrity issue that could then come back to you. I believe that we reap what we sow. And so if you're going to be canceling contracts or not fulfilling contracts, you're going to be inviting some negative things in your business. So be careful about that.
[00:07:53] But if it's a month-to-month subscription—a cancel any time, not contractually-based—go ahead and evaluate is the return that I'm receiving on this worth what I'm paying? And go ahead and cancel those things that are of low benefit.
Minimizing Outflow in Your Personal Finances
[00:08:10] Likewise, I want you to do this in your personal life. So go through your bank statements. Go through your credit card statements. Go through your PayPal statements and say, "What am I paying for that I just don't need right now?" Are you streaming five different streaming services? You can cancel four of those. Keep one. Watch what you want to watch. Cancel that. Next month, start a different one. Watch all the things you want to watch on that one. And so this way, you're rotating those subscriptions rather than paying all of those five subscriptions in one month. Yes, it will require a change of habit if you habitually watch all of these streaming services.
[00:08:57] For me, I just picked my favorite. Because I have Amazon Prime, I get a lot of free videos on Amazon Prime. And so I don't really need to have other streaming services. There are some that maybe I would want. Maybe there's a series I want to catch up on. I can subscribe for a month and then cancel. And other low-benefit subscription services that you have, go ahead and cancel those. In my personal life, I was able to save a lot of money on those.
What Subscriptions to Keep
[00:09:07] Things I was going back and forth on were like Sirius radio. We have Sirius radio in both of our trucks and we don't get regular radio out here and I don't have a CD player in my truck because new trucks don't have that. And I decided to keep that for now. So we will see. We might end up canceling it in one of the trucks but I think we won't get any radio because we're in the middle of nowhere. Kevin likes his music, man. So I think just for quality of life, we might keep that. But other things, we're canceling.
Renegotiate Terms of Recurring Subscriptions
[00:10:39] Next is renegotiate terms of any recurring subscriptions that you have. If you have a recurring subscription that you're like, "I just can't afford that right now," reach out and say, "Can I renegotiate the terms of this? Can we extend the terms and I pay less each month?" Or, if it's possible, if you're able to, "Can I pay off this subscription so I no longer have this? I've fulfilled my contractual obligation but I no longer have the payment." So either one of those options is good for you to minimize future payments.
[00:11:20] That was the next thing. Pay off remaining balances of subscriptions where possible or you can downgrade those subscriptions. I did that on several different software platforms that I'm using. If I'm paying for the pro plan, but they have a free plan, I just downgraded. So I'm still using the software but I downgraded to either a free or a lower-cost option. And I just gave up whatever those the higher services were in that program. So that's something you can do too.
If It Doesn't Make Money, Don't Keep It
[00:11:56] And then also, institute the rule, "If it doesn't make me money, I'm not buying it." Marie Kondo has her rule, "If it doesn't spark joy, then get rid of it." So likewise in business, if it doesn't bring in money, get rid of it. I get rid of it or don't purchase it in the first place. That is a rule that I live by.
[00:12:24] Sometimes I live by it a little bit too strictly in my own life. I'm trying to give that up while we're decorating the house. But it's very hard for me to spend money on something that is not going to bring me money in return. And that's just a mindset shift that I need to make of, "You deserve to have pretty things. It's okay. It's all right." But I don't know. Do you relate to that? Do you have a similar rule in your business or personal life? For me, it's just how I'm wired. If I don't get a return from something, it feels wasteful. So anyway, those are the minimize outflow rules that I'm following and that I suggest you follow in order to protect your business during recession.
Maximize Inflow
[00:13:07] So the next step is to maximize inflow. This is what we do is we say, "How can I increase my income, even in the midst of what's going on. Even in the midst of uncertainty, in the midst of crisis, how can I increase income?" So different ways to do that might be increase your profit margins. Say, "How can I make this product in less time or for a lower cost?" so that you can increase your profit margins.
Three Ways to Increase Profit Margins
[00:13:50] Increasing profit margins doesn't have to be increasing the price but it could be. The three ways that you can increase profit margins are to make it more quickly. Make it for less of an expense. So use a less expensive yarn. Get all your yarn on sale. Find wholesale accounts that you can get yarn at barter with your friends and trade yarn, if you want to do that. Use yarn from your stash. Those kinds of things to minimize your outflow of time and money. So increase profit margins by saving time, saving money on supplies, or increasing the price.
[00:14:38] If you are increasing the price, consider increasing the perceived value as well. And that can look like simply tweaking your copy. In your listings. It could mean checking on your packaging and improving your packaging to make it look more high-end. It could mean improving your branding for your business. It could mean improving your photography. So there's lots of different ways to increase the perceived value of your items. And then you can charge more for it. So then again, you're increasing your profits.
Adding New Revenue Streams
[00:15:18] Then add new revenue streams. Ask yourself, "In what ways can I bring in another stream of income? Can I start teaching? Should I move my business more from online to offline in-person sales? Can I reach out to some boutiques?" All kinds of things. There are many ways that you can increase your revenue stream.
[00:15:44] Advertising and even saying … These are some questions that I'm asking is if there is a diesel oil shortage, which people are forecasting, diesel oil shortages mean delivery issues, more logistics issues. If that happens there's going to be delivery problems. So maybe I need more digital items. Deliver items digitally. Or maybe people don't want to pay for things. And so I can consider if I have a blog offering more free patterns so I can drive more traffic to my blog and make more ad network. And that way I'm making money without having to charge people. So just considering different strategies of how you might make additional income.
More Ideas for Increasing Inflow
[00:16:36] A couple more things for increasing inflow are to reevaluate your marketing. Say, "How can I do a better job of marketing to get more people to my business, to make more sales?"
[00:16:50] Renegotiate terms with customers that are in default. Now, if you don't have a subscription, or a membership or something like that, you likely don't have customers in default. But if you do, it's inevitable that there will be customers who haven't paid what they're supposed to be paying. And then renegotiate with those people. Make them an offer. Say, "What can you afford? And how can we get you back on track with your contract?" And that way you're increasing inflow and catching up on those things that people owe you.
[00:17:25] And then finally, optimize your product line. So this is something that we're going to be talking about more in depth later, both in this series, and then even more in-depth in a class that I'm preparing for you called Product Line University. And I'll be telling you a little bit more about that in just a little bit. So those are my ideas for increasing inflow of cash into your business.
Community Discussion
[00:17:54] All right, I'm going to come back here, see how everyone' doing. Let's see. Comments. Okay. Yay. Everyone's here. Okay. "For business it's either will it make me money or will it make things 10,000 times easier?" Absolutely. Sometimes when you make things 10,000 times easier, now you have time, and energy, and creativity freed up for money-making activities. So yes, 100%, Dawn. I agree.
[00:18:32] "Personal life, nothing is bought without 72-hour thought." That is so good. I'm an impulse shopper right now. It's not the norm for me. But because we have an empty house that needs to be filled with things, I am impulse buying. And I think that is a really great thought is to have a 72-hour hold on all of your purchases until you decide exactly what you need. "And then I only buy within a set budget." Absolutely.
Managing your Finances
[00:19:05] Okay. So back to where we were. Next, after maximizing inflow, is managing your finances. So sometimes people let the finances slip as they're just going about their business and things are just normal and not paying real in-depth attention to what's going on in their business. So during a crisis, it's very important to stay on top of things and know what is going on in your business.
The Profit First Method
[00:19:37] So first I would love, if you haven't already, for you to implement the Profit First method. That's that book by Mike Michalowicz that I always talk about. And it will help you be sure that you are getting a portion of those sales that you're making. So often, the money just goes back into the business. And whatever money we get, we spend. And as business owners and in this time of your life, it's very important that you stay on top of, "How much money am I getting out of my business and what should I even be expecting to get out of my business? And how do I set that up?" So all of that is detailed in the Profit First book.
[00:20:18] There's a link in the description of this video for you to get that. [Or blog readers can just click here.] It is an affiliate link. And if you are watching on my Facebook group, that link will take you to my Amazon influencer shop, where you look for books on my shelf and find Profit First in there. Otherwise, the link on YouTube and my Facebook page are direct links to the book. Anyway, Profit First, I have found is the way to go. It has really helped me to be able to make actual real-life income for my business.
Operate Within Your Budget
[00:20:55] Next, operate within your budget. First, have a budget. Operate within your budget, have a budget, and do not spend money that you don't have. It's as simple as that. If you don't have it, don't spend it. And then diligently track your key performance indicators. This is your blog stats, your stats to your Etsy shop. What's your conversion rate? What do your sales look like? Income and expenses, how do those balance out? Just diligently keep an eye on that, whether it's weekly or monthly, whatever works for you. But don't neglect it. Know what's going on in your business.
Renegotiate Your Debt
[00:21:47] Renegotiate terms of your own debt. Now we talked about that previously but this is for even your personal business. Renegotiate debt. Either pay it off or renegotiate the terms so that you can better manage that. Pay down existing debt as much as possible.
Plan for the Future: What Can You Liquefy?
[00:22:12] And plan for the future is our final thing that we're going to look at—planning for the future of your business. So ways that you can do that are know where to get liquid income, meaning what if things get bad? And I hate to even think about that but we have to think about it as business owners. So what if things get bad and you do end up with more debt or more expenses than you have cash on hand for your business? What can you liquefy in order to get cash? Can you sell some of your stash of yarn to get money? Can you sell some equipment in your business?
[00:23:01] Just like in real life, a lot of people do this. I do this. If I'm like, "Oh, I have this expense." The truck broke down. We need to pay for something, or we need new tires, or something like that and we need an influx of cash. How can I do that? What can I sell on eBay? What can I sell on Facebook? What can I sell on Craigslist? Can I have a yard sale to get that quick influx of cash?"
[00:23:29] You can do the same thing in your business. But have a list somewhere of things that I can turn into liquid assets—things in your business you don't use. Do you have a second iPad? Do you have a laptop that's old that you could sell? Do you have inventory that's backing up? Those kinds of things. Consider that.
Have an Emergency Fund
[00:23:50] Next, have an emergency fund. So this is planning for the future, planning for if things get bad. If you're a follower of Dave Ramsey, one of the first things he has you do is to create an emergency fund of a thousand dollars. This is for your own personal life but you can do this for your business as well.
[00:24:10] And just put aside a certain amount. Every time you sell something, how much of that are you going to put aside for your emergency fund? I put 10%. Every time I make a sale, I take 10% of that and I put it into an emergency fund. And that way, if an emergency does happen, I have that backup cash. I don't ever touch it unless it is a legitimate emergency. So just have that sitting in the background. I know that sounds hard if you're not already making money. But if you implement the Profit First plan, you will have those funds available to put in your emergency fund.
Manage Your Inventory
[00:24:51] Don't take on new debt. That's just a rule. Update your bookkeeping weekly. Carry less inventory. So if you are a product seller and you carry a lot of inventory, you have a lot of money invested in your business that is just sitting there, waiting to make money. Try to figure out a way to sell those off and maybe move to a made-to-order formula so that you're not having to keep so much on hand. Or see if you can offload some of that, either as consignment, but even better, sell them off as to wholesalers, boutiques, hairdressers. These are places—children's stores—where you can sell them at a lower price but get them off your hand and turn that into money that you can use in your business.
Consider Different Payment Options
[00:25:55] And then finally, consider different payment options for your customers if possible. If you have a membership, if you have a course, if you have a high-end product that is not selling well, perhaps you can offer a payment plan so that it makes it easier for customers to pay for that item rather than having to pay a bunch upfront. Consider that. See if that helps to turn those things into a sale.
[00:26:23] Now, those are just some of the ideas that I came up with. And again, those are all on a checklist for you. The link is in the description so you can get that checklist. And you can go through it and see what makes sense to implement in your own business. So be sure to get that checklist.
[00:26:44] All right. So I have down here, get your checklist. All right. Your checklist looks like this, right in front of my face. And also be sure to do these YouTubey things. So be sure to like, subscribe, and hit the notification bell so that if you are interested in crochet business, if you're interested in being a handmade seller and protecting your business during your recession or other crochet business tips, other handmade seller tips, you will get those here at the Crochetpreneur YouTube channel.
Sign Up for Product Line University
[00:27:36] Finally, one last thing. Good. We're going to get this done in less than 30 minutes. One last thing is I'm developing a new workshop for my CBA members. So CBA members, I sent you an e-mail this morning with a coupon code so that you can get this. It will be part of your dashboard in CBA. But it's happening live and it's for everyone. I didn't want it to be just for CBA members. I wanted it to be for everyone because I feel like it's really important. If you don't know how to create a product line, that will be desirable during a financial crisis, during a recession, I think this is something we need to talk about and really dive into so that we can help you create a product line that will still be desirable and still make you money, even in uncertain times.
How to Sign Up
[00:28:34] So there is a link in the description [or right here, for blog readers] for you to sign up. It's discounted right now if you sign up before July 18th. The sessions are happening July 25th through the 29th. This is happening live. And then it will be available on replay. So if you're watching this much later, I will change the link to be for the replays of these sessions so that you can still work through this later.
[00:29:08] I just want to help you understand how to create a product line that is going to sell for you because people's priorities shift when there is economic uncertainty. And so we're going to take a look at what they shift to specifically for your target customers and for your business. This is for product sellers and designers. And you can get in on this. And during the live session, we can be brainstorming live as well during the lessons. I think that you'll find it really helpful. Again, the link is in the description.
Next Steps
[00:29:41] And that is what I have for you today. Again, like, subscribe and hit the notification bell. Don't forget. Go ahead and get your crisis money management checklist. The link is in the description. Get your Profit First book through my affiliate link, if you haven't done that already. That is also in the description. And then finally, sign up for the Product Line University. Again, CBA members, I sent you a special link in your e-mail this morning. If you're in VIP, there's a post in the VIP Facebook group. That's all the stuff for today.
More Community Discussion
[00:30:21] I'm going to just check your comments and then we'll go for the day. All right. "My emergency money is wiped out on vet bills." Yes. See, that's an emergency. "My inventory is for shows. So I build them up in refill as needed." Yeah. So if you're doing that, then keep doing that. I have a lot of inventory and I don't plan on doing shows. So I'm going to try and figure out how to offload that, maybe by having a sale in my White Winner Hat Company Etsy shop. I'm not really sure. I'm mostly focused on doing this coaching right now. So I'll think about that. I'll think about that later.
[00:31:07] "Square recently started offering the payment plan option, which is nice, but scares me if people don't pay." There will be people who don't pay. You can either send a collections agency after them … Yeah, I know. It irritates me too. "I mostly do design, so I do have a stash bought on sale for an actual object I ordered on demand because I let people pick yarn and color." Yes, I do the same thing. And that's built into the price. Yes.
[00:31:48] Laura says, "I spent the money for WordPress blog, which takes me a bit longer, but I canceled Squarespace and I'm saving $360 a year for my own hosted site." That's amazing. Good job. Nice. Marti, send me a message and we'll get you taken care of because it's set up as a … We'll figure it out.
Wrapping Up
[00:32:15] Okay. All right. Thank you everyone for being here. If you are new to this series, I will put a link to the playlist right here, or Teri will. And also, if you still don't know if you want to start a Crochet business, we're going put a link right there on, Do I Really Want to Have a Crochet Business? So I know a lot of people are just really in that decision mode of, "Is this even for me?" You can check out either of those two resources and there we go.
[00:32:51] Thank you guys for being here. I will see you again next Monday when we talk about the next step in the process, which I don't have at the top of my head. But you'll find out next week. And I hope you have a wonderful week and happy 4th of July. Take care, everyone.