If you're a maker or creative business owner producing any sort of product, you're probably on Instagram already.
What?
Wait! You're not on Instagram?!
No worries!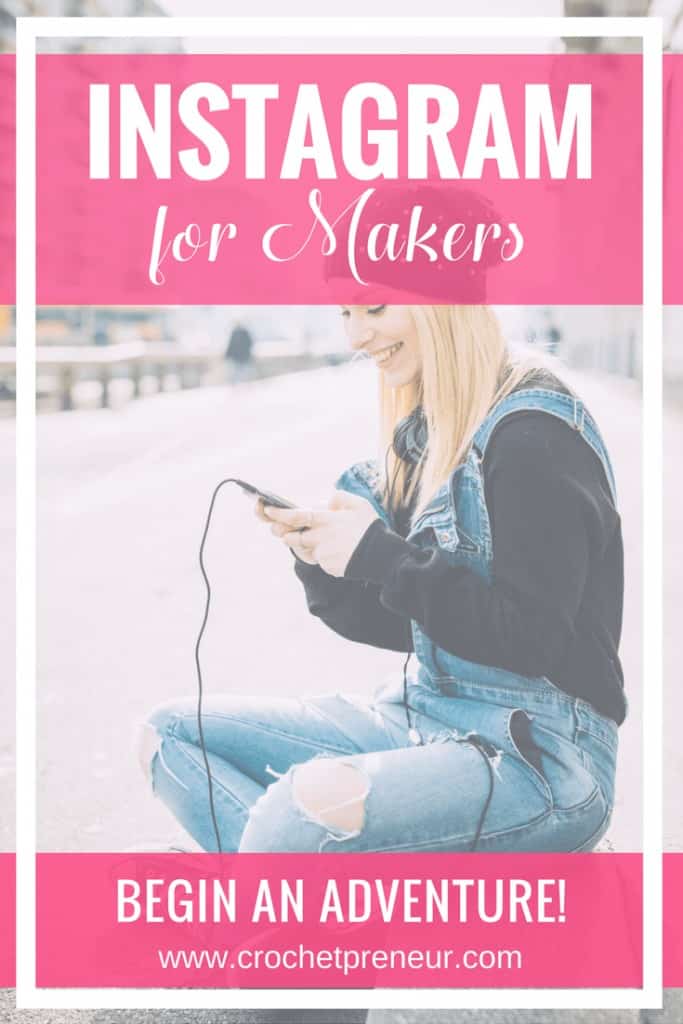 Please know that you're not alone! I've been contacted recently by several handmade sellers saying they just don't know how to use Instagram and are feeling anxious, hesitant, even, fearful of trying something new.
They fear the unknown.
They fear they'll have yet one-more-thing to spend their time on.
Or, they fear that their photos will be boring and no one will follow along.
Have you been feeling the same?
Yes?
Ok, take heart, I'm here to help!
Whatever it is that's holding you back, I want to challenge you to take the leap and join thousands of other makers in a social space where you can grow, sell, find encouragement, and be inspired!
I have a feeling you're going to love it.
Because Instagram is primarily a visual platform, it is the perfect tool for makers of physical products. Not only are you able to share your products and process, but in a world where connecting to your ideal customer is vital, Instagram provides a place for you to find your customer, be found by your customer, and to grow via word of mouth. In the world of online marketing, this is a win-win-win!
Now, before you tell me that you don't know how to take photos and you don't know how to use the app, etc….let's just agree that you'll follow along with these few steps, give it a few weeks, and then come back for more action items to continue to grow your reach. OK?
Just a few steps are all it will take.
Ok, here we go. But, first, be sure that you have your business set up as a PAGE on Facebook because you'll need to connect to it as part of the process.

Setting Up Your Account
Add the Instagram app to your phone. Depending on your phone type, you'll use the App Store, Google Play or Windows Phone Store.
Once the app is downloaded, click on the app to open it.
Log in with your Facebook account or type in your email address and tap "next" to continue.

If using your email address to set up your account, you'll need to establish a username and password.
If using Facebook, you'll need to be logged into your FB account.

Fill out your profile information (which will be available to the public) and then tap done. You can adjust privacy settings later.
Turn this personal Instagram account into a business account. (recommended because you'll be able to promote and gather insights about your engagement)

On the lower right-hand corner of the screen, click on the circle – this will take you to your profile
Now, click on the gear icon that is toward the upper right-hand side of your screen.
Scroll down to where it says "Switch to Business Account." Click on that.
You'll be asked to log in to Facebook from the app.
Then, select the Facebook page that you want to connect to your Instagram business account.
Instagram will ask what contact information you'd like to pull from your Facebook page. You'll need to select at least one of these options.
Click the "back" arrow to return to your profile.
In that case, create a username that is close to your business name and is memorable to your followers. Adding numbers to the end your business name is not the most effective way to do this. For example, I had to use the name @thecrochetpreneur on Instagram because there was already another @crochetpreneur. I just did the best I could. :

Once you are switched to a business account, set up your profile.
A) From your profile screen, click on "edit profile."
B) Add a profile picture. People want to know who you are. I suggested using the same profile picture that you use on other social media accounts for your business. This creates brand continuity and builds trust with your followers. Remember, the photo is cropped to a circle in Instagram. So, select a photo that will crop well.
C) Select a name. This can be your first and last name, but it doesn't have to be.
For a business account, you can use this space to be more specific with potential followers about who you are. See the image below: when a person searches "crochet," they find me, @thecrochetpreneur, on the list. Below my username is a description of what I do. I chose to do this intentionally so that searchers get a little more detail about me even before they click on my profile. This item can be changed any time you'd like. So, play around with it and see what works best for you and your target market.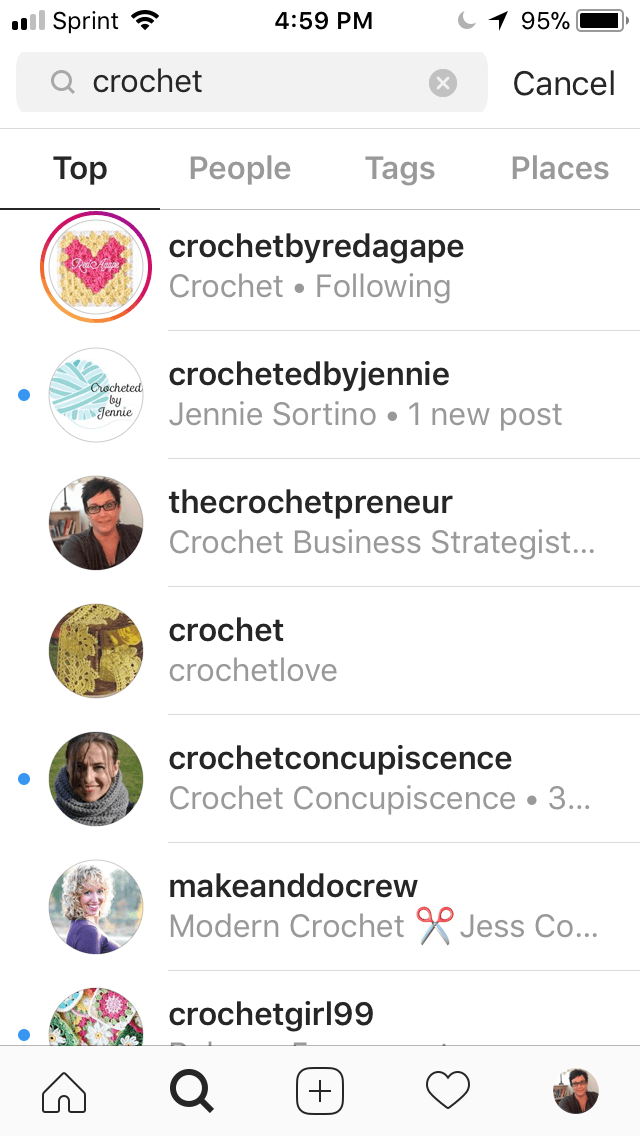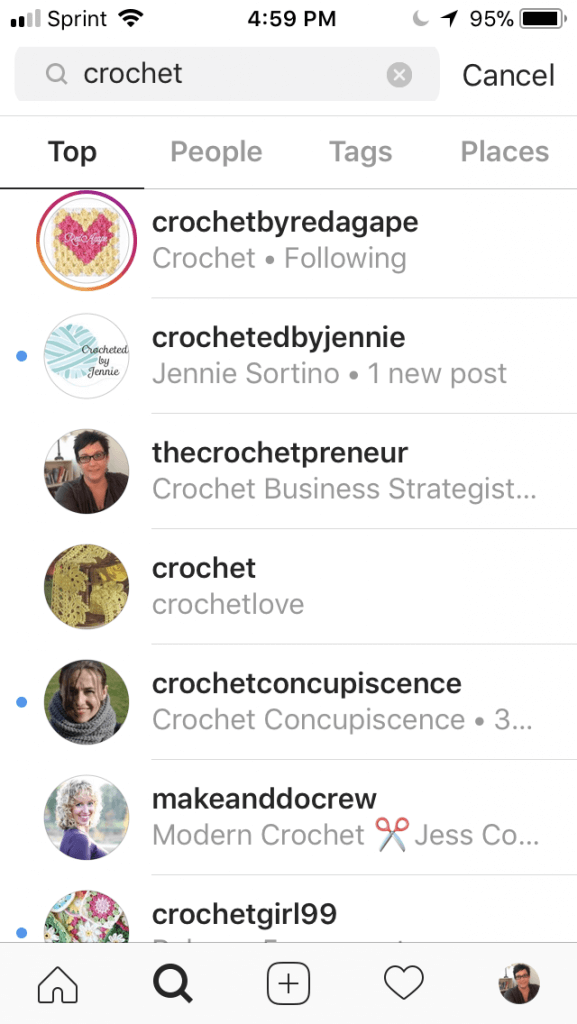 E) Select a Username. This will be the name you're known by, preferably, your business name and it will be represented through Instagram with the @ symbol before it. For instance, I am @thecrochetpreneur. Like me, you may find that someone else already has your preferred username. If this is the case, you can make adjustments by adding a word before or after your preferred name. I chose to use "the". Others, I've seen, choose "crochet," "shop," "designs," etc.
F) Add your Website. This can be a link to your own website, your Etsy shop, your Facebook page, or wherever it is that you'd like to direct your followers.
G) Add your Bio. This is your opportunity to really let people get to know you, how they relate to you, and why they should follow you. This space is limited, but you can be creative and try to fit as much information here as you can. Try to include: your name, who you help and how you help them, something about you that your target customer will relate to, where you are located, and how your customers can contact you. Click "Done."
7. Now, in your settings (the little gear up at the top right of your profile), link your other social media accounts: Facebook, Twitter, Tumbler and more. This will allow you to post your content to more than one social media outlet at once.

Post an Image
At the bottom-center of our Instagram screen, click on the + sign. This will bring you to your camera roll where you can select a photo or video, take a photo, or take a video. (Videos can only be 15 seconds long)
Select the image you'd like to use to introduce yourself to the Instagram world. You might select a photo of yourself, a product, your process, or a simple graphic that says, "hello!" You decide, don't worry too much about getting it wrong….you can always delete it later if you don't like it…and just go for it!
Now that you've selected the image that you'll post, write a paragraph or two to let people know who you are, what you do, who you help and how you help them. Don't stress too much, be yourself….like Monica on Friends, be breezy! 😉
Finally, add your hashtags. Now an entire post could be written about hashtags for makers (and I'll probably writing one soon), for now, ask yourself, "what search terms might someone be using if they were looking for me?" You can use up to 30 hashtags (but no more or your text won't post). Some hashtags I'd recommend for crochet business owners:
#crochet
#crochetersofinstagram

#mycrochetbiz

(this is the official hashtag of the Crochetpreneur community – be sure to use this and I'll be right over to 'heart' your post!)
#handmadeseller
Now, one caution about hashtags. It's easy to create the hashtags YOU might use to find you, but it's important to ask what hashtags might YOUR CUSTOMER use to find you. Remember, I've shared before about Why You Need to Stop Selling Crochet if You Want Your Business to Succeed. And it's the same here, it's very easy to attract other crocheters by using solely crochet-oriented hashtags, but you're REALLY wanting to attract your customers. So, for instance, if you were to be a seller of handmade fashion, it would be wise to use some tags like:
#fashion
#design
#winterfashion
#fashiontrendsforwinter
#fallfashiontrends
#shopmyshop
#wiw
#whatIwore
#slowfashion
#handmadefashion
#handmadestyle
You see? These are some terms that a buyer would use when trying to find cozy, winter fashions!
5. Once you've gotten your caption and your hashtags all set, select your location. If you're at home, just select your city and state – we don't want the whole world to know where you live!
6. Then, decide if you want to cross-post on Facebook, Twitter, and/or Tumbler by switching the toggles at the bottom of the screen. (You may be asked to log into any app that you select but are not already signed into.)
7. And now, <insert the sound of trumpets> click on SHARE up at the top right corner and YOU'VE DONE IT!
You've posted your first Instagram post. Whoot, whoot!
Just a Few Quick Tips
Please be realistic, you're not going to get 1,000 followers overnight. However, you may get one or two or, even, 10.
If someone comments on your post, be sure to like the comment and reply back. Even a simple, "thank you," can start a conversation with a potential customer.
Take some time to search for hashtags that interest you and follow some profiles that might be an inspiration to you in your business ventures.
Be sure to follow @thecrochetpreneur and @madewithatwist (these are both me) and use the hashtag #thecrochetpreneur for a chance to be featured in my feed on Follow Friday and the hashtag #mycrochetbiz to let other Crochetpreneur followers know that you've made a post so we can all pop over to your feed and give some love.
If this helped you get your first IG post out there, be sure to comment on your new Instagram handle in the comments below!
Next time, I'll share some more on building your Instagram platform and growing your audience. For now, just pat yourself on the back and have fun looking at all the pretty pictures. 🙂
Price Your Products Like the Pros
Includes: the exact formula I use to price my products for maximum sales and profit while attracting my ideal customer.