Have you ever falling into the trap of procrastinating for so long that you have to carve out 4 days just to catch up on bookkeeping? No, just me? Well, I'm guessing it's more common that we might care to admit. In this episode of Crochet Business Chat, I'll be chatting with Erin Toews of Juniper and Oakes about her struggles with bookkeeping procrastination and what she might do to overcome it or, at least, reign it in a little.
Transcript of This Episode All About Making Time for Bookkeeping
[00:00:00] Pam: Why don't you tell us a little bit about yourself and let me know how I can help you today.
[00:00:25] Erin: Yes. Hello. My name is Erin. I'm the crocheter/designer behind Juniper and Oakes. I sell crochet patterns that use interesting stitches and also host crochet-a-longs, so that with my community, I can learn these stitches with other people. We can do it together.
[00:00:46] I have been crocheting for my whole life. My mom taught me when I was little. And I'm just—can always find me with a hook in my hand. But when I'm not crocheting, I'm a wife and I'm a mother to three little busy wild animal children.
[00:01:03] Pam: Real human animal children.
[00:01:06] Erin: They're human children. Just they act like wild animals. Exactly. And I'm also a nurse. So I'm just a crazy busy hot mess express. And it's late in the year and I am so behind on bookkeeping, like it's just the furthest thing on my to-do list. But I know tax season is right around the corner. So I'm just wondering what your tips are. Maybe your top tips for a crazy busy person to do a quick bookkeeping, just to catch up before the end of the year so that tax season isn't super stressful.
[00:01:46] Pam: Yeah. We are on the same page, you and I. Just so that our audience knows, we actually talked about this yesterday in a different meeting that I have spent so many days working on my bookkeeping because I put it off for months because it's just one of those things. I don't enjoy it. It hurts my heart.
[00:02:12] So the tips I'm going to be sharing with you are my aspirational goals for myself, being in the same position of it's the last thing I want to be doing. It's the last thing on my list, especially since it takes so much dedicated brain space and quiet time. I have this agreement with my husband that if I say I'm working on something hard, he knows, because I have to dial in. And it's just hard when you have so many distractions, and you have another job, and you have kids who need you and all of that.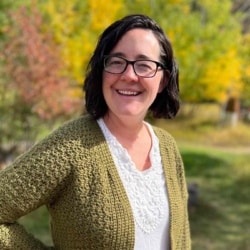 Meet Erin from Juniper and Oakes
Erin is a wife, mom of two wild boys and one baby girl, nurse, crocheter, hiker, reader, & self-proclaimed "crazy yarn lady." Her mother taught her to crochet when she was just a kid, and has not put down her hook since! Erin's patterns tend to be home decor items like wall hangings, pillows, and afghans. She designs crochet patterns that challenge the adventurous crocheter to try new stitches & techniques. She loves to host crochet alongs so that her crochet community can learn together.
[00:02:50] Erin: Yes. After our call yesterday, I picked my son up from school and then I gave him the phone so he can do his phone games because I'm like, "Now I'm in it. I have to work on this bookkeeping stuff." He just kept on coming up to me. He was like, "Mom, look at this." I'm like, "I want to but I just have to think." So I decided to put it away for a little bit and have this conversation, and then dedicate kid-less time to the bookkeeping because it's ridiculous.
[00:03:16] Pam: Yeah. It might have to be an after-bedtime thing. And I know that typically people are spending time in the evening, put kids to bed, spend time with your husband. And it might just be like, "Hey, I need to take the next three nights after bedtime to get it done."
[00:03:32] You're going to feel so much better, when it's finished, to know that … I always say that if you find that there's something you're worrying about, and every day the same worry is coming up, you need to take care of it because it's taking so much energy away from your day that you just need to get it done so that you just don't have to think about it anymore.
[00:03:54] So I really do recommend setting a day and not getting into the position again where you have to play catch-up . That's my goal for myself. Every first of the month, I take a look at my blog stats. I take a look at how much money I made this month. But I don't take that extra step to actually do the bookkeeping.
[00:04:17] So I'll put it in a little spreadsheet where I could say, "Oh, I made this much money. That's nice," and then get on with my day instead of looking at all of the details, getting them into QuickBooks, and knowing that it's done, so that I can then not worry about it the rest of the month, or the rest of the year, or seven months like I just did.
[00:04:38] And that way, when it's time for sales tax, when it's time for your income tax, you have it all done. And all you have to do is the previous month and you'll be good to go. And I know that sounds pretty, "Yeah, I could have thought of that myself." But we don't always just commit to it. So committing to doing that.
[00:05:05] And then, are you using a software right now to keep your books?
Erin: I am not. I was using the one that you have in CBA at the beginning of the year. And then I thought, "Oh, there's got to be a better system out there." There's always like grass is greener. So I just purchased Paper + Spark. That's lacking what I want. So now I went back to yours and I'm what? Eight months behind, seven months behind, just like you.
[00:05:55] Pam: You're far enough into your business that you have complex things happening. And so I do recommend that you get onto something like QuickBooks or something that you can help automate things for you.
[00:06:16] So with QuickBooks, you can connect your bank account and all of those bank transactions are right there for you. All you have to do is say, "Yes, that happened. Yes that happened. Yes, that happened," and make sure that they're posting to the correct categories, rather than typing everything in manually.
Erin: Yeah, that sounds lovely. That sounds very lovely.
[00:06:38] Pam: And you can connect QuickBooks to Etsy, which I haven't tried yet because it scares me.
Erin: Does it connect to PayPal?
Pam: It does. However, my experience with the PayPal integration … And I will tell you that I just tried this this week because I had been inputting all of my PayPal manually.
[00:07:00] And so I connected it on QuickBooks Online and it didn't bring over the transactions the way that I wanted them to. It didn't have them categorized so I knew, "This is coming from Ravelry. This is coming from ThriveCart." So I went back to my other method of just inputting PayPal manually.
And that is not to say that I input every Ravelry transaction as a separate transaction. I don't. So I let PayPal keep all that data in PayPal and then I'll find all of the Ravelry transactions and create one line item—say, "Coming from Ravelry, online sales, this is the total amount. These were the PayPal fees taken. And then, so this was the net revenue." And I do that for PayPal. And I do it for ThriveCart cause I have a lot of ThriveCart sales.
[00:07:58] Erin: That's what was missing on Paper +Spark was like. I got the PayPal thing but it was just like, "This is your PayPal stuff." I'm like, "Okay, what came from courses and what came from …?" Yeah.
[00:08:10] Pam: Yep. And I like to know, "This came from patterns. This came from online digital product, other digital products. This came from my courses," those kinds of things. So I just ended up doing it manually and that's fine. I was doing it manually before.
[00:08:30] But bringing in all of my bank account transactions has been really helpful because I do use the Profit First Method. So I have five bank accounts for my business and I transfer within those accounts frequently. And so I don't have to put in the same transaction three times. It'll just take care of it for me.
[00:08:54] What I did when I first set up QuickBooks was I have a friend who's an accountant. And I said, "Hey, can you come over here and help me set this up?" because I had no idea. This was like seven years ago. I had no idea how it worked.
[00:09:10] And so he was able to walk me through, "This is what a chart of accounts is. This is how you set up your bank accounts. This is how you process a deposit. This is how you process a payment. This is how you can split out a deposit into, 'This was the sale. These are the fees. This was like the advertising fees that you might have for Etsy.'"
[00:09:33] So he was able to walk me through all of those basics so that it wasn't so scary for me. And so I was able to just take it from there. So that's something you might want to … Make somebody a cake and—
[00:09:45] Erin: Find an accountant friend. Yeah. Hmm. Who's my accountant friends.
Pam: Yeah. Ask on Facebook, "Who's an accountant and wants to do me a favor?"
Erin: Yeah. I love that. Going to do that right after this.
[00:10:02] Pam: So automate what you can. Ditch the spreadsheets and use a tool that is meant for this purpose, because you do have ad revenues, you do have money coming in from multiple different places. It's not like a regular Etsy shop. They have they have their Etsy shop, and that's where their money comes from, and that's where their expenses go, and that's it.
[00:10:32] Your business is more complex than that. So having a tool that's made for that purpose, I think would be really helpful. And yes, it's an investment, but it is an investment, ultimately, in getting this stuff off your shoulders a little bit.
[00:10:47] Erin: Okay, so I've heard of QuickBooks Desktop version and then there's a subscription. Do you have any recommendations for that?
Pam: I have used QuickBook Desktop forever and they stopped support for my version of desktop. And as far as I know, they stopped offering the desktop version. So online is your option. Ultimately, this was going to happen. So I think starting there is just … You're not having to learn it twice. Because right now, I'm having to relearn it and that's why it's taken me so long this last month to get caught up.
[00:11:33] Erin: All right. So I'll do the subscription.
Pam: Sadly.
Erin: Yeah, that's how life is these days.
Pam: Yep.
[00:11:44] Erin: Okay. So it seems like set aside time to get caught up in the next year. Do it just beginning of each month. Just set aside that time to do it so I don't get so far behind. Get an automation like QuickBooks—something that is made for small business bookkeeping. And find an accountant friend to walk me through it.
[00:12:08] Pam: Exactly. Those are your steps. I was just thinking maybe I should plan a monthly bookkeeping co-working session so everyone can just get together, and do their bookkeeping together, and just get it done. That might be something that's beneficial. So I'll think about it. It's hard for me to schedule a time for my brain to get into that space.
[00:12:36] Erin: Yeah. We might have similar brains. It's just like I don't want it. I'd rather crochet. Or I'd rather do other parts of my business, create patterns.
[00:12:44] Pam: Right. For me, it's always playing on Canva. I just want to play on Canva and make graphics. And I have to stop that and focus on dollars.
Erin: Yeah. We are businesswomen. We have to. We are CEOs.
[00:12:59] Pam: All right. I think that we can do it. We'll do it together. We'll hold each other accountable. How about we do that?
Erin: Yeah, let's do that. First of the month, let's ping each other and say, "Hey. Got to do your books."
[00:13:12] Pam: Perfect. Okay. So why don't you let our folks know where they can find you? They can see right behind you that gorgeous blanket, for those that are watching this on video. You have that gorgeous blanket that's your crochet-a-long for this month. So why don't you tell people how they can find you and get involved, either with this crochet-a-long or future ones, and see all the patterns you have to offer.
[00:13:35] Erin: Yes. I think the best place to go would be to my website, which is juniperandoakes.com. On that first webpage, you'll see all of my current crochet-a-longs and you'll be able to access my old ones, which are still active.
[00:13:54] The current crochet-a-long I have going on is this Overlay Mosaic Christmas blanket. And just week-by-week, we've been crocheting up each stripe. And for those of you who don't know, overlay mosaic is super easy. It's just single crochet and double crochet in different loops. And then you get this gorgeous colorwork.
[00:14:14] Pam: It's so beautiful.
[00:14:14] Erin: It's only one strand at a time so it's very easy. And that's what this crochet-a-long is to teach everybody—how easy it is to create such a beautiful blanket. So go to juniperandoakes.com. You can find out all the information, as well as all my socials and YouTubes.
[00:14:31] Pam: Perfect. Wonderful. So juniperandoakes.com. I will put the links in our show notes and in our blog post so people can pop over and see what's going on over at your site. Your designs are so beautiful. Your crochet-a-longs are so amazing. So I hope more and more people will find you and get involved in that as well.
[00:14:53] Thanks so much for asking your question. I think it's a very important one and obviously one that mirrored my own situation. So I think there's probably a lot of other people who deal with the same thing.