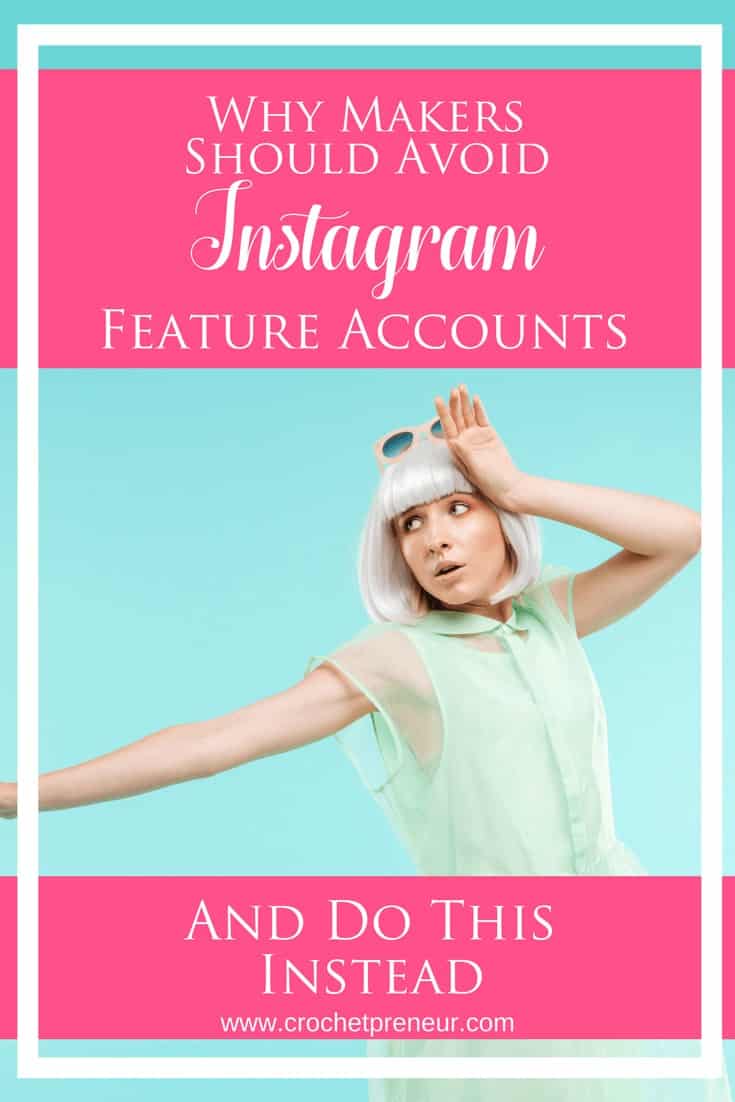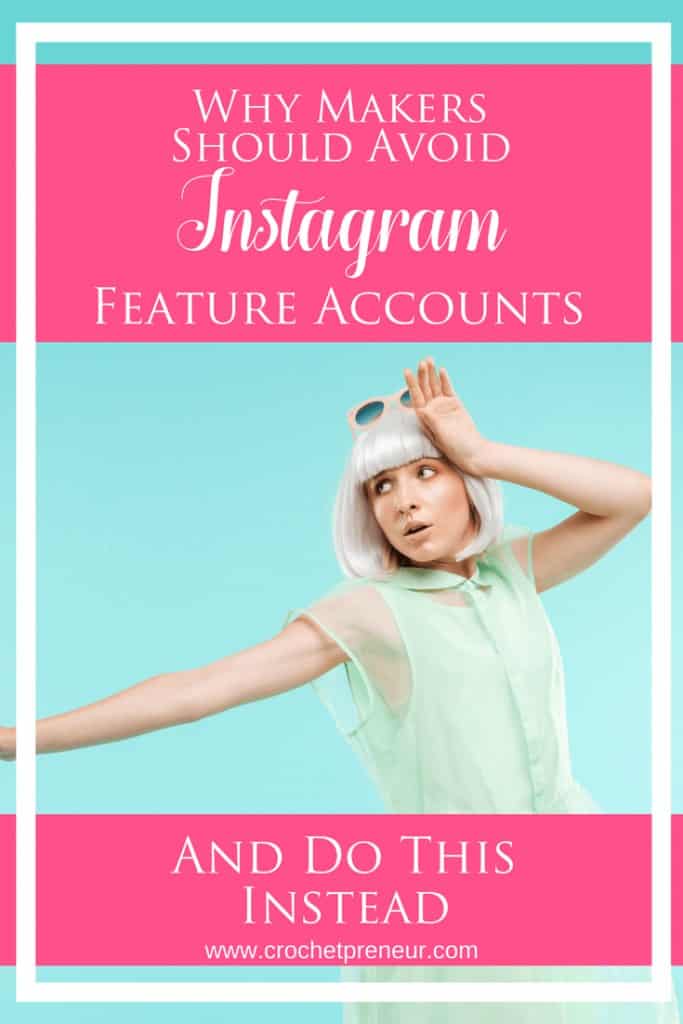 Hey there, Maker Friend! I see you over there on Instagram, plugging away, working hard to create a great feed and to get your shop seen.
I mean, why wouldn't you?
Instagram is a great place to grow your business, connect with your target market, and sell your products.
But, the downside is that there are so many makers on Instagram, that it can be hard to establish a presence.
I get it…
You've established your Instagram business account.
You've researched hashtags and how to use them.
And you're still struggling to be seen.
Then, like a virtual fairy godmother, along come feature accounts with their flashy branding and lofty promises to promote your shop to their thousands, even hundreds of thousands, of followers. It seems they can make you the Cinderella of social media…the belle of the IG ball!
WOW! That's so exciting, isn't it?!
I mean….hundreds of thousands of followers?!
Well, hang on just a second. Let's slow down and take a closer look before we go diving in.
What are Feature Accounts?
Feature accounts are accounts that will share your shop/products with their followers.
There are, basically, three types of feature accounts:
Accounts set up specifically to feature other accounts with fees attached.
Accounts set up to feature other accounts without fees attached.
Accounts that post both their own and other accounts content (usually without fees attached).
In this post, we're specifically talking about paid feature accounts.
Paid feature accounts are accounts set up to share your shop and products with their followers for a fee. All you need to do is click the link in their profile, fill out a form, pay the fee, and your post will be scheduled.
On occasion, there may, also, be some premium options like running a giveaway or being featured multiple times or on multiple accounts.
There may, also, be requirements for you to promote your feature – get it? You pay and promote, but who benefits….really?

Why I don't Recommend Paying for Features
You may get an inkling from that last sentence that I'm feeling skeptical of these paid feature accounts….and here's why:
We know that the feature account benefits from your participation by receiving money for their service. OK, great, we all need to make money. That's cool. However,
It doesn't seem that the service they promise is actually benefiting you, their customer.
After researching these maker-based feature accounts it becomes clear that the vast majority (like a really, really high percentage) of those following the account are NOT your target market but, instead, they are OTHER MAKERS.
So, when you pay to be featured, you are not actually reaching your customers and your money is not working for you….and that's bad business.
Sure, maybe a small percentage of your customers are also makers, so you might rationalize that you're reaching a small percentage of your market when you're featured, but let's be honest. The artisans, designers, and creatives who are following these feature accounts aren't following in order to find a great handmade product. They are following because (a) they love the beautiful photos of handmade products and/or (b) they're keeping an eye on the account while they work to make the funds to be featured themselves.
They aren't there for you….sorry. 🙁
What to do Instead
Please don't be disheartened.
There are several things you can do, instead, to build your audience, grow your following, and make sales through Instagram. Here are just a few:
Find some Free Feature Accounts
Download my list of hashtags for crochetpreneurs for a list of hashtags that crocheters and other creative businesses can use to be spotted by larger accounts that are dedicated to featuring other makers for free.
If you're a crocheter, be sure to follow @thecrochetpreneur and use the hashtag #mycrochetbiz. I regularly search the hashtag and feature accounts with images and content fit with the aesthetics of my IG feed. There is no fee to be featured, I take the time to feature other accounts because I believe in the power of paying it forward and of encouraging and lifting up those who are trying to grow their crochet business. So, tag away, I'd be so happy to feature you and get to know your business better!
Market to YOUR Customers
Be careful about spending too much time trying to connect with and attract other makers. Yes, that's fun and some of it is necessary, but you must focus on attracting your customers…and they probably aren't hanging out in maker circles.
Really.
Work on knowing your customer and figuring out where she's hanging out and you're more likely to connect, grow and make the sale.
Connect with Influencers
Yes, I said it. It is OK to connect with influencers and offer free product(s) in return for a feature. As a small business owner, maybe you don't have the funds, or desire, to pay an influencer to feature your product, but with some research, you can find IG influencers who have a loyal and engaged following who would be willing to feature your shop in return for a product or two. Yes, your products are that awesome, right?!
To find viable influencers, research hashtags that your ideal customer might use.
Find accounts that have, let's say 5-10 times the number of followers that you have (this is just a suggestion, obviously, I don't know how many followers you have, but this is a good rule of thumb).
Verify their engagement across social media platforms – look for anything above 3% engagement (3 likes/comments per 100 followers).
Reach out, preferably via e-mail, with a professionally worded proposal that focuses on why you feel your product would be a good fit for the influencer's audience. Remember, the influencer needs to benefit from the collaboration as well or she's not going to be interested.
Along those lines, be sure that your product is well-made, high-quality, and lovely (or quirky, geeky, unique…whatever your thing is). We focus on that a lot around here. If you don't have a great product, you're just spinning your wheels…make awesome things.
Recognize that your collaboration is an investment in your business. Sure, it will cost you to provide a free product and it will cost you to ship it, but the right collaboration could bring a tenfold return on your investment…but it will take some research and experimentation…that's part of the adventure of entrepreneurship.
Work on Your Photos
When posting photos to Instagram, be sure they are light, bright, clear and void of distraction. You are a professional and your photos should reflect the quality of your work. No, you don't need to purchase an expensive camera or hire a professional photographer. By simply using your phone, researching the qualities of a great photo, and finding great lighting (either outside on an overcast day, using a lightbox, or with artificial lighting) your images could be a feed-stopper!
Finally
Be patient, growing a following on Instagram takes time, if a promise to boost your account sounds too good to be true, it probably is. But with a great product, an understanding of your ideal customer and where she hangs out, and some good 'ole gumption, you will get there!
We Love Comments!
Have you ever used a feature account? What was your experience?
Do you know of a great free feature resource? Let us know?
Are you an influencer, interested in working with handmade sellers? Leave us a little message in the comments!
(PS I can neither vouch for or endorse any of the influencers who add their info, handmade sellers are responsible for doing their own research, assessing the fit, and drawing up their own contracts of which Crochetpreneur has no part) 🙂
Quick Tip:
If you're willing to do the work of promoting your own products, Pinterest is a great place to do that. Don't know how to get the most out of your Pinterest account? Check out my post: How to Use Pinterest for Your Etsy Shop. This post begins an entire series of step-by-step helps for increasing engagement no your Pinterest profile, views to your Etsy shop and sales!
Organize Your Crochet Business Like the Pros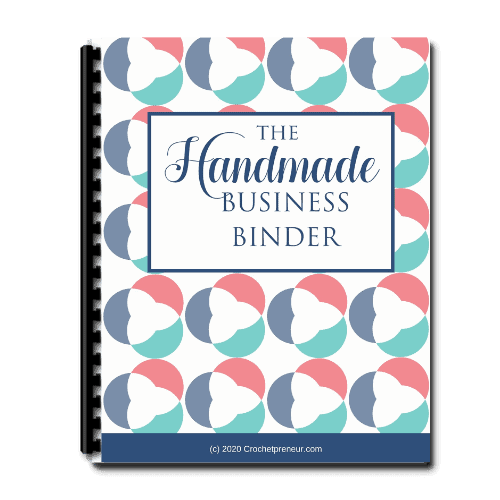 Includes: business details, branding board, media kit, customer avatar, and more!
PLUS: Get access to my exclusive, subscribers only, business resources library!