Ready to make the wisest decision you'll make this year by adding a maker blog to your crochet business income stream? Read my simple START A PROFITABLE CROCHET BLOG, to get your website up and running on the #1 rated hosting site, today!
Oh my gosh, you guys, I'm having so much fun preparing for the new year! I know that, in reality, it's just another day, but it feels like a time for fresh starts, new ideas, and celebrations. I love it all!
As part of preparing for the new year, along with planning my daily tasks, I'm trying to get into the habit of compiling my traffic and income reports. I have found that when others have shared their income reports, I've been so encouraged to believe that it IS possible for this regular, work-at-home grandma to enjoy the personal and financial freedom that comes from having a successful crochet business. And I hope to inspire you in the same way.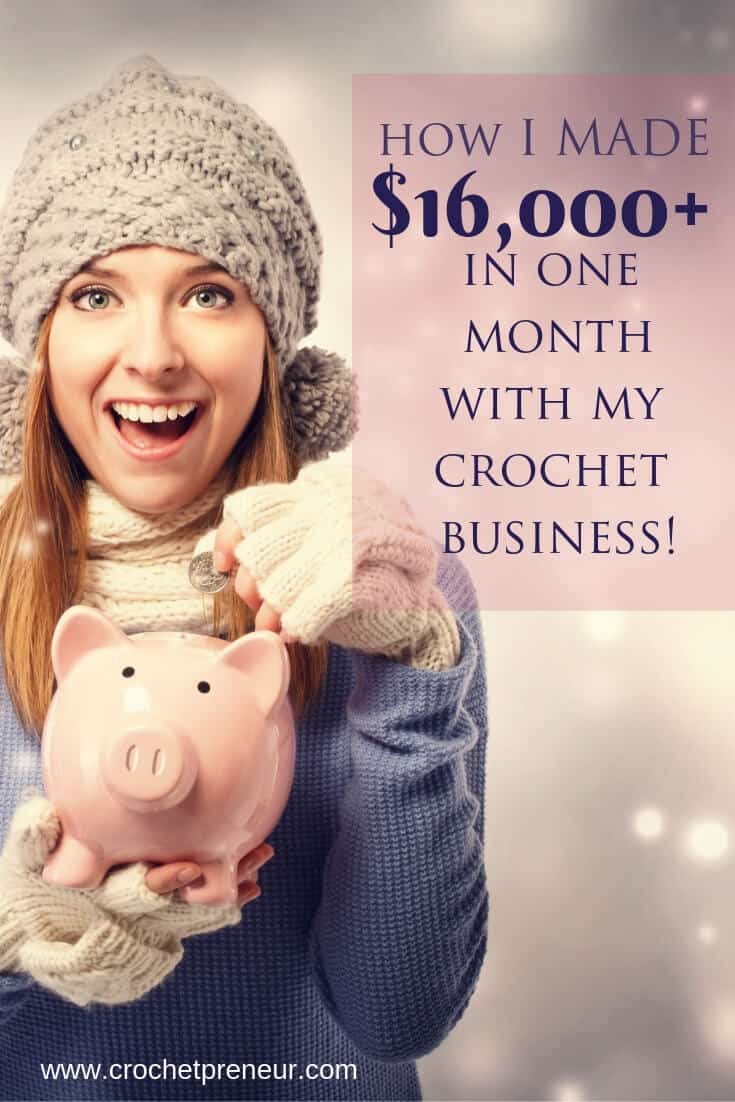 Granted, over the past 5 years of my crochet business and the year and a half that I've had this blog, the income has proven to be pretty sporadic – with most of it coming in the winter months. But over the coming year, we'll brainstorm some ideas together for how to sustain an income during the lean months.
If you've been reading for any length of time, you'll know that I'm a passionate advocate for multiple streams of income – the cornerstone of which is starting a blog.
You may be asking, "why the heck are you sharing your income report for the whole world to see?"
Well, the reason is you. I feel like I need to be accountable to you and show you that I'm not just telling you what I think will work, but what does work for me and, sometimes, what doesn't. That's right when I hit the inevitable struggles, I'll share those with you, too.
Ultimately, on those days (weeks and months) when this blogging thing, this crochet thing, this maker thing feels HARD (and sometimes it IS hard – please don't set yourself up for disappointment by believing otherwise), I can look to others who are crushing it and know that I can do it, too.
And so can you!
So, I'm pretty sure that's enough talking about it, here's how the numbers played out for my crochet biz for November 2018:
INCOME
Mediavine Ads: $1,041.62

Affiliate Sales: $551.65 (these include Ultimate Bundles, Amazon, Awin, and SiteGround)

Pattern Sales: $1,782.66 (on Etsy, Ravelry, and my Shopify Sites)

Other Digital Product Sales: $1,416.58 (planners, courses, 30 Days of Cozy bundles)

Online Product Sales: $4,832.40 (Etsy physical products)

Shipping Fees Collected: $96.83

Craft Fair Sales: $7,132.00 (I did 3 craft fairs in the month of November)
EARNINGS TOTAL: $16,853.74
EXPENSES
Maker Supplies: $1,007.98 (specifically, yarn)

Affiliate Payments: $957.00 (to 30 Days of Cozy Designers)

Merchant Fees: $632.90 (for Etsy, PayPal, Stripe, Square, and Ravelry)

Contract Crocheter: $379.00 (I pay her $10 per hat)

Siteground: $4.95

Office/Shipping Supplies: $119.82

Tech Editor/VA: $170.00 (I purchased 12 pattern edits upfront for 2019)

Shipping Fees: $110.53

Taxes: $366.36

Booth Fees: $230.00

Shopify: $30.00
Send Owl: $15.00
Tailwind: $30.56
Mailerlite: $35.00

Adobe: $9.99

Zoom: $14.99

Canva Business: $12.95
EXPENSES TOTAL:
$4,112.04
NET PROFIT:
$12,741.70 (whoot, whoot!)
Wait! Before you ask, "Is that normal?!"
Please know, no, it isn't normal for me, not yet. I don't usually make $12K per month with my crochet business.
However, it is a normal November. You see, November is always my busiest and most profitable month of the year.
I expect that in the coming months we'll see an inverse bell-curve with profits dropping toward the summer and starting to pick up again in August and September.
That's the nature of the business that we're in, but we'll try to mitigate that downturn with some new strategies. I'll be sure to let you know how it goes!
TRAFFIC
Wow, as if sharing my income and expenses wasn't tough enough, now that I'm sharing my traffic number, too, I feel a little naked. I've been working hard to increase traffic by leveraging Pinterest and, this month, hosting the 30 Days of Cozy. Traffic did increase, but I expect it to begin waning pretty quickly after the first of the year. We'll try to mitigate that, too!
So, here are the numbers:
Monthly Visitors: 47,385
Unique Visitors: 35,269
Page Views: 80,134
These numbers are up from previous months because, well….November…and, in large part, due to the fact that I posted a new free pattern every day as I endeavored to introduce some new crochet designers to my readers. It was a big success!
Are you ready to grow your income with a maker blog of your own? Check out my START A PROFITABLE BLOG guide and get yours up and running today!
ADDITIONAL RESOURCES
Find all my favorite blogging tools on my Resources page.
If you want to learn more about why starting a blog is a great choice for makers, how they can use it to build a variety of income streams, how to start gathering emails and driving traffic to the blog, check out my introductory mini-course, Blogging for Makers 101.
Already have a blog, but looking to increase your income, check out this free resource from Elite Blog Academy,
NOT INTERESTED IN BLOGGING?
That's OK! There are plenty of other ways to make money with your crochet skills. Here are some article you might enjoy:
The Ultimate List of 20+ Ways to Make Money Crocheting
An Impulsive's Guide to Starting a Crochet Business Right Now!
Price Your Products Like the Pros
Includes: the exact formula I use to price my products for maximum sales and profit while attracting my ideal customer.