In the past few years, I've had several makers ask whether (a) adding labels and tags to crochet items is beneficial to the bottom line or just an added expense and (b) what are some reputable sources for purchasing custom product labels.
Well, I'm here to share my experience and those of my students as we talk all about how to make more money selling crochet items by adding branded labels and tags and the vendors we love.
Not a fan of videos? The audio file (coming soon…editing it now) and summary are also available for you, below.
This post may contain affiliate links. If you click the link and make a purchase, I may receive a small commission at no additional cost to you. Please see our disclosure policy for details.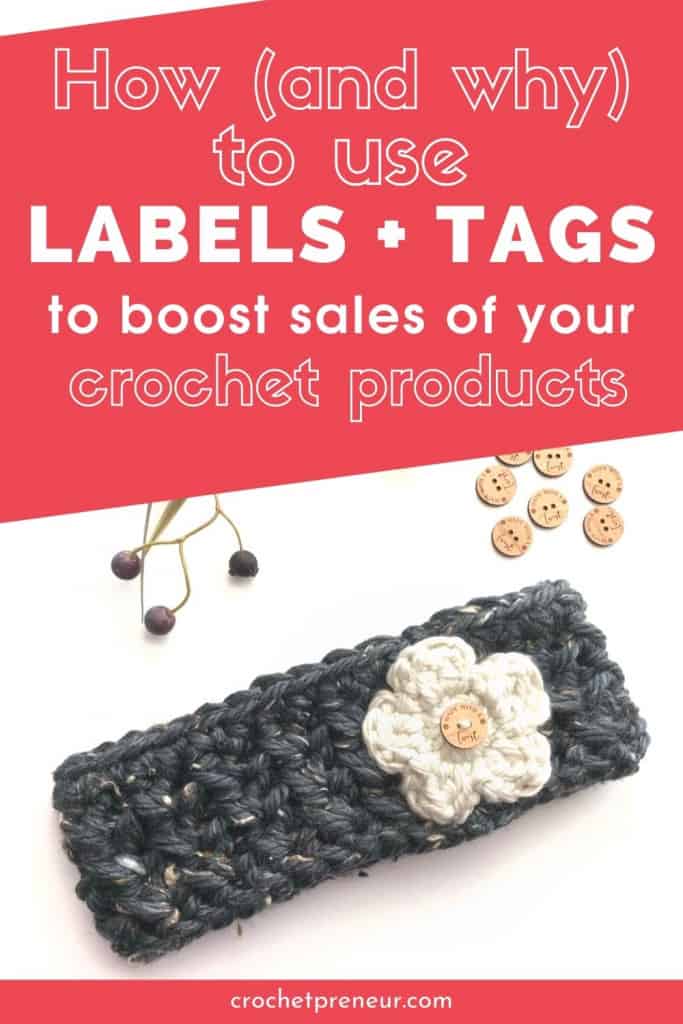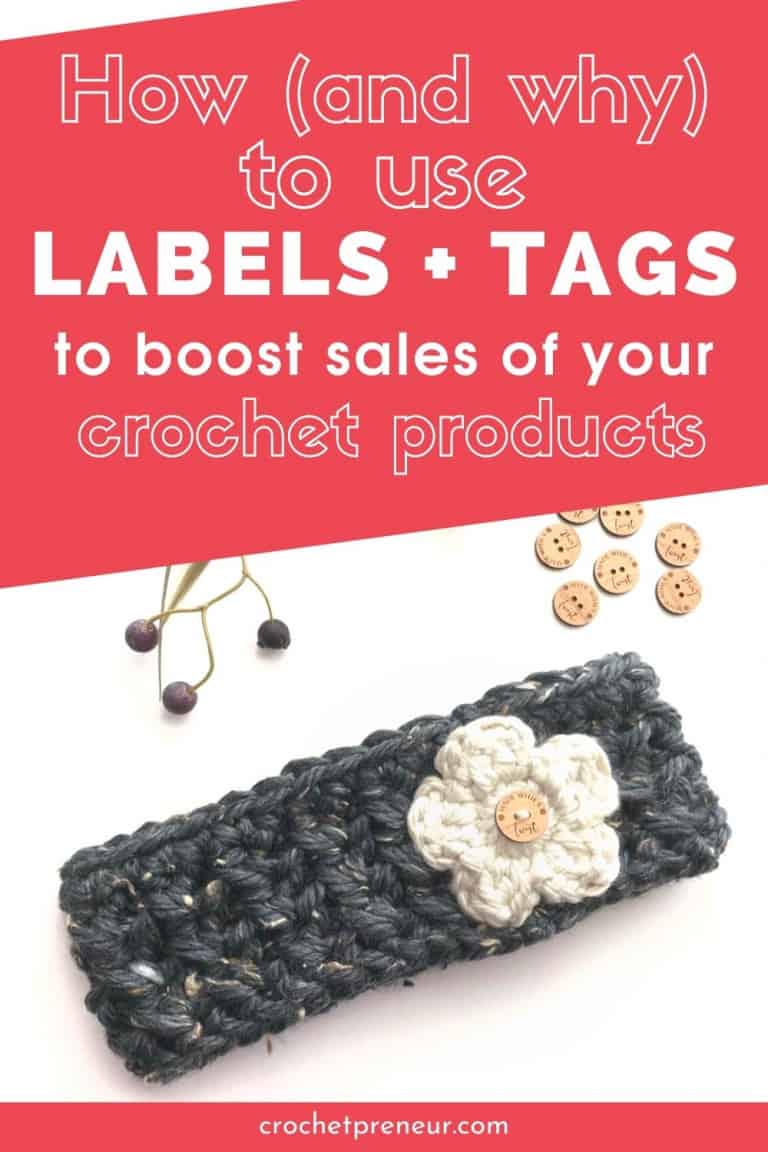 Why You'll Boost Sales When You Add Labels to Crochet Products
Maybe you're thinking adding labels is just one more task you don't want to take on in your crochet business – there's already so much to do!
But there are several reasons I believe adding labels and tags to your finished products will help you boost sales. Let's go over the top benefits of adding branded tags…
Increased Perceived Value
Just like any retail brand, any time you add a name to a product, the perception is that the item has a higher value than its generic counterpart.
Just consider what you are wearing right now? Do you have RayBan glasses? Nike sneakers? A Coach bag or Athletica leggings?
Do you, yourself, pay more for a product because of the name rather than pay a lower price for a generic product?
My guess…"sometimes." We are willing to pay more for a brand when understand the benefits of the brand name.
So, one part of increasing the perceived value of products is to add your name/logo to your products and the other part is to let your buyers know what that name means…quality, artisan made, custom, designer made, etc.
When you add your logo and let buyers know that the logo means something (think…your company's values and mission), the perceived value increases and you can, the, charge more for that product and make a greater profit.
Increased Brand Awareness
In the marketing world, it is said that customer needs to see a business seven times before they start recognizing it and paying attention.
One way of getting your business name and/or logo in front of potential customers is to put your name 'out there'…everywhere. Part of that is to put your name right there on your products.
Just think, as a future customer sees your posts on social media, on e-commerce listings, and on your products at in-person events, they're being exposed to your business name over and over again.
By adding your branded label, your ramping up the opportunities to be seen. Seven times? Easy peasy!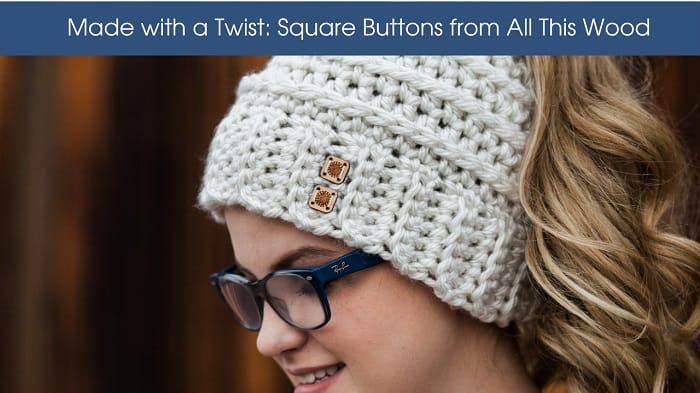 Free Marketing
Along those same lines, once the customer has purchased your product, they become a walking billboard of your awesomeness.
Whenever someone asks, "Where did you get that?" Instead of saying, "I bought it online" or "I got it on Etsy." The customer can point to the label (that she knows by heart now because she sees your name every time she looks at the item) and say, "I got it from <insert your shop name>. You should check them out!"
And, extra bonus, since you've already secured the .com domain name for your business, that new potential customer can type <insert your shop name>.com into their browser window and walk away with their very own product made by you.
This is one of the reasons I'm so adamant about using the exact same wording for your business name, your shop name, your social media name, and your website name…you just become so much easier to find…and buy from.
Automatic, Unobtrusive 'Watermarking' of Product Photos
Finally, and this applies to both product sellers and crochet designers, when you add a branded product label to your items and add photos of those items online, your photos are automatically watermarked!
No more adding unsightly watermarks to your product photos for fear that someone will rip them off.
With a product label, your name is right there for everyone to see. And, while you can't always prevent wrongdoers from taking your photos anyway, you make it a lot harder when your business name is attached to every product for everyone to see.
This, alone, is a great reason to invest in quality, custom product labels for your handmade items.
OK, now that you're on board with adding labels to your products, let's talk about the various options you have.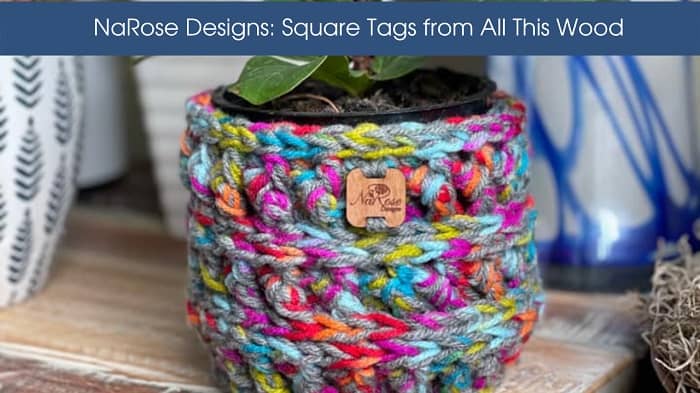 Types of Labels for Finished Crochet Products
There are several options you'll need to narrow down when you are selecting the right labels for your finished products. Here are some things you'll need to consider…
Material
Some of the most popular materials to use for product labels include
Wood – good for non-washable items or items that will be hand washed
Leather – good for non-washable items
Faux Leather + Suede – good for washable and wearable items and those who are a opposed to animal products
Cork – good for washable and wearable items and those who are interested in eco-friendly/renewable options
Fabric – good for labels that you want to add to the inside of items or to items that will be washed frequently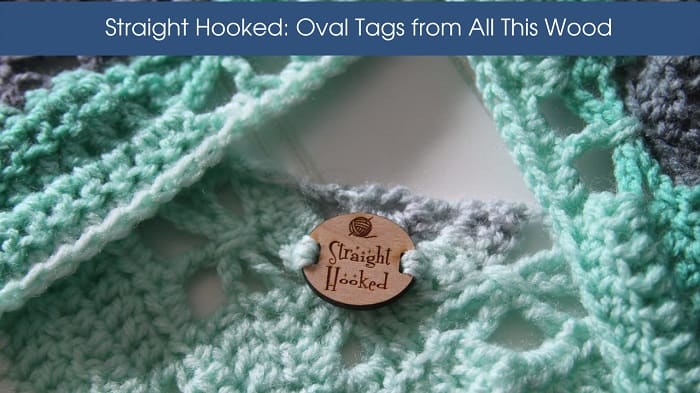 Application
The two most common ways of attaching custom product labels to crochet items is to sew them on or to use rivets (which are really screws – no special equipment needed).
Your label application method comes down to personal preference and time. Sewing labels take longer than using rivets, but hand sewn labels are, also, more cost effective. So, it just depends on the needs of your business and which will work best for you.
Size
It's important that the size of your labels are proportionate to the product. A large 2″ square label will look out of place when attached to a small headband and tiny 1/2″ button would be lost on a crochet blanket.
Just consider the size of your piece and the size of the label as you make your style decisions.
Shape
I love playing with shapes! Depending on your personality and brand, you could go wild here. I know I have a stash of small round buttons, small square buttons, rectangles, fold-over labels of the short and chunky type and the long and narrow type, and square labels.
I just love them all, I can't help myself.
As you consider your options, again, think of where you'll be adding the label and what shape would fit the aesthetic you're looking for.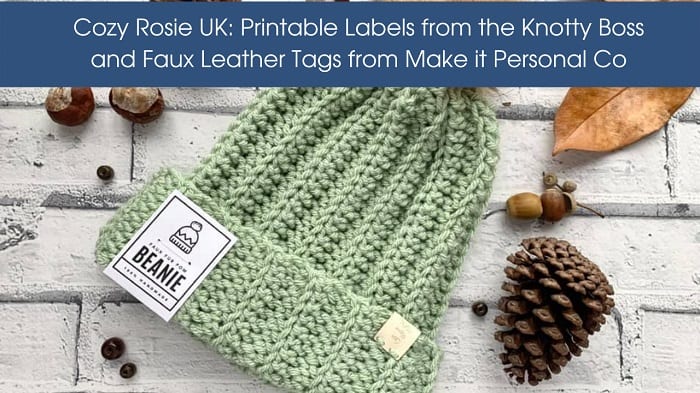 Color
Again, there are so many options. Depending on your brand and personality, you can choose to go with a singular color scheme with all your labels in the same color family or get creative with multiple colors to mix and match with your product colors.
Just be sure the your logo is the focal point of the label, not the label itself.
Logo Orientation
Consider how the viewer will read the label and how the product will be oriented to ensure that the logo is easily readable.
For fold-over labels, you might consider whether or not a brim might be upturned and the logo be rendered upside down. If that's the case, many label makers offer the option of flipping the backside logo so it is right side up when the brim is flipped.
Again, it all depends on how the product will be used.
Cohesiveness
In the end, what is important that your labeling strategy is cohesive – everything doesn't need to be matchy-matchy, but it should be easily recognizable as your own brand.
Crafty Chic Crochet has done that here with her set of labels purchased from Idaho Taylor Made: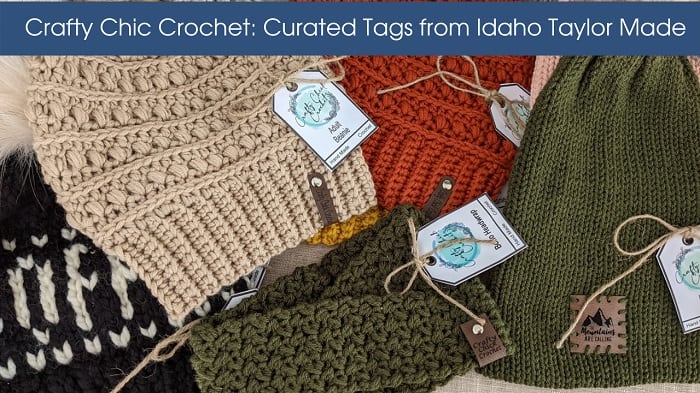 Where to Purchase Custom Branded Labels for Crochet Items
I prefer to purchase labels from shops on Etsy as a way to support small, individual run businesses and have curated this list of resources based on the recommendations of my Crochetpreneur® Business Academy students. All of these vendors come highly recommended.
United States
Archer Knits: https://tidd.ly/3CtyjpR
The Knotty Boss: https://tidd.ly/3nOUPpb
Idaho Taylor Made: https://tidd.ly/2XHbh06
All This Wood: https://tidd.ly/2Z8OHxD
Engrave Me Treasures: https://tidd.ly/3kl3eOZ
Savlabot: https://www.etsy.com/shop/Savlabot
MRM Tags: https://tidd.ly/3knO7UY
Canada
Sweet Pine Hills: https://tidd.ly/3EzWxk5
Spotted Zebra CA: https://tidd.ly/3EAMhIr
Maple and Rose Studio: https://tidd.ly/3kofPAU
United Kingdom
JS Lasercrafts: https://tidd.ly/2XAgwPi
Make it Personal Co Shop: https://tidd.ly/3CvDHsA
Australia
Laser Roo Gifts: https://tidd.ly/3hPgzgU
Conclusion
I guess you can tell that I'm on board with adding branded product labels to crochet items. It's true.
Whether you decide to go that route, I hope you found this video/post helpful in making the decision for yourself and for navigating the various options for finding the perfect labels for your needs.
So…let me know in the comments what you've decided and feel free to tag me (@thecrochetpreneur) in your social media posts when your new labels arrive!