This post may contain affiliate links. If you click the link and make a purchase, I may receive a small commission at no additional cost to you. Please see our disclosure policy for details.
OK, I'm kind of embarrassed to admit this, but when I first started writing crochet patterns, I was SO green! I had tunnel vision about the direction I was going to monetize my business and didn't understand the value of offering free crochet patterns. Honestly, I figured, sharing free patterns is a waste of time and I never really considered anything else.
I'm stubborn that way.
Well, it wasn't long after starting to blog that a whole new world of opportunities opened up and I realized that there are so many great options for designers 'out there' on the interwebs for both paid and free patterns.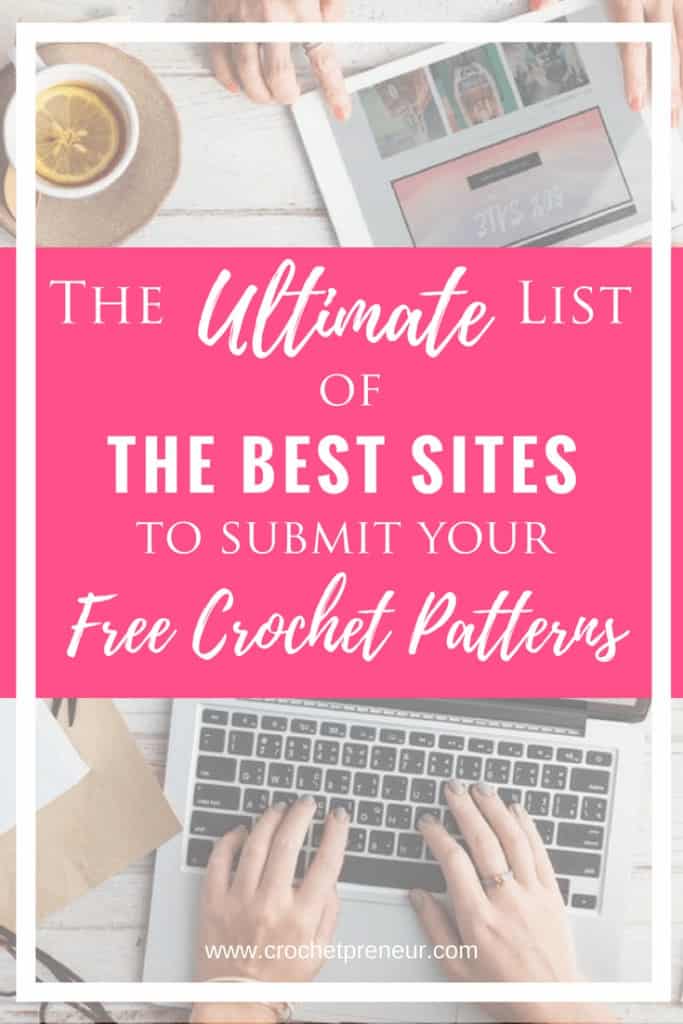 By offering designs for free, crochet designers can generate revenue through advertisements, affiliate links, and sponsorships while, also, growing her brand through the wide distribution (virality) that free pattern posts enjoy through social media and pattern-sharing sites.
Except, no one really tells you that when you first start your business…that's why I'm here – to help you in all the places I've had to learn the hard way. 🙂
If you're a new crochet pattern designer, and even if you've got some experience, I thought you might find it helpful to know of the top sites for submitting your free crochet patterns and increasing your reach.
We all want to increase our reach, right?! Yeah!
Take a look at these great, free resources. Each of them provides a unique platform for sharing and submitting your free crochet pattern. Give them a try and get your pattern out in front of thousands of grateful crocheters who just might become loyal fans.
**Just a note: When the platform requires a PDF upload of your pattern, I suggest offering the pattern for a small fee with a link back to your own site for the free version of the pattern. The reason for this is when downloads are available for free on some of these platforms, you lose out on the revenue you might generate from pageviews and advertising links. That is mitigated by the small fee. However, when I charge a fee for the patterns, I include some premium perks like additional sizing or other pattern upgrades so that it's a win/win situation for both designer and customer.
OK, on to the platforms!
Ravelry seems to be, by far, the most popular site to find crochet patterns. Designers can share their patterns for free, for a fee, or both. The site also has other capabilities like forums, stash and pattern libraries, and a means to connect directly with designers and other crocheters. If you select only one platform to share your free patterns, I'd suggest you start with this one. (PDF upload required)
Sign up and set up your designer account. The best part about listing on LoveCrochet is that you can quickly import all of your Ravelry listings directly to the site with the click of a button. Then, simply publish your listings and you're on your way to a Crochetpreneur empire. (PDF upload required)
Sign up and click on "Share Your Project" at the bottom of the page. Then, in the middle of the page will be a button that says "Click to Share your Project." All projects are approved by the editorial staff and there is no need to upload a PDF. Simply link your project page directly to your blog.

It couldn't be easier to list your pattern on Crochet Pattern Central. Simply send a link to your pattern to [email protected]
A forum based site, designers can request and create their own sub-forum by following the instructions, here. You can post links back to your site and engage with potential customers in the forum. The only requirement is that you create a link back to the Crochet Talk site using one of their banners.
Simply go to the site, click on "submit" and you'll be brought to a form to enter the pattern name, URL, category, and date. That's it, super easy!
This is also a forum-based site. It also includes a blog, events, and other great crochet stuff, but if you'd like to submit a pattern, it will be on the forums. Simply scroll down the list of forums to find "Free Pattern Links" and add a link to your pattern. There is also a topic for "Free Original Patterns" but this is for full, written patterns, not links.
Once you create an account, you will be able to publish a pattern. Simply click on "Add a Pattern" and follow the prompts. It probably takes less than 5 minutes to upload the link and images. Approval will take up to 48 hours and there are no more than 4 pattern uploads allowed per day.
This is a very easy site to use. The form is similar to the one used by All Free Crochet and is easy to fill out and submit. You won't need to add a PDF, just link directly to your site.
It's just what it says, crochet patterns galore! They make it so easy to submit a pattern. The link is right there on the front page. Simply enter your info, the link to the pattern and photo, fill in the details and submit.
Ta-da! Eleven great sites, with lots of traffic, and a platform for submitting your amazing, free crochet designs. I hope you find the list helpful as you continue to grow your business.
Do you have a favorite place to share your patterns that isn't on the list? Be sure to share it in the comments!
Price Your Products Like the Pros
Includes: the exact formula I use to price my products for maximum sales and profit while attracting my ideal customer.