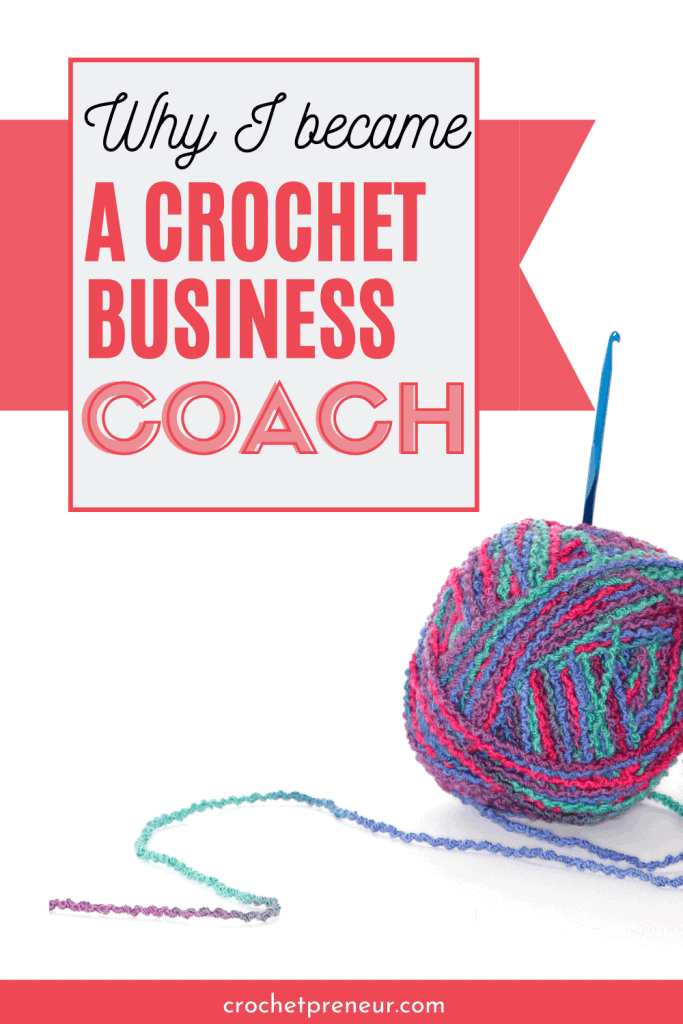 Crochet businesses can look different for everyone…product sales, designing, tech editing, contract crocheting, blogging, teaching, and more. And, while each handmade business may look very different, they usually start in a very similar way.
When you first started to crochet…
perhaps you learned for fun…as a creative outlet…as therapy.
Maybe crochet was a way to care for yourself after spending the day chasing the kids around the playground, making sure they didn't touch the dog poop your neighbor so kindly 'forgot' to pick up on his morning walk, and wrangling them to be at the end of the day.
And you succeeded with both the self-care and the poop thing…mostly.
Now that you've grown your skills…
you enjoy creating hats and scarves and cute little animals and your friends are continually posting random photos to your Facebook page and shouting, "You should sell these!"
And "you SHOULD sell these", you think yourself.
After all, what a great way help with family finances, contribute to your vacation savings and have something special that's just for YOU?!
But then you think, how…and where…and when would you find time to start a business anyway? And should you sell products or design patterns?
There are so many questions!
Well, that's where I come in…
After taking my crochet business from floundering to flourishing, with over 19,000 sales on Etsy alone, I've learned what works in the business of crochet…and what doesn't…and I can't wait to share my secrets with you!
By minimizing the fluff and eliminating the unnecessary, I can help you start or grow the profitable crochet business of your dreams while leaving you with the time and energy to continue caring for your everyday responsibilities. By providing small, workable steps, my goal is to save you from crochetpreneurial overload.
My business started slow…
As a crocheter, designer, artist, psychotherapist and creative coach – (take a deep breath here) a dreamer-entrepreneur, empty-nester, wife to my wonderfully energetic husband, mom to a grown son and his lovely wife, stepmom, and grandma to three incredible kiddos with a fourth on the way (and exhale) – I know what it is to be busy and to feel like I just can't fit another project thing into the schedule.
So, when it came time to face the fact that all that creative energy was going to have to actually bring in some cash, I totally freaked out (well, I freaked out in my head anyway) at the thought of navigating one…more…thing.
But I had no choice…
Begrudgingly, I gathered up some items that I had in my studio, purchased some styrofoam mannequin heads and dedicated a small portion of my art booth display to selling crochet.
I sold one hat that day.
In contrast, across the gymnasium-floor-turned-craft-emporium was a beautiful young lady selling her crochet creations. On occasion I would glance over at her (mmm, maybe I was glaring enviously), wondering at the numerous buyers standing in her booth, three and four deep – clamouring to get ahold of her products.
I think I caught a glimpse of the sun's rays bursting through the gym ceiling to light the way to her booth as angels sung above her….
Even though the craft fair had little foot traffic, she had a line ALL
DAY! I was in awe.
Well….I was in awe until it was time to break down our booths and this seemingly lovely young lady walked by my booth and laughed.
Yes, I'm serious!
She laughed at my lack of sales.
Now, I don't know what was going on in her head at the time and I can make up all kinds of motives or thoughts, but those didn't matter. What happened in me at that moment was the thought, "Hmmm, ok, crochet girl, let's give it a year and see what happens."
Actually, it may have sounded more like, "I will CRUSH you," (but I'm not proud of that).
I have a fierce competitive spirit and it was her laughter that got the ball rolling on Made with a Twist, but the spirit of competition isn't enough to sustain a business, at least not for me it isn't…and it certainly isn't life-giving.
And I need life-giving!
Once I got myself together, instead, of focusing on that one moment and the dismal beginning my business, I found joy in the brainstorming, in the creating, and, mostly, in watching the faces of my most timid customers turn to delight as they tried on hats, looked in the mirror and heard their friends squeal, "You look so cute!"
Helping others fills my soul with sunshine and rainbows!
Crochetpreneur is here to help you
Fast forward and I've gone from making $12 at one craft fair in the winter of 2013 to making over $100,000 selling my crochet and crochet patterns online. And, yes, that was an amazing experience and one I won't ever forget, but do you want to know the best part of that experience?
The best part was the many messages I received from other crocheters, those that I had hired to work for me, and those who had purchased my pattern to sell products in their own shops. They shared their stories of success and they thanked me for helping them to support their families, save their homes from foreclosure, and provide a Christmas for their children.
Each message brought tears to my eyes and my heart swelled. I realized that I had finally found the place where passion and purpose combined and that is when Crochetpreneur was birthed.
Crochetpreneur is all about you.
The Crochetpreneurial path is about helping you discover the place where your passion and purpose combine so that you can have the profitable crochet business of your dreams.
Whether you are just starting this journey or already have a business that you're ready to grow, Crochetpreneur has the information you need to build your business the right way, to create products that will bring you the maximum profit, to thrive in your entrepreneurial lifestyle and to gain inspiration and encouragement to become your best, most fulfilled self.
OK, you're in, right? So, where to start?
There are so many ways get connected and learn through the Crochetpreneur platform. I know all the information can be overwhelming, but here are some places to start:
(a) Join our Crochetpreneurs Collective on Facebook group.
(b) Sign up to receive weekly inspiration, resources, and encouragement from the Crochetpreneur newsletter.
(c) Listen to the Dear Crochetpreneur podcast.
(d) Browse the Crochetpreneur blog.
(e) Check out the Crochetpreneur Business Academy.
(f) Learn more about Crochetpreneur FREE and premium courses!
I look forward to getting to know you better and can't wait to watch your crochet business grow and flourish as you learn to turn yarn into money with Crochetpreneur!
Organize Your Crochet Business Like the Pros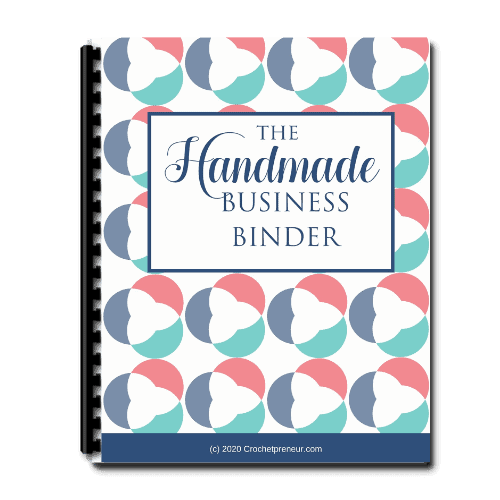 Includes: business details, branding board, media kit, customer avatar, and more!
PLUS: Get access to my exclusive, subscribers only, business resources library!