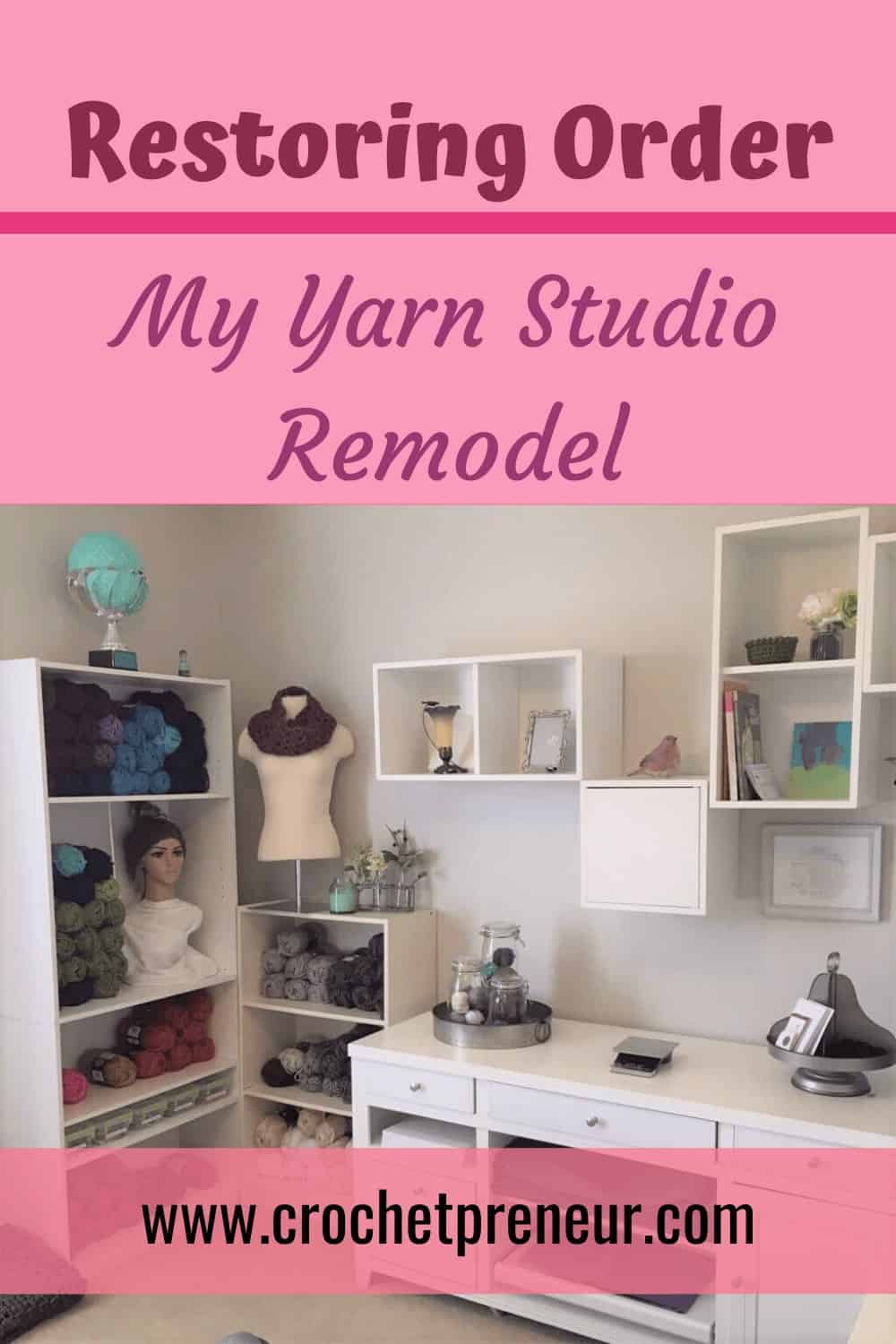 In the Beginning…
My crafts moved into my home even before I did…and they trashed the place. Maker Space Remodel
If you're a crafter, you might have some idea what I mean. I say having a craft room is like having an unruly child.
ie. It can rarely be contained. It's always a mess (even after a spit shine because Grandma's coming over). It is constantly whining for things at the store and, while it can be a constant struggle, you still love it so, so very much.
When my husband and I were preparing for our wedding and I was planning to move it, I knew I would need a separate room for my crafts. Yarn and paints and canvasses were already bursting out of the seams of my tiny townhome so I figured, 'hey, why not move them over to his place?'
So, that's what I did. They've been stuffed and restuffed into the spare room ever since. I tried to manage the chaos with crates and bookshelves and, sadly, piling them in the closet.
And that was all well and good until my hat went viral. At that point, the craft room became bun hat central and there was no organization to be had.
It was, flat out, a disaster area – hard hat required.
Something Had to be Done!
After weeks and weeks of managing the hundreds of skeins of yarn and paper and stickers, incoming and outgoing inventory, payroll and customer service…I'd had it and declared "I deserve a better space!"
Hubby agreed.
The man is a superhero.
Restoring Order

Maker Space Remodel
Today, my crochet studio has been transformed from unruly to controlled and from chaos to peace and I love it!
I'm so excited to share my Maker Space with you in hopes that it inspires you to create a little piece of crafter's Heaven that you can call your own.
So, that's it, my new and improved creative space. We made many trips to drop things off at the thrift store. I gave many boxes of art supplies to friends and their kids. I discarded bags and bags of things that were taking up space and stealing my peace. And now…
More and more peace.
That's my word for the year – peace – and this room is just the beginning.
Takeaways from this Post:
Creativity is messy. I'm not proud of the state that my craft room got into, but I also know that it's normal and your space probably looks the same every once in a while. I dare you to share a picture with me. 🙂
No matter the money your making, no matter the number of products you produce each day, we all deserve to create in a space we love. Don't have a spare room? Find a corner of the living room or bedroom or turn a closet into YOUR space.
Remodeling doesn't have to break the bank. I redid my entire craft from for less than $1,000. I could have saved more money shopping for furniture at a big box store or at a thrift store, so there are more budget-friendly options, even.
A supportive husband is a gift. I know that not all husbands get it. We're still newlyweds and things may change someday, but for now, my hubby is a rockstar. If you're not getting the support you need at home, surround yourself with friends who won't hesitate to be your biggest cheerleaders – and I'm cheering for you too!
Got it? I knew you would. I believe in you.
We'll see you again real soon, but until then, stay cozy and keep yarning, Pamela