This easy double brim slouch hat is the last of four hats being highlighted in my "All the Double Brim Hats" series. You can find the others here:
I've been obsessed with double-brim beanies lately. Would you believe that I designed not one or two…but seven double brimmed hats in the last few weeks?! And this one here, this is the easiest double brim slouch hat! It's easy enough for beginners but fun enough for experienced crocheters and you're going to love making.
OH, JUST AS AN FYI, THIS POST MAY CONTAIN AFFILIATE LINKS, VIEW MY DISCLOSURE POLICY HERE FOR DETAILS. FAIR WARNING: IT'S LONG AND BORING, BUT IT DOES THE TRICK.
The fabric of this hat is dense and, while it doesn't work up as quickly as super chunky yarn would, the end result is so worth it.
When I was designing this particular hat for my COZE: All the Double Brims e-book, I was inspired by the amazing double-brimmed knit hats that are so popular. But, since I don't knit, I had to come up with another solution….which was accomplished with the Aspen Double Brim Knit-Look Hat….but waistcoat stitch isn't the most elementary stitch to learn AND it kind of takes forever…thus was born this beginner's version of that hat: the Vail Double Brim Slouch Hat.
The pattern is available in the COZE e-book, but it isn't available HERE for free because….well, it's kind of a long story. If you want to read the story, skip to "THE BACKSTORY" below. Otherwise, click on over to Wilmade.com to grab her free pattern for the SIMPLE DOUBLE BRIM HAT. Again, find out why I'm sending you there, below.
Quick Links to Post Contents (click to jump to section)
❁ PATTERN DOWNLOADS: EASY DOUBLE BRIM SLOUCH HAT
Again, head to Wilma Westenberg's site for the free pattern for her SIMPLE DOUBLE BRIM HAT.
and, if you like, you can purchase the COZE e-book including patterns for all 4 double brim hats in this series for just $7.


❁ THE BACKSTORY
A few days ago, I wrote a post with 25 Killer Tips for Online Business Success. In that post, tip #5 is "don't be a jerk" or some variation of that. Well, that's the moral dilemma I faced when it came time to publish this pattern.
You see, as designers, we all know there are only so many ways to tie a knot in yarn using a crochet hook and the simpler the pattern, the more likely that someone else has already tied a knot the way you're thinking of doing it. (Does that make sense?)
So, as I worked on this pattern, I did a cursory search to see if there was another like it and I didn't find one so I thought…"good to go!"
Well, as it came nearer the time to publish the pattern I found that there is already a free pattern published that is so similar I just wouldn't feel right publishing this one for free as well. (This is just one of those moral questions we, as designers, have to weigh and decide for ourselves.)
In this case, I contacted the designer, Wilma Westenberg, and told her what happened. I asked permission to link to her free pattern when I shared photos of the pattern that I designed and she was very gracious to say yes. You'll notice, when you take a look at her Simple Double Brim Hat, that they look very similar except that mine uses one color for the entire brim plus four rows and then switches to a contrasting color while hers uses the contrasting color on the inside of the brim.
Other differences are that mine uses a K hook and starting row of 63 for a medium size and a few more rows at the top. All the rest is just the same. So, if you'd like to make the Vail Double Brim Slouch Beanie, pop on over to her link, above, and grab the free pattern or purchase her ad-free version. I know you're going to love how easy this hat is and you're going to want to make one for all your friends and customers!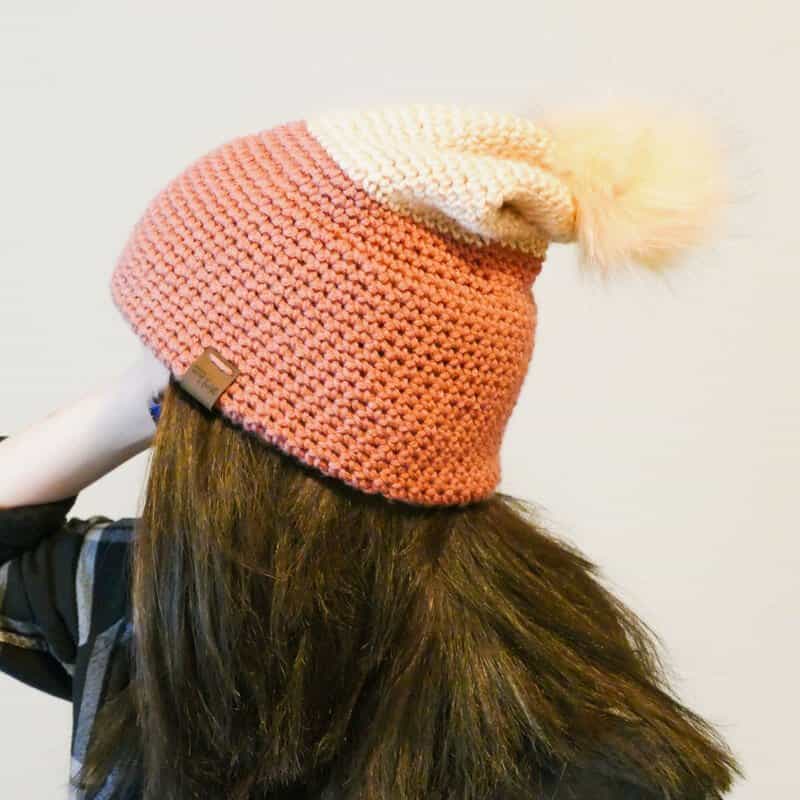 ❁ WAIT, WHAT JUST HAPPENED?
I know this is weird. If this is your first time visiting Crochetpreneur you might be confused. Trusts me, this isn't the norm – I'm just following my own rule about not being a jerk. 🙂
I promised a 4 hat series and just ran into this little glitch – I hope you see it as an act of integrity instead of an annoyance. Remember, you can still get the free pattern here.
All the other double brim hat patterns are still available on this site for your convenience. You can find them via these links:
❁ GET NOTIFIED OF NEW PATTERNS
Love designs from Made with a Twist by Crochetpreneur? Stay in the loop on all my upcoming patterns and projects by subscribing to my newsletter and you'll be the first to know about new designs and even, hint hint, get a coupon code to use when you download them! SUBSCRIBE HERE
Bloggers: Seeking designs for your upcoming roundup? I'd love for you to feature my work! You have my permission to use one photo in your roundup post as long as a link is provided back to the associated pattern page. Please let me know when your post is published so I can share it on my social media, too. Thank you!